Puerto Rico Holidays
Calling all beach lovers! Puerto Rico is the place to be if you love a spot of sand, sea and family fun. Thrilling watersports, relaxing boat tours, beachfront restaurants and entertaining nightlife for all ages to enjoy. This sunny resort is home to all the things you love about a summer holiday and much, much more!
Servatur Puerto Azul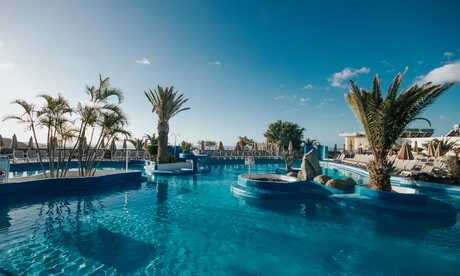 7 nights
Bed and Breakfast
Return flights from London Stansted
Servatur Terrazamar & Sun Suites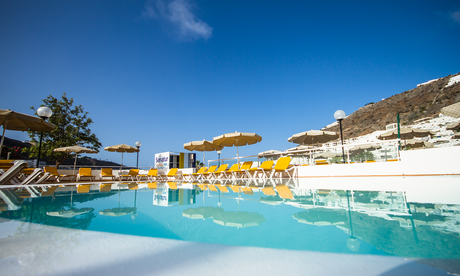 7 nights
Self Catering
Return flights from London Stansted
Servatur Waikiki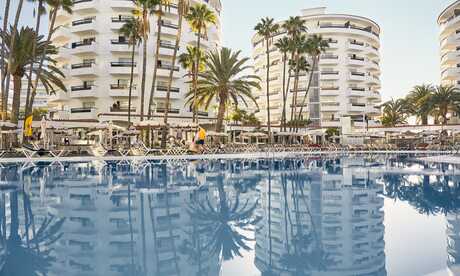 7 nights
Bed and Breakfast
Return flights from London Stansted
LIVVO Lago Taurito & Waterpark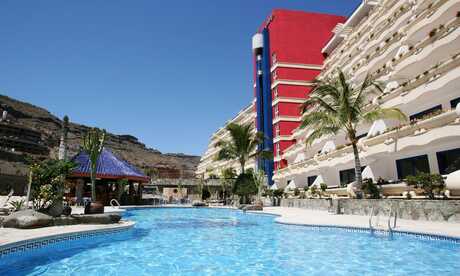 7 nights
All Inclusive
Return flights from London Stansted
Colina Mar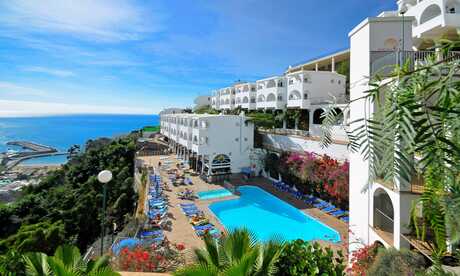 7 nights
Self Catering
Return flights from London Stansted
Vista Oasis Bungalows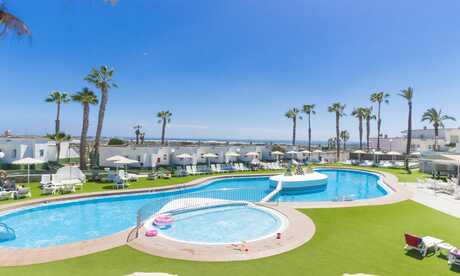 7 nights
Self Catering
Return flights from London Stansted
Gran Canaria Princess - Adults Only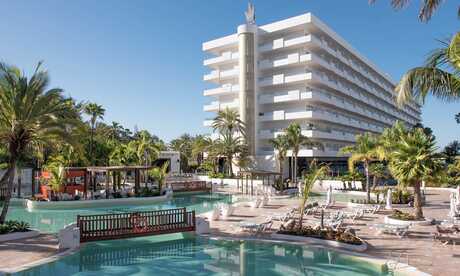 7 nights
Bed and Breakfast
Return flights from London Stansted
Altamar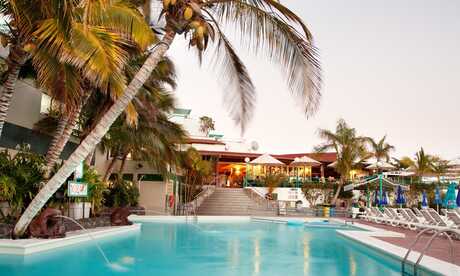 7 nights
Self Catering
Return flights from London Stansted
Mogan Princess & Beach Club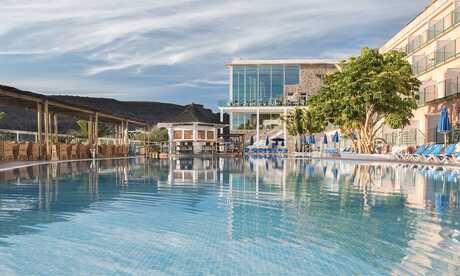 7 nights
All Inclusive
Return flights from London Stansted
Why Holiday in Puerto Rico?
This family-friendly resort boasts one of the best beaches in the whole of Gran Canaria! A beautiful golden sand cove with a bustling promenade that runs right along the bay, making the perfect setting for your summer holiday. The sun shines down on this gorgeous valley, where you'll find fantastic All-Inclusive resorts, beachfront hotels with excellent kids facilities and luxurious Adults-Only escapes by the harbour. There's something in this sunny paradise for everyone!
Beach Holidays in Puerto Rico
The golden bay of Puerto Rico sits in a small cove along the south-west coast of the island. Fine white sands, turquoise ocean waves and that gorgeous Gran Canarian sun, these stunning shorelines have something for all beachgoers to enjoy.

If you're the type who loves to work on your tan, then you can take your pick from the long stretch of sunbeds and umbrellas that sweep the shores. So you can get set for a day spent reading a good book, relaxing and simply doing nothing. Or maybe you're more likely to spend the day taking a dip in the sea, well swimmers here are kept smiling with a dedicated swimming section so you can freely explore the ocean waters without worrying about passers-by.

Thrill seekers are also in luck as there's no shortage of watersports on these fine sandy shores. Take your pick from Jet skiing, paragliding, sea kayaks and banana boats, there's plenty to choose from. If you fancy trying something new then there are several diving schools across the resort, where you can learn from the experts and explore the life under these shimmering waters. If you prefer to stay up above the water, there's also plenty of places to try out a spot of windsurfing or test out your sailing skills at the marina.

The beach also boasts a fantastic promenade that runs right along the bay, with beach bars, local restaurants, supermarkets and even a children's playground. Take a break from the heat and enjoy a fresh cocktail, delicious ice cream or tropical smoothie from one of the many beach bars that scatter the shores.

Food and Drink in Puerto Rico
This seaside resort is home to a large marina and with a rich fishing history, this means only one thing, the seafood in Puerto Rico is simply one of a kind. There are many seafood eateries dotted along the outskirts of the marina, choose from succulent lobster, grilled seafood salads and delicious paella for a fresh seafood feast!

Beachside dining is also popular, you'll stumble across tucked away shacks serving scrumptious snacks and romantic restaurants that offer the perfect sunset views for your evening meal. While you're here why not try the islands famous papas arrugadas also known as wrinkly potatoes, these little balls of goodness are served with a flavoursome sauce of olive oil and a variety of fragrant herbs and spices.

For those with a sweet tooth, the island is known for its supply of freshly grown fruits, so be sure to give it a taste while you're here. The fruits of Puerto Rico include papaya, mango and avocado. These locally sourced products from inland can be found right across the island – making for the perfect, refreshing afternoon snack.

Visiting Puerto Rico
Whilst enjoying your relaxing Puerto Rico retreat, there are plenty of exciting attractions and sights to explore. A stroll around the marina is a must, check out the impressive boats and enjoy the romantic views. Here you'll find a variety of boat tours for all types of travellers from pirate ship themed sightseeing tours to whale watching catamaran cruises and leisurely yacht trips with live-music.

If you're seeking a spot of excitement for the little ones, head to the Angry Birds Activity Park. This themed amusement park offers large outdoor playgrounds with zip lines and laser maze fun. Giving the kids a chance to take a break from the beach, make some friends and run wild for a little while, whilst you enjoy some sun.

Water babies will also feel right at home here in Puerto Rico, as there are two waterparks nearby to choose from. The Lago Taurito Waterpark is located just a short distance away, this small complex offers several splashtastic pools, exciting waterslides and splash pools for toddlers. The adrenaline junkies should head a little further afield and check out the fantastic Aqualand Maspalomas Waterpark, where you'll find twisting toboggans, steep drops and gigantic wave pools.

The Puerto Rico shopping centre is home to a great range of small souvenir shops, local supermarkets and traditional restaurants. This little square also bursts to life as the sun sets, with cocktail lounges, Irish pubs and music bars, your fix of family fun entertainment is never too far away. Whether you're up for killing it on the karaoke, fancy checking out a live show or you're simply seeking a DJ with some cracking tunes, you'll find it all and more here at the shopping centre.

Useful Info for Visiting Puerto Rico
Flights to Gran Canaria take around 4.5 hours and there is no time difference between the UK and Puerto Rico. As a Spanish island, the official language used here is Spanish but in family-friendly resorts like Puerto Rico, most hotels and restaurants are full of friendly locals who speak good English. Be sure to change your pounds to euros before you go as this is the currency used on the island. Puerto Rico is blessed with sunshine all year round. If you like it hot July to October is the best time to visit, with high averages of 26°C in August. During the cooler months of January and February, the temperature dips to around 20°C but the sun continues to shine nicely throughout the year.
Resorts in Gran Canaria
Vecindario
Search the sunshine.co.uk website:
×