Holidays to Magaluf
Situated to the west of Majorca, in the heart of the Balearic Islands, holidays to Magaluf are popular for the heavenly golden beach and fantastic sunny weather on offer here. With views across the bay to the beautiful uninhabited island of Isla de sa Porrassa, Magaluf's sandy stretch of shoreline is one of the prettiest we've ever come across. The Mediterranean waters here are perfect for a summer dip or a lovely long swim in the sea, and there are loads of bars, restaurants and shops to explore further inland, too. Whether you're travelling with your partner, family or friends – or you're off on an exciting solo adventure - there's plenty to discover on a getaway in the Spanish sunshine to Magaluf.

Sol Palmanova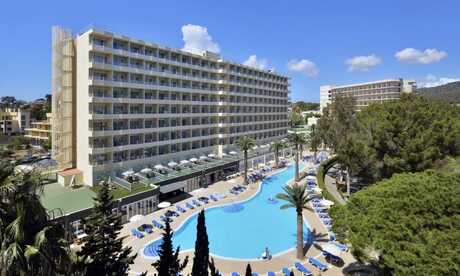 7 nights
Half Board
Return flights from London Stansted
Globales Mimosa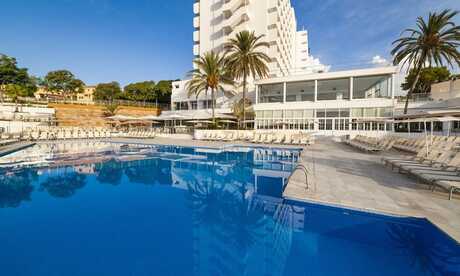 7 nights
Half Board
Return flights from London Stansted
Hotel Samos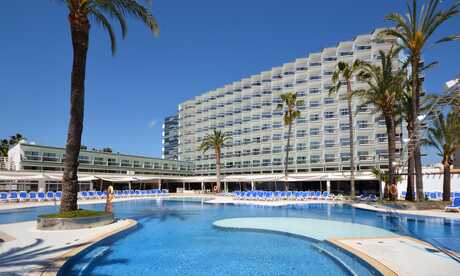 7 nights
Bed and Breakfast
Return flights from London Stansted
Blue Sea Club Marthas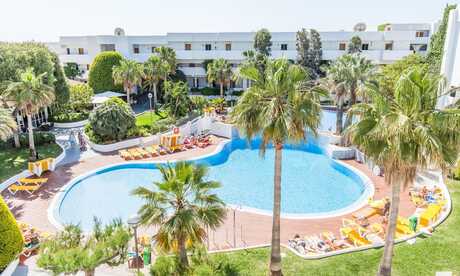 7 nights
Self Catering
Return flights from London Stansted
Palmanova Beach Apartments by TRH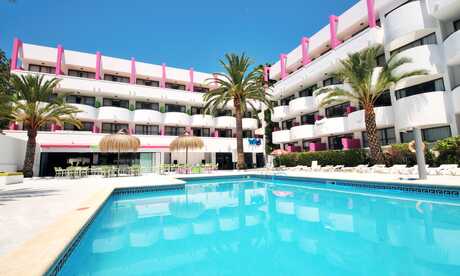 7 nights
Self Catering
Return flights from London Stansted
BLUESEA Cala Millor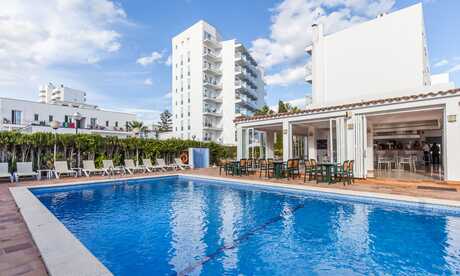 7 nights
Bed and Breakfast
Return flights from London Stansted
Hotel Ilusion Calma & Spa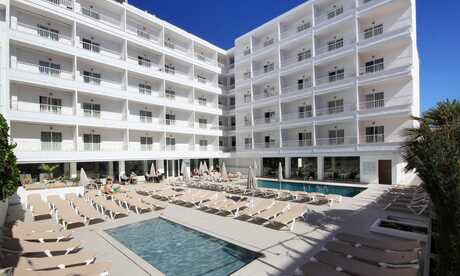 7 nights
All Inclusive
Return flights from London Stansted
BLUESEA Gran Playa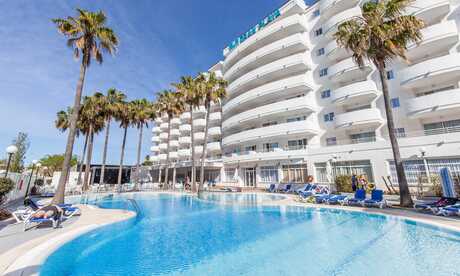 7 nights
Bed and Breakfast
Return flights from London Stansted
Sun Beach Apartments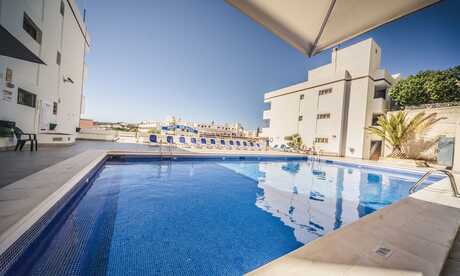 7 nights
Self Catering
Return flights from London Stansted
Why Holiday in Magaluf?
This stunning seaside resort may be famous for party holidays, but there's something for every kind of holidaymaker in Magaluf. Recent rejuvenation projects have transformed this Majorcan town into a place where beach holiday dreams come to life. Take a stroll or ride in a taxi around the local area and you'll find theme parks for families, romantic spots for couples and, of course, the vibrant nightlife to keep your mates happy.




In the surrounding area you'll find everything you need for a great holiday, with local attractions ranging from golf courses to waterparks. Cyclists, runners and driving enthusiasts will love exploring the local landscape – just make sure you keep an eye out and a camera handy for those breathtaking sea views. Palma, Majorca's capital city, is just 20 minutes' drive away, and is great for shopping opportunities and swotting up on your Spanish history. Other excursion-worthy resorts nearby include Palmanova to the north and Santa Ponsa to the west.
Beach Holidays in Magaluf
Like to be beside the seaside? When it comes to beaches, the main event is Playa de Magaluf. This dreamy bay would look right at home on the shores of a Caribbean island; the soft sand and clear water here are practically tropical. The relatively calm sea in this protected part of Majorca's coast makes it a great place to swim. The sea temperature is at its balmiest between June and September, but swimming outside this timeframe is common too. There's even a gently shelving swimming area marked out by colourful buoys to suit everyone from confident front-crawlers to hesitant toe-dippers. Fringed with palm trees and looking out over the Mediterranean Sea towards the Isla de sa Porrassa and beyond, there's a reason why sun seekers return to Magaluf year after year – and the beauty of this beach is a huge part of it.

Magaluf Beach is a sandy crescent that stretches for 2km. The water is high-quality and clean, and there's a great range of beachside facilities too. Sun loungers and parasols are available for a local fee if you fancy spending the day relaxing. These are great for soaking up the sun or cooling off in the shade with a book. You'll find toilets and showers nearby to keep you feeling refreshed too. If living your best holiday life proves thirsty work, there are plenty of bars within metres of the beach. There are also lots of places to eat, ranging from laid-back cafes to upscale eateries. Like to add some thrills to your beach break? Try your hand at water skiing, scuba diving, jet skiing, wind surfing, stand-up paddle boarding and more – you'll find diving and watersports centres dotted along the beach.
Food and Drink in Magaluf
Majorca is surrounded by the Mediterranean Sea, so lots of the recipes in Magaluf use fresh, locally-sourced fish. Sea bream and monkfish are common, tasty menu staples, often served with seasonal vegetables in aromatic tomato or deliciously creamy sauces. When the weather's as hot as it is on this island, the Spanish tradition of tapas really comes into its own. These bite-sized dishes often go down more easily than a heavy meal, especially at lunch time, and they're great for sampling loads of different flavours. Well-known favourites like garlic mushrooms, patatas bravas and calamari are often found alongside Majorcan specialties such as lomo con col (pork wrapped in cabbage leaves) and sobrasada (spicy sausage). We recommend trying everything once!

Fancy a teatime tipple? It's got to be a glass of herbes de Mallorca – a fragrant liqueur made from herbs. If you've got a sweet tooth, then try the prettily-patterned ensaimada – a Majorcan spiral-shaped pastry that's often filled with cream. You'll find plenty of bars and restaurants along the promenade of Magaluf Beach. There are also places to eat, drink and be merry further in-land and in the nearby resort of Torrenova. Want to dance until the sun comes up? Head to Puenta Baena – the Magaluf Strip – for the best bars, clubs and party atmosphere in town.
Visiting Magaluf

Magaluf has always been known as a party town. It's great for grabbing your mates and getting away for a week in the sunshine, it's true, but this Majorcan beach resort is also great for family holidays and romantic breaks. Your little ones will love the rides and slides at Katmandu Park and splash to their hearts' content at Western Water Park. There's also Jungle Parc for your budding thrill-seekers or big kids – here you'll find zip-lines and tree-top adventures galore.

With a short and sweet flight time of less than three hours from the UK, the beach is definitely in reach when it comes to holidays to Magaluf – you could even steal away for some weekend sunshine when it's that close to home! Whether you choose a short break because good things come in little packages, or opt for a longer stint in the sun because good things are also worth taking the time to enjoy, there's no wrong way to spend your holiday to Magaluf.
Useful Info for Visiting Magaluf
Get your holiday spends changed into Euros when you're travelling to Magaluf, since the Balearic Islands are part of Spain. The official language is Spanish too, and the clocks in Magaluf are one hour ahead of UK time (GMT).

Since 1st July 2016, the Balearic Government have charged a sustainable tourism tax on all overnight stays. This applies in Magaluf and is payable on arrival to your hotel. The tax increased on 1st January 2018 to:

• 5-star & 4-star superior hotels: €4 per person, per day
• 4-star & 3-star superior hotels: €3 per person, per day
• 1-star, 2-star & 3-star hotels: €2 per person, per day
Search the sunshine.co.uk website:
×