Olu Deniz Holidays
Bask in the beaming sunshine on Turkey's beautiful coast. Olu Deniz is the perfect combination of beach break destination and traditional Turkish town. Whether you're looking for a relaxing week away with your other half, an exciting family holiday in the sun, or a mates escape to sleep all day (on the beach) and party all night, this is the destination for you.
Titanic Deluxe Lara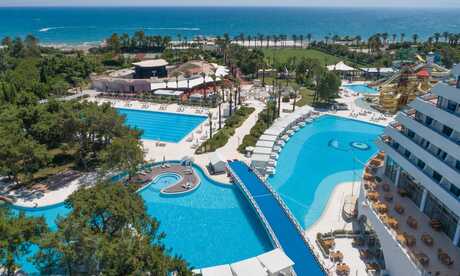 7 nights
All Inclusive
Return flights from London Gatwick
Titanic Deluxe Golf Belek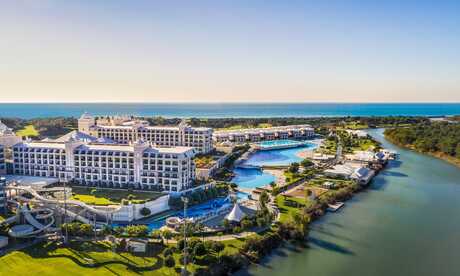 7 nights
All Inclusive
Return flights from London Gatwick
Swandor Hotel & Resort Topkapi Palace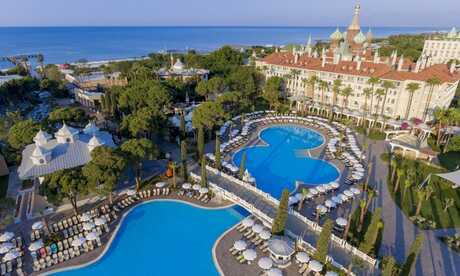 7 nights
All Inclusive
Return flights from London Gatwick
Club Hotel Falcon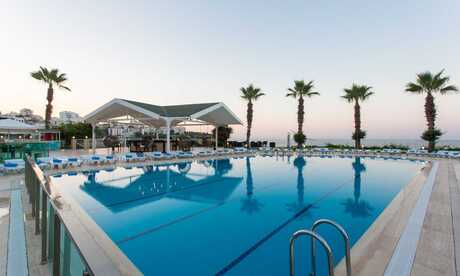 7 nights
All Inclusive
Return flights from London Gatwick
Aquasis Deluxe Resort & Spa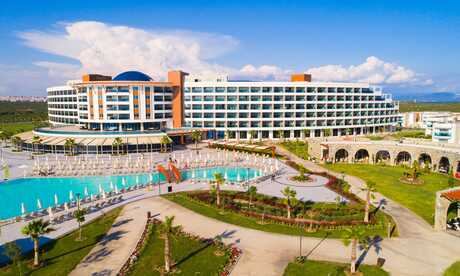 7 nights
All Inclusive
Return flights from London Gatwick
Port River Hotel & Spa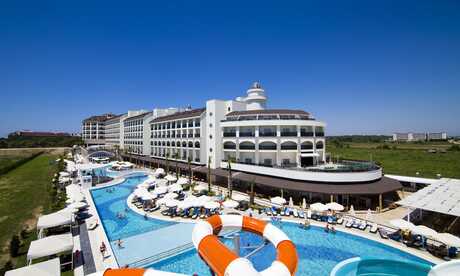 7 nights
All Inclusive
Return flights from London Gatwick
Grand Park Lara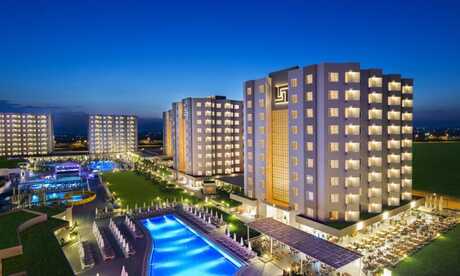 7 nights
All Inclusive
Return flights from London Gatwick
Royal Garden Beach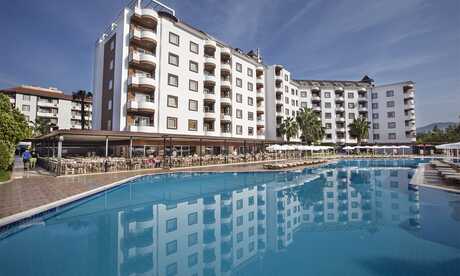 7 nights
All Inclusive
Return flights from London Gatwick
Sundia by Liberty Oludeniz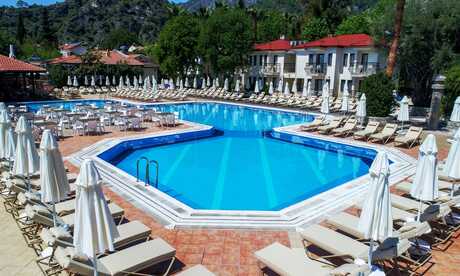 7 nights
All Inclusive
Return flights from London Gatwick
Why holiday in Olu Deniz?
Turkey is a destination that offers so much variety for holidaymakers. Beach break or village stay? All Inclusive or explore the local cafes? Relax the day away or non-stop activities? Olu Deniz gives you all of those options too! With a long stretch of sandy beach and a delightfully spacious town centre, there's something for everyone in this popular holiday destination. Couples can unwind by the sea and explore the charming bars and restaurants at night. If you're looking for a family getaway, Olu Deniz is home to two great waterparks, and there are plenty of family friendly spots of shore to choose from in the area. Dancing the night away with your friends or loved ones is easy here too, with a great nightlife scene and many bars turning into clubs as the sun sets.
Best beaches in Olu Deniz
Nothing beats the coast of Turkey. The crystal waters and their bright blue hues, meeting the golden sandy shore – it's perfect. The village's main beach, Belcekiz Beach, offers an idyllic setting for a family beach day with 4km of smooth sand. You can find a great selection of restaurants along the sand and watersports are readily available for those interested. If you prefer your day in the sun to be a little more secluded, Butterfly Valley Beach is only reachable by boat and is a lovely untouched natural cove. Visit the picture perfect Blue Lagoon and see why it's one of the most photographed beaches in Turkey. With shallow waters, it's a great pick for families with younger children so they can paddle with you in the amazing blue sea. Want more from your beach day? Snorkelling and canoeing are also fantastic choices of activities in the lagoon due to its brilliant clear water. Only a couple of kilometres from the centre of Olu Deniz, Kidrak Beach is a lovely change of scenery with fine pebbled sand and a backdrop of pine tree lined cliffs – the ideal choice for a day of sun, sea, peace and quiet.
What can I eat in Olu Deniz?
Explore the tastes of Turkey in Olu Deniz, where you'll find amazing traditional Turkish restaurants alongside the international venues too! Indulge in top-class kebabs, nibble on mouth-watering mezzes and end your meal with a sweet treat of honey-soaked baklava. Yengec Restaurant in the northern area of the town centre is renowned for its outstanding service and incredibly delicious cuisine. Planning a romantic night out? Barracuda is one of the top wine and grill bars in the area, serving a range of grill specialities in a lovely, intimate setting. For daytime drinks, you can choose from the beachfront bars for refreshments with a sea view, or head into town and explore the exciting venues there, which are perfect for both afternoon and evening drinks with friends and loved ones.
What can I do in Olu Deniz?
Whether you're travelling with your family, friends or even your other half, sometimes the sunny weather just calls for a day at the local waterpark. Oludeniz Waterworld Aquapark is a great day out where you can slip and slide your way down the water slides, dip into the outdoor pool and relax your way around the lazy river. If you prefer to make a splash into the sea rather than a pool, scuba diving is a popular activity for this destination, where you can explore the crystal-clear waters and discover the colourful sea life. Feeling daring? Olu Deniz is also a fantastic resort for paragliding. With mountainous landscapes, lush greenery and, of course, the magical beaches, you can take in the beauty of the village and its surrounding areas from a bird's eye view. Feel the wind through your hair and the sun on your skin as you glide through the air for a once in a lifetime experience.
Useful information for visiting Olu Deniz
Situated in the south west of Turkey, Olu Deniz is a popular spot for sun-seekers as it offers the stunning sandy beaches with a buzzing town centre that still oozes that traditional Turkish feel. The closest airport to the resort is Dalaman, where you'll find many flights to choose from departing from UK airports. The average flight duration from the UK to Dalaman is just over 4 hours and the transfer time from Dalaman Airport to Olu Deniz is around an hour. The currency used in Turkey is the Turkish lira and the local language is Turkish. It's always a good idea to refresh your knowledge of the local language when going abroad, so here are some helpful phrases that you can use whilst in Olu Deniz. 'Hello' is merhaba, 'goodbye' is güle güle, 'please' is lüften and 'thank you' is teşekkürler. Not to forget, when you're toasting your drink, to say şerefe, which means 'cheers'!
Search the sunshine.co.uk website:
×