Cheap Santorini Holidays
With its stunning whitewashed buildings, blue-domed churches and winding cobbled streets, Santorini glistens like a jewel in the Greek Island's crown. This charming little island is a firm favourite with travellers the world over. The travel-hungry, the luxury lovers and the avid adventures all gather here to delight in a picture-perfect island where the summers are hot, the winters are mild and the sun shines all year round.
Bella Santorini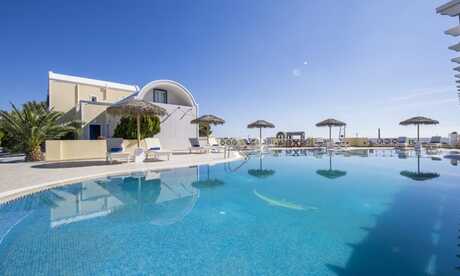 7 nights
Bed and Breakfast
Return flights from London Stansted
El Greco Resort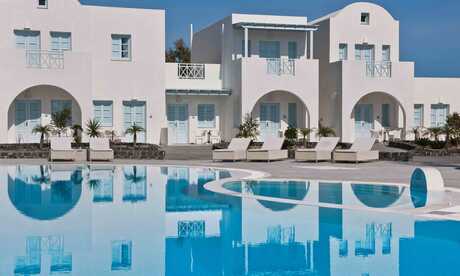 7 nights
Bed and Breakfast
Return flights from London Stansted
Athina Repose Suites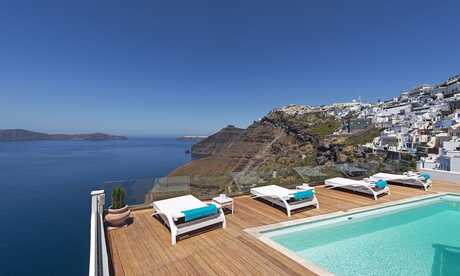 7 nights
Bed and Breakfast
Return flights from London Stansted
Alta Mare Luxury Apartments - Adults Only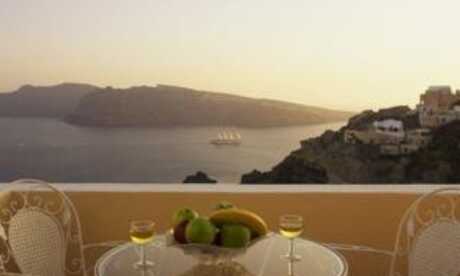 7 nights
Bed and Breakfast
Return flights from London Stansted
Atlantis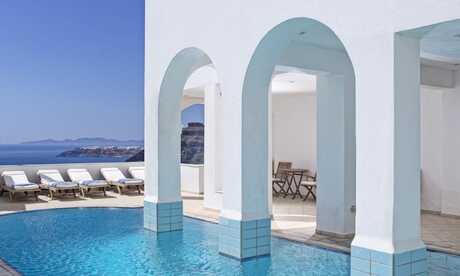 7 nights
Bed and Breakfast
Return flights from London Stansted
Aressana Spa Hotel & Suites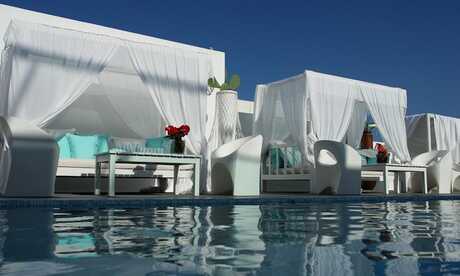 7 nights
Bed and Breakfast
Return flights from London Stansted
Tzekos Villas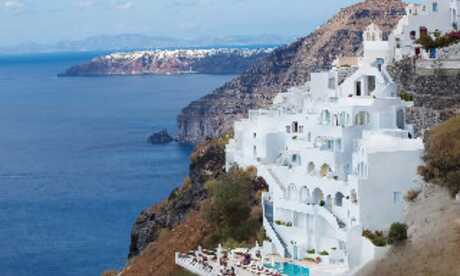 7 nights
Bed and Breakfast
Return flights from London Stansted
Regina Mare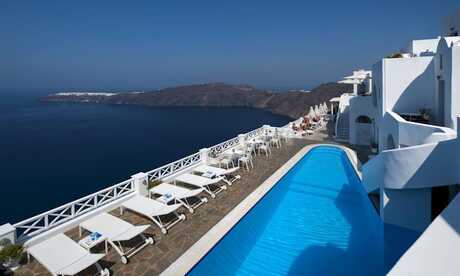 7 nights
Bed and Breakfast
Return flights from London Stansted
Divelia Hotel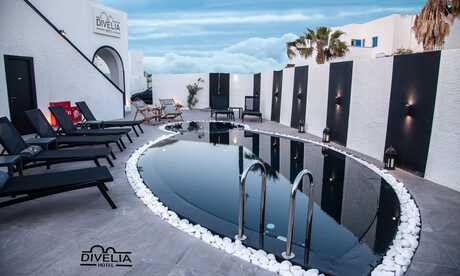 7 nights
Bed and Breakfast
Return flights from London Stansted
Why Santorini?
Every year thousands of hopeless romantics flock to the shores of Santorini to witness arguably the most famous sunset on the planet. But Santorini isn't just pretty towns and gorgeous views, this volcanic beauty has much more to offer. The adventurer's out there can discover many an ancient castle while history buffs will revel in the archaeological museums and Greek mythology that's helped to shape the island to what it is today.

And that's not all! Foodies will rejoice at the amount of super-fresh seafood, delicious meats and home-grown vegetable on menusThe island even produces its own wines and beers – many of which are absolutely fantastic Finally, (as if you needed another reason) there's a choice of stunning beaches for those looking to soak up the Greek sun. A perfect all-round holiday destination.

Beach holidays in Santorini
Nothing beats a little bit of rest and relaxation on holiday; just you, the beach and your favourite book (or cocktail, we don't judge!). A beach holiday in Santorini is unlike any other beach holiday in the world. This rugged, volcanic island is home to some of the most unique beaches in the Greek Islands.

For a beach day with a lively atmosphere, head to the black sands of Perissa or Kamari. With plenty of beach bars and restaurants close by, warm black sands and crystal-clear waters, these beaches are perfect for families, couples and groups alike. If you're looking for a completely unique beach experience then a visit to Red Beach is a must. Aptly named, this one-of-a-kind beach takes its name from the copper-toned sands and rock formations here. The rustic and rural nature of this beach means there's not much else around so be prepared with plenty of water. But, don't let that put you off, Red Beach is regarded by many locals as the most beautiful beach of Santorini – so a visit is definitely worth it.

Food and drink in Santorini
The cuisine in Santorini combines classic Greek dishes with a number of island specials. The food is vibrant and packed full of flavour, made with fresh local ingredients and the best olive oil you've ever tasted. Staple ingredients of Santorini cuisine include tomato, courgette, feta cheese, fresh seafood and grilled meats.

For a traditional Santorini lunch try the sfougato – a sort of quiche-meets-omelette with no pastry that combineseggs, courgettes and spearmint. Tomatokeftdes are a great way to start a meal or just as a tasty snack on the go – these tomato-based fritters are fried to perfection and perfect for dipping in hoummous. For a tasty evening meal, it has to be a good traditional Greek dish such as gyros, kofta or moussaka. While you may have eaten these many times at home, nothing can quite compare to the real deal. If you're a seafood lover then the local dish of brantada has to be on your list of dishes to try Santorini. This delicate fish dish is made with flaky cod fillets in a delicate batter and dressed with a refined garlic sauce. As for drinks, the island is home to some world-class vineyards so a glass or two of wine is the perfect way to wash down the delicious food. Beer more your thing? The island's local brewery, Santorini Brewing Company, produces a fantastic range of amazing beers. We recommend the Crazy Donkey IPA.

Visiting Santorini
Santorini is a little island with a lot of culture. From ancient castle ruins and active archaeological sites to the more modern architecture that has become emblematic of this unique island, Santorini is a destination that really delivers the wow factor. If you're into your history, then make sure to visit one of the many museums here, such as. the Archaeological museum of Thera or the Megaro Gyzi Museum, which holds an annual festival in August with live music and exciting exhibits. There's also a Wine Museum located in a cave and even a Tomato Industrial Museum. Not a fan of museums? Not to worry – a walk around the cobbled streets of each small town will be sure to showcase the island's beauty and uncover an abundance of religious buildings, stunning architecture and relics of years gone by.

You've made the most of your days here but what about the nights? The Santorini nightlife is as diverse as it comes. Start the nightoff at any number of world-class restaurants, then forafter-dinner drinks, Fira is the island's nightlife hotspot with cosy tavernas, chic bars and clubs to keep you dancing until sunrise. For a more laid-back vibe then head to the coastal towns of Perissa and Kamari where you'll find a blend of sophisticated bars and late-night venues. And, of course, don't forget to head to Oia for that infamous sunset shot!

Useful information for your Santorini holiday
So Santorini it is; congratulations, you've made a great choice! Before you head off to this picture-perfect island, here are a few handy little tips to help you on your way. The flight time is just four hours making it a perfect choice for a long weekend break with friends or a family holiday that's just across the sea. The national currency is the Euro – also helpful, as this is readily available at most currency exchanges. Just make sure to shop around for the best rates! Tourism is also pretty big here, so you'll find a lot of English speakers. However, the national language is Greek – so here's a few phrases that will have you feeling like a local in no time: hello – "geia sas" (γεια σας), goodbye – "antio" (αντίο), thank you – "efcharisto" (ευχαριστώ), cheers – "yamas" (στην υγειά μας).

We'll see you at the sunset!

Resorts in Santorini
Perivolos
Search the sunshine.co.uk website:
×