Holidays to Corfu
It takes only a moment amongst the warm picture-perfect sunsets, bountiful produce and lush, unspoiled beaches of Corfu to understand why it is such a popular destination for UK holidaymakers each year.

Home to a number of stunning beachside hotels and resorts and a warm, idyllic climate, Corfu makes for the perfect getaway, offering plenty of culture and nightlife to boot!
Why Holiday in Corfu?
Located in the Ionian Sea off the northwest coast of Greece, Corfu has something for everyone. The incredible climate and beautiful beaches are perfect for a relaxing holiday, world-class resorts and hotels make for very comfortable living and the rich interesting history and architecture ensure there's much more to look at than just the stunning crimson sunsets.

At Sunshine.co.uk, we offer a great number of incredible Flight + Hotel package holidays to Corfu, across a huge number of resorts including Kassiopi, Kavos, Acharavi and more. You can make a huge saving on Corfu holidays by booking with Sunshine.co.uk, especially on our combined package deals.
Beach Holidays in Corfu
It's no secret that Corfu is home to some of Greece's most stunning beaches and seaside settings. The fine white sands and turquoise waters make for an incredible day at the beach, especially for those visiting with children who are yet to experience their first dip in the sea!

Many locations around Corfu such as Kavos offer almost everything you could need in a beach holiday in one setting, providing idyllic beaches and waters to enjoy through the day, and plenty of bars and restaurants to be enjoyed by those who appreciate a lively nightlife.
Food and Drink in Corfu
As Corfu is such a popular tourist destination, most tastes and preferences are catered for amongst the vast selection of cafes, restaurants and bars on the island, serving up everything from Italian pasta and pizza dishes to ice cream.

However if you're looking for authentic Greek cuisine there are plenty of traditional dishes to be found and enjoyed in Corfu too. A blend of historical influences has truly made the island's local cuisine a thing of joy. Many of the island's best restaurants are in Corfu Town, with fine dining restaurants such as The Venetian Well serving up photo-worthy dishes, and classy wine bars like Dell'Acque providing a generous selection of wines and spirits on offer until the early hours.
Travel Tips for Corfu Holidays
The local currency in Corfu is the Euro, a currency which almost all UK holidaymakers are familiar with, making for easy exchange and management of your money.

If you're looking to do a little shopping in Corfu, it's worth noting that opening hours are a little different than they are in the UK. Many shops and stores open in the morning at around 8.30 - 9.00am and then close again around 2pm; they often reopen again around 5-6pm and then stay open into the late evening. So if you're looking to refill on sun lotion and beach accessories be sure to head out early in the day!
Golden Mare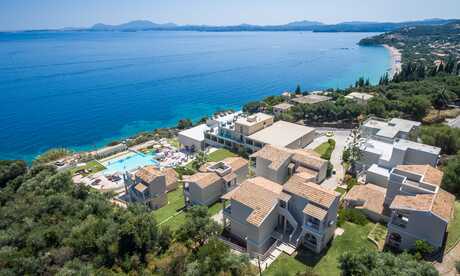 7 nights
All Inclusive
Return flights from London Stansted
Mareblue Beach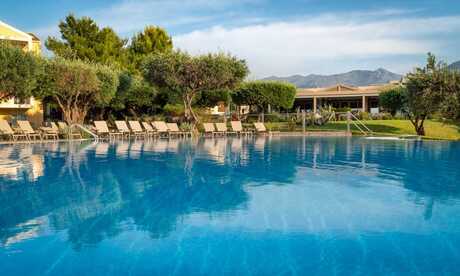 7 nights
All Inclusive
Return flights from London Stansted
Ikos Dassia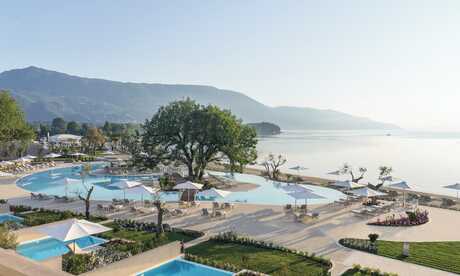 7 nights
All Inclusive
Return flights from London Stansted
Resorts in Corfu
St Spyridon
Search the sunshine.co.uk website:
×