Holidays to Greece
Surrounded by the warm waters of the Mediterranean, Ionian and Aegean Seas, Greece has over 400 diverse beaches fringing the mainland and its islands, making it an ideal destination for family fun on the sand or for those who want to escape and catch some rays. Each region of Greece has its own atmosphere, breath-taking scenery and local Greek traditions for you to explore. The country has an incredibly rich historical background and is considered the cradle of Western culture, due to its creation and contribution to philosophy, maths, literature, and the theatre. Present-day Greece is a balanced fusion of delicious food, welcoming culture and a stunning landscape.

Whether you are planning a family holiday, a romantic break for two or just a well-deserved rest, Greece has something for you. Check out our flight and hotel packages and book your holiday to Greece with Sunshine.co.uk.

Plaka Hotel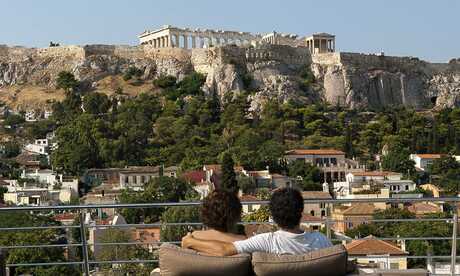 7 nights
Bed and Breakfast
Return flights from London Stansted
St. George Lycabettus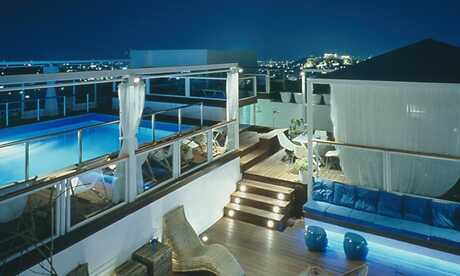 7 nights
Bed and Breakfast
Return flights from London Stansted
Electra Metropolis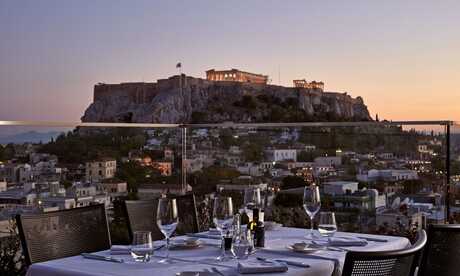 7 nights
Bed and Breakfast
Return flights from London Stansted
A for Athens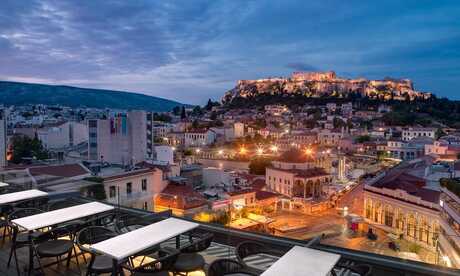 7 nights
Bed and Breakfast
Return flights from London Stansted
Athens Center Square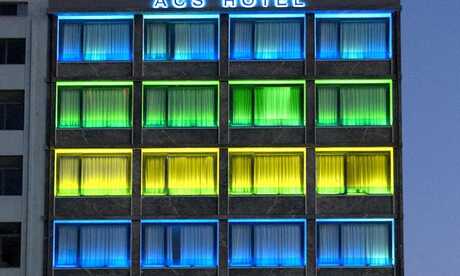 7 nights
Bed and Breakfast
Return flights from London Stansted
Hotel Acropolis Hill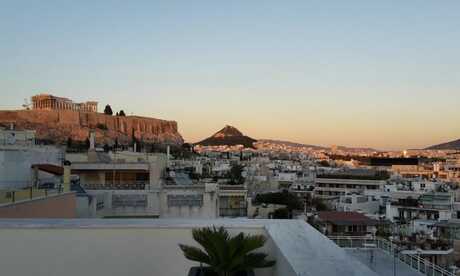 7 nights
Bed and Breakfast
Return flights from London Stansted
Congo Palace Hotel
7 nights
Room Only
Return flights from London Stansted
Savoy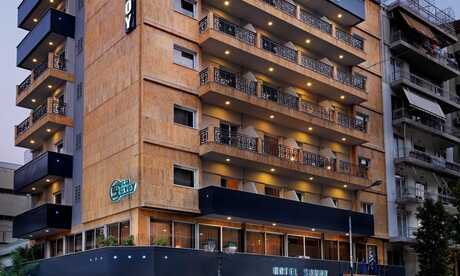 7 nights
Bed and Breakfast
Return flights from London Stansted
Athens City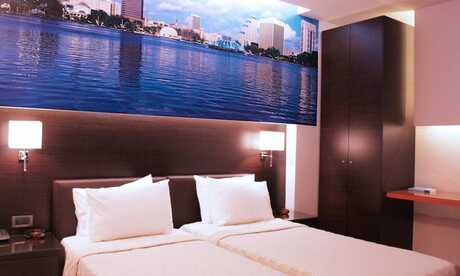 7 nights
Bed and Breakfast
Return flights from London Stansted
Food & Drink
There are plenty of places to eat out at across the Greek resorts including the more rustic tavernas, local and international restaurants, cafes and snack bars serving gyros and delicious crepes.

Traditional Greek cuisine is known for its heavy use of olive oil and fresh ingredients. Fish and seafood are widely served across the country as well as Greek cheeses. The incredibly popular feta cheese is highly recommended. Traditional meze sharing platters are also a must, simply choose a selection of starters for the table and let everyone tuck in.
Nightlife
Greece's lively clubbing destinations such as Malia, Kavos, and Faliraki are extremely well-known and popular with the 18 to 30 crowd who want to party all night and laze on the beach during the day. Zante is considered one of Greece's top 4 party resorts and it's bustling Laganas strip is lined with late-night pubs, clubs, and bars.

If you prefer a more relaxed setting in an evening, Greece offers a laid-back nightlife scene too and there are plenty of traditional tavernas to discover in resorts like Santorini. If you're in the capital, Athens, why not experience an evening performance at an open-air amphitheatre. Resorts like Halkidiki offer both sides of Greece's nightlife whether you fancy a night cocktails and dancing at a club or a quiet meal on the waterfront.
Activities
No matter where you decide to stay in Greece there is always something to do, see or get involved with. A boat trip is highly recommended, especially if you are staying on one of the islands like Corfu. Boats are available to hire or you can join an organised tour to experience Greece's glorious coastline and visit secluded beaches, islands like Paxos or the mainland.

You can get involved in a range of water sports like windsurfing and kayaking across many of Greece's beach resorts. If you would rather a dry land activity, Crete offers a unique experience to explore its wonderful hills on horseback. Other activities like mountain biking and rock climbing are available.

If you would like to learn more about Greek history and culture there are many ancient sites across the regions like the Temple of Apollo. Athens is one of the world's oldest cities and offers plenty of opportunities to immerse yourself in its history and architecture. Why not visit famous ruins like the Parthenon monument or museums like the Benaki Museum of Greek Culture?

If you fancy some retail therapy Kos is ideal for shopping for unique trinkets, mementos, clothes, and local produce. The public market is a must visit.
Popular Resorts
Corfu

The sunny island of Corfu boasts up to 13 hours of daily sunshine during the peak months of July and August and is a hugely popular destination for beach lovers. It's also a great place to take the kids as there is plenty to do and visit. The exciting water park Aqualand Corfu has slides and pools suitable for all ages and ability. If you fancy delving into Greek history then the neoclassical Achilleion Palace and its impeccable gardens are a must-visit.

Crete

The largest of the Greek islands, Crete boats vast sandy coves like Balos beach, charming pebble beaches and a dramatic rocky coastline. The calmer waters make activities like scuba diving and snorkeling popular and are available to all abilities. For those who prefer to stay on dry land, Crete offers a traditional tourist vibe in the city and a more authentic Cretan feel in its delightful villages. History lovers should check out the ancient ruins of the Palace of Knossos built by the Minoans.

Zante

Known as the Jewel of the East, Zante is a popular destination well known for its nightlife, party strips and lively atmosphere although the picturesque island does have a more relaxed side. Picturesque villages, sandy stretches of beach and rocky coves all contribute to Zante's stunning landscape but the island also offers unique experiences. Visit the nesting sites of the famous loggerhead turtles in Kalamaki and Laganas or take a family boat trip to Smugglers cove to see the 'shipwreck beach'.

Athens

The capital city of Greece and the home of democracy. It is no surprise that Athens is rich in historical sights, like the Acropolis of Athens an elevated ancient citadel, but it is also home to a bustling port and plenty of places to eat out or do a spot of shopping. The charming old quarters of Thisson and Psirri are known for its popular nightlife scene and Syntagma Square offers plenty of restaurants. If you fancy a day trip to an island there is a regular ferry service from the busy port of Piraeus.

Halkidiki

Picturesque Halkidiki boasts golden beaches, idyllic villages, and more modern tourist resorts. Its Mediterranean climate makes it a sunny spot and popular with sun-worshippers. The tranquil Possidi beach is a spectacular, sandy stretch with the remains of an ancient temple and a lighthouse. Halkidiki is also home to Greece's second largest city Thessaloniki, where you can visit the busy shopping areas of Egnatia, Tsimiksi and Modiano market.

Kos

Kos is a great destination for those looking for sun, sand and sports activities like beach volleyball, football, and tennis. The popular Paradise beach offers sunbeds and water sports, making it ideal for families with children. If you're looking for a lively night scene head to Kardamena or if you fancy a quieter holiday experience then Psaladi has a small beach, a few shops, and rustic tavernas for a traditional feel.
Useful Information
The local language is Greek, although locals especially in the tourist areas are likely to speak some English meaning communication and navigating is usually easy for English-speaking tourists.

The currency in Greece is the Euro. As always, we advise you to shop around for the best conversion rate.

The average flight time is around 3 - 4.5 hours from the UK. This can vary depending on what area of Greece you are visiting.
Search the sunshine.co.uk website:
×