Holidays to Dalaman
Situated along the coast of Turkey in the Muğla Province, Dalaman might be home to an endless sea and bright, blossoming skies, but you'll be feeling anything but blue during your stay. With colourful waterparks to keep the young ones happy, snorkelling opportunities perfect for the family and romantic boat trips along the Dalyan River, Dalaman is a hidden Turkish gem that you can enjoy however you choose, with whoever you choose.
Rosy Suites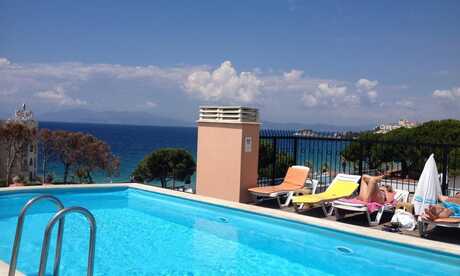 Self Catering
London Stansted to Izmir
Ozlem 1 Apartments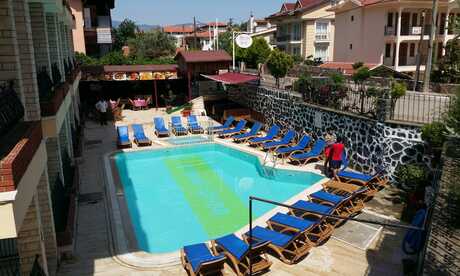 Self Catering
London Stansted to Dalaman
Grand Villa Sol Apart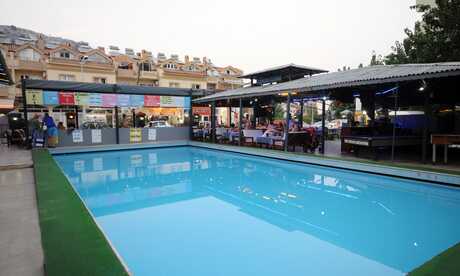 Self Catering
London Stansted to Dalaman
Nature Apart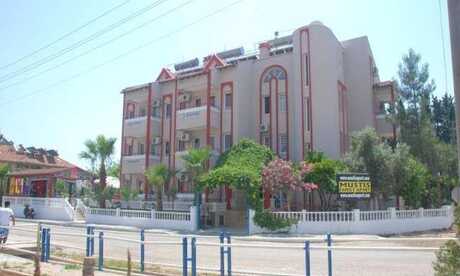 Self Catering
London Stansted to Dalaman
Hotel Ali Baba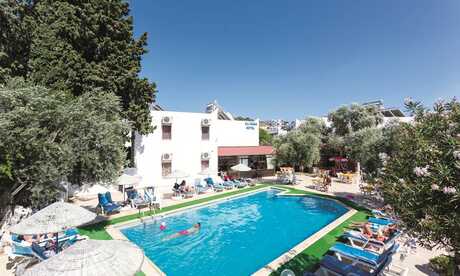 Bed and Breakfast
London Stansted to Bodrum
Nazar Hotel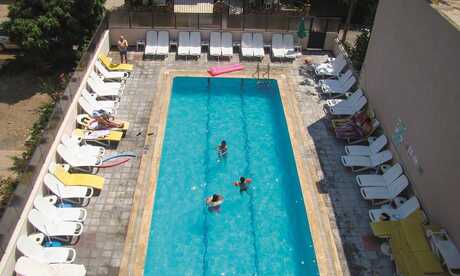 Bed and Breakfast
London Gatwick to Bodrum
Villa Fortin Hotel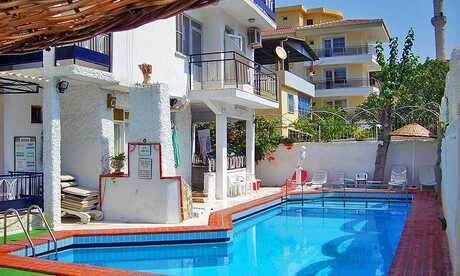 Bed and Breakfast
London Stansted to Izmir
Kavala Studios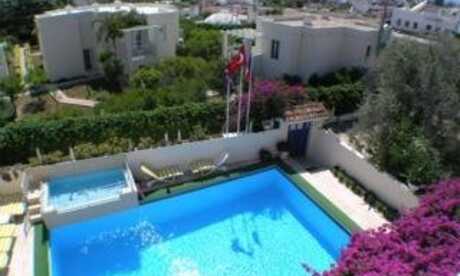 Room Only
London Gatwick to Bodrum
Hotel Saadet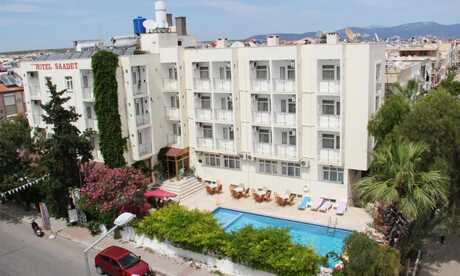 Bed and Breakfast
London Gatwick to Bodrum
Why Holiday in Dalaman?
If you're looking for a vibrant location to brighten up your days, where better than Turkey's Turquoise Coast? Loyal to its namesake, this district is tucked away in south west Turkey where sands are pillowy-soft and the sea is a brilliant blue. If you thought that Dalaman was limited to raucous nightclubs then think again; between the mountainscapes blanketed with pine trees, irresistible street food and the postcard-perfect coastline, Dalaman stamps a question mark on Turkey as you know it.

Whilst Marmaris nightlife is buzzing with energy and Olu Deniz is the perfect spot to dance your worries away with a cocktail or three, there is more to Dalaman than meets the eye. You can sprawl out on long stretches of sand, take a dip in the turquoise sea (snorkel optional), explore historical landmarks, get lost in quaint villages and chase cascading waterfalls. From a wonderfully blue waterscape to bars that paint the streets neon, there is something here for sun-seekers and night owls alike.
Beach Holidays in Dalaman
Crystal-clear waters, Loggerhead turtles and dazzling lagoons – these aren't just any beaches. Butterfly Valley is a slice of paradise in Olu Deniz where fine white sands and tropical trees are cradled by a scooping canyon so breathtaking that you'll feel like you're on a prehistoric film set. The waters here are a welcoming haven for swimmers and snorkelers, but you can simply grab a drink and lay back on the sands to admire Mother Nature's handiwork - or stick around in the evening for tasty barbecues and bonfire parties.

Not too far from Butterfly Valley is The Blue Lagoon – a national park with a stunning lagoon that resembles something from a fairytale. With still waters and a dreamy backdrop of faded mountains, this hidden nook is impossibly calm. Paddle in the clear waters as the waves lap at the shore, or paraglide overhead for mesmerising views of vivid blue.

For a truly unforgettable experience, visit Dalyan Turtle Beach for – you guessed it – sea turtles. This stunning stretch of beach is a conservation area and nesting place of the Loggerhead turtle. The turtles lay their eggs here from May to October and during the day it's an idyllic spot for sunbathing and swimming.
Food and Drink in Dalaman
With authentic Turkish cuisine on every corner and a selection of international menus woven throughout, you don't have to worry about going hungry if you holiday in Dalaman. Popular local dishes include - fresh seafood; street food such as kebabs and salads – perfect quick eats for travellers; Hamsili Pilav – anchovies baked with seasoned rice and sprinkled with pine nuts; pide – a type of Turkish pizza; and kofte - traditional Turkish meatballs. Let's not forget the sweet stuff either! Get your hands on some authentic Turkish delight or indulge in some lokma – a fried sweet dough drenched in syrup. What's not to like?

If you're looking for an inviting eating spot, Gobun Restaurant serves fresh seafood with zesty flavours and fragrant salads overlooking the water, or you can pay a visit to Caesar-Et Lounge for Mediterranean cuisine, kebabs and hearty steaks.
Visiting Dalaman
Thumping bass tunes and the pulse of pop music can be the soundtrack to your evening if you want them to, but there is so much more to Dalaman than cocktails and nightclubs.
Göcek is a little town in Fethiye, home to the twelve islands where you can take a leisurely boat trip and let the waves lull you from one island to the next. Surrounded by fragments of green-dusted land and the vast, open sea, this is an other-worldly tour ideal for sharing with someone special or for drinking in all on your own.

Explorers will be itching to climb Babadag Mountain in Fethiye where you can be one with the clouds and look out at the endless blue hues of the Turkish Riviera. Top it all off with a sunset dinner at Babadag Grill Bar & Restaurant for the perfect romantic spot with great-tasting food and even greater views.

If you prefer to keep your feet a little closer to the ground then you can lose yourself in winding streets at the small town of Sarigerme or tour the historic ruins of Kayaköy Ghost Town. This town was deserted in the 1920s, leaving little more than crumbling brickwork and a fascinating yet eerie atmosphere in its place.

Families can try their hand at the selection of watersports that you'll find in each crescent of the picturesque coastline, or set sail along the Dalyan River for sweeping greenery, landscaped vistas and turtle-spotting - something that's sure to keep the kids (and grown-ups) happy!

Why not switch up the pace with a relaxing day at the Dalyan Mud Bath in Marmaris? Channel your inner child (or hippo) by caking yourself in thick, chocolatey mud that's laced with healing properties. Once the mud has dried you can rinse in the lake and wash your worries away.
Useful Info for Visiting Dalaman
We know that you're probably itching to just hop on a plane and jet away, but please note that you'll need to obtain a £20 e-Visa from the Republic of Turkey e-Visa website beforehand, and make sure your passport has six months validity from your return date, as well as two clear pages inside and a valid return ticket so that your travels go as smoothly as possible. The local currency in Dalaman is Turkish lira, so don't forget to swap those pounds for lira if you want to grab some souvenirs for yourself and treats for the family.

Flights from the UK to Dalaman usually take between four and four-and-a-half hours, giving you plenty time to get into full holiday mode, make a start on your beach read, or catch some shut-eye so you can start your break with plenty of energy. Dalaman is three hours ahead of the UK, so be sure to alter your watch and electronic devices before you land so that everything falls into place once you step off the plane. Although the official language of the area is, of course, Turkish, you will find that the majority of the locals speak excellent English and written materials for tourists are often in English, so you won't need to worry about what you're ordering from the menu if you decide to eat out.
reviews recommend Sunshine.co.uk
Search the sunshine.co.uk website:
×