Holidays to Zante
With its infamous bustling nightlife and incredible sandy beaches, Zakynthos Island – or Zante to you and me – is a holiday hotspot for travellers of all ages. Discover beautiful turquoise waters, picturesque mountain villages and some of the best Greek food you'll ever eat!


Atlantis Hotel - Laganas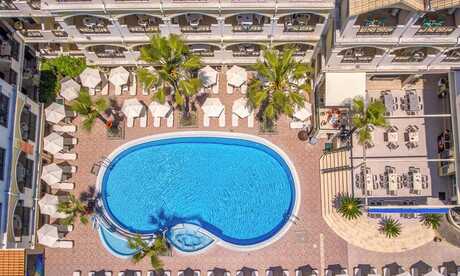 7 nights
Bed and Breakfast
Return flights from London Gatwick
Strada Marina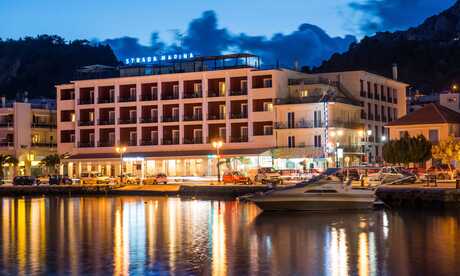 7 nights
Bed and Breakfast
Return flights from London Gatwick
Agave - Adults Only
7 nights
Room Only
Return flights from London Gatwick
Pansion Limni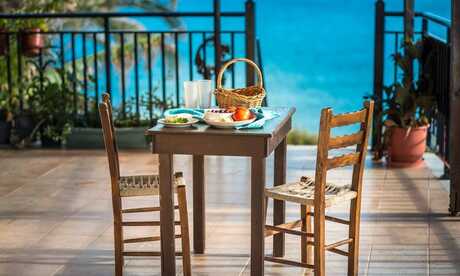 7 nights
Self Catering
Return flights from London Gatwick
Paradise Apartments And Studios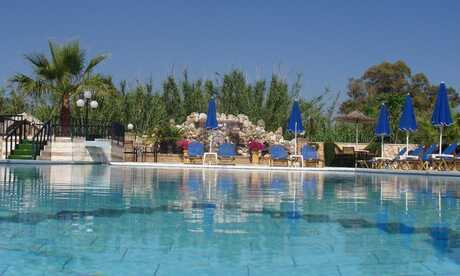 7 nights
Self Catering
Return flights from London Gatwick
Iakinthos Tsilivi Beach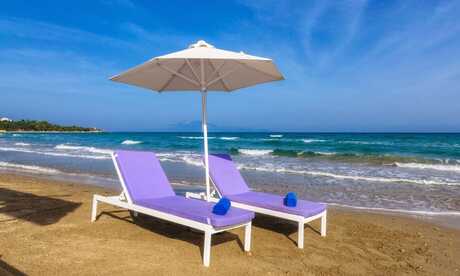 7 nights
Bed and Breakfast
Return flights from London Gatwick
Pansion Tsi Ostria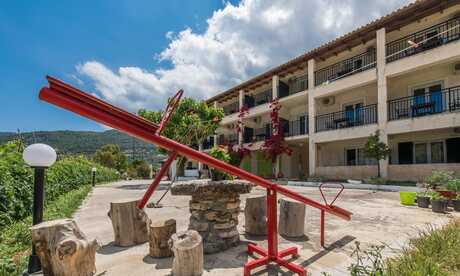 7 nights
Self Catering
Return flights from London Gatwick
Varres Hotel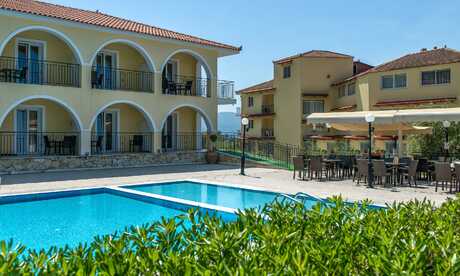 7 nights
Bed and Breakfast
Return flights from London Gatwick
Herodotos Studios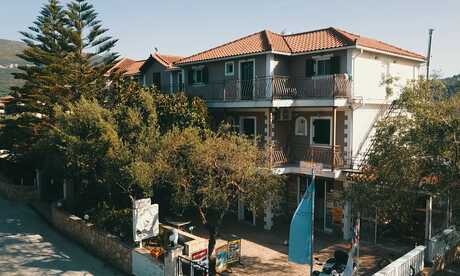 7 nights
Self Catering
Return flights from London Gatwick
Why Zante?
Whether you're a beach bum, an avid explorer or a party animal, Zante is sure to tick all of the boxes when it comes to being a great all-round destination – and if you're all of the above? Then Zante is the perfect holiday haven for you. Enjoy lazy beach days on the endless soft sands or escape into the mountains and discover family-run vineyards and traditional little towns before hitting the Laganas strip to dance the night away.
Beach holidays in Zante
Zante is a beach-lovers dream island. Known locally as 'The Flower of the Orient', this one-of-a-kind little island is packed to the rafters with long sandy stretches, secluded romantic coves and perfect pebble beaches. So, whatever kind of beach you fancy, Zante is sure to deliver – 365 days of the year.

If you're looking for a fun-filled family day out, then head to the ever popular Tsilivi or Nikolaos Beaches. These long stretches of super-soft sand are fringed by shallow waters and packed with plenty of amenities, making it a great spot for the little ones to enjoy the beach. You'll find plenty of loungers and parasols, restaurants for a spot of lunch and even Wi-Fi on the beach! For a more relaxing and peaceful day out, head to the small pebbled cove of Porto Vromi or the golden sands of Banana Beach. There's a few less tourists here and, in turn, a few less amenities making it more appealing to couples and those looking for a chilled out day trip. For a completely unique beach day out, it has to be Navagio Beach or 'Smuggler's Cove'. Accessed only by boat, surrounded by blue caves and displaying a huge shipwreck as its centrepiece, this beach is must-see in Zante.
Food and drink in Zante
Combining traditional Greek food with a few local twists, eating in Zante is an experience in itself. Vibrant, fresh and plentiful – a traditional Zante meal will offer a wide choice of flavours and showcases the islands best produce. With numerous olive groves around the island, the olive oil produced here is some of the finest in the world – and what better way to start a dish than cooking with the best oil?

Many restaurants here serve small dishes known as mezze to start. Usually shared by all, it gives you the perfect excuse to try a bit of everything this holiday! Popular mezze dishes include stuffed grape vine leaves known as dolmadakia, small feta cheese stuffed pastries called tyropitakia and plenty of fresh bread served with a choice of dips. Main meals are just as flavoursome with grilled meats, fresh seafood and refreshing salads in the spotlight. Must-try meat dishes include souvlaki – a skewered kebab of marinated meat and veg, and gyros – a pitta or flatbread stuffed with rotisserie-style cooked meat and stuffed with salad and sauces. Traditional dishes such as moussaka are not to be missed and can also be enjoyed as a veggie version which packs just as much flavour. And finally, a good Greek meal should be washed down with a local beer or wine and a good glug of ouzo!
Visiting Zante
Steeped in history and full of culture, this playful island offers so much more than just partying. Venetian and Byzantine influences can be seen through the intricate carvings and ornate architecture across the island – and they're not short of a church or two. Take a stroll through the island's capital, Zakynthos Town, and stop by the Byzantine Museum for an insight into times gone by. This wonderful city may be full of old charm but it was in fact carefully rebuilt to retain that charm in 1953, after a fire destroyed the majority of the city. Another museum at the top of the history list is the Museum of Dionyios Solomos and other notable people emanating from the island. Officially named a saint, St. Dionyios Solomos is the writer of the Greek national anthem, and no doubt one of the many reasons that Zante is known as the 'land of music and poetry'.

As for the nightlife in Zante, well, it's as varied as they come! The infamous 'Zante Strip' in Laganas is the place to go for world-famous DJs, neon lights, all-day boat parties and dancing until dawn. If you're after an unforgettable party holiday then this is the ultimate hedonistic destination of sun, sea and partying. If you're looking for something a little more laid-back then head to resorts such as Alykes and Kalamaki where you'll find a number of traditional tavernas and chic cocktails bars. Like to keep your options open? Then try Argassi – this well-established resort offers all the laid-back charm of smaller towns with a handful of late night bars and a smattering of nightclubs for those nights when you just feel like letting your hair down.
Useful information for your Zante holiday
So, you've settled on Zante as your next holiday destination? Great choice! Here's a few handy little nuggets of information before you jet off to sunny skies and turquoise waters. With a child-friendly flight time of around 3 hours and 45 minutes, you could be sinking your toes into the sand and enjoying the sun on your face in no time. Plus, the time difference is just two hours ahead, so it's easy to adjust (and more importantly – you won't miss a meal!). The official currency of Zante is the Euro so make sure you check out the best exchange rates and exchange your money before you travel to get the best possible deals. Zante is a Greek island and therefore the official language is Greek. A couple of useful Greek phrases include; good morning – kaliméra, please – parakeló and thank you – efharistó.
Search the sunshine.co.uk website:
×