Holidays to Bodrum
The Bodrum region of Turkey is a stunning holiday destination. Discover the charming city of Bodrum and the natural beauty of the Bodrum Peninsula. Located in the south of Turkey on the Aegean Coast, the resorts in the region are popular with families and couples due to the sweeping shorelines, rich culture, fascinating history and opportunity to either relax, get active or party all night.

A diverse destination, Bodrum offers something for all holidaymakers whether you prefer a busy, family-friendly beach with plenty of activities or a secluded cove where you can spend your days relaxing by the sea. There are some larger, more established resorts such as Bodrum town and Gumbet, that boast an exciting nightlife and a fantastic shopping experience, as well as quieter, more traditional areas like Torba where you can try some authentic Turkish dishes at a traditional Taverna.

Whether you plan to explore the ancient ruins at Ephesus, shop for bargains at a bustling marketplace, visit some family-friendly attractions or sail the coast and see the sights, you can book your holiday to Bodrum with Sunshine.co.uk
Aquasis Deluxe Resort & Spa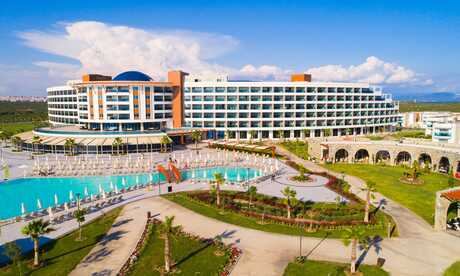 7 nights
All Inclusive
Return flights from London Stansted
Selectum Colours Bodrum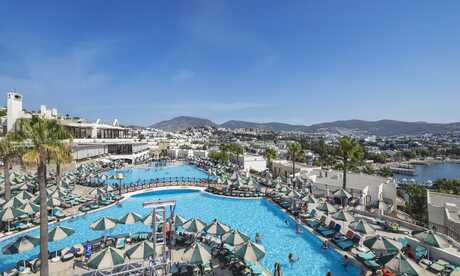 7 nights
All Inclusive
Return flights from London Gatwick
Parkim Ayaz Hotel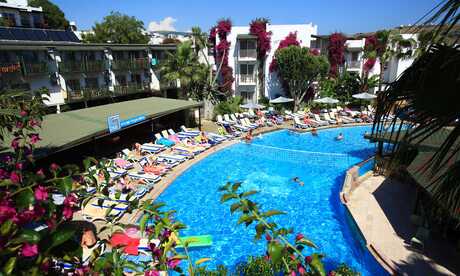 7 nights
All Inclusive
Return flights from London Gatwick
Duja Bodrum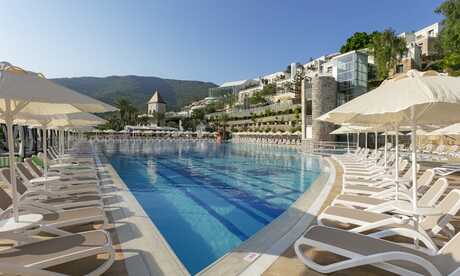 7 nights
All Inclusive
Return flights from London Gatwick
Samara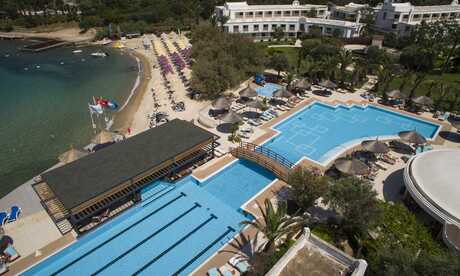 7 nights
All Inclusive
Return flights from London Gatwick
Costa Asmin Hotel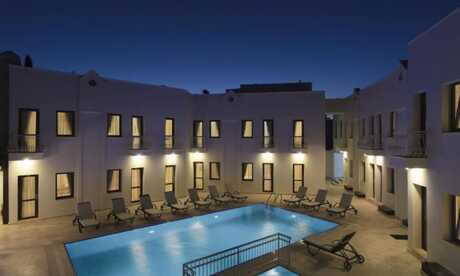 7 nights
Bed and Breakfast
Return flights from London Gatwick
Maxeria Blue Didyma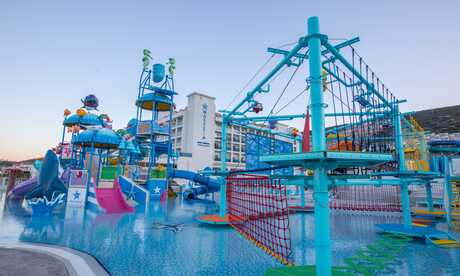 7 nights
All Inclusive
Return flights from London Stansted
Swissotel Resort Bodrum Beach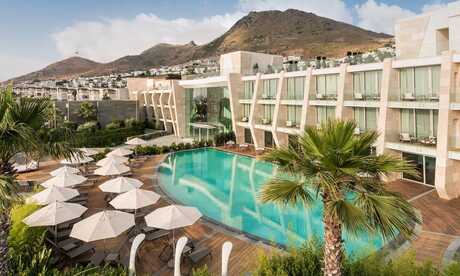 7 nights
Room Only
Return flights from London Gatwick
Club Hotel Flora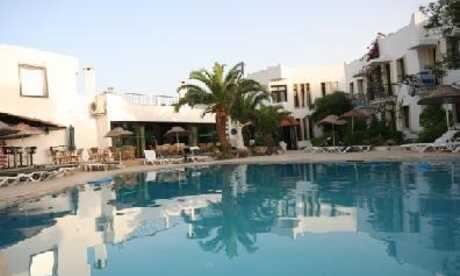 7 nights
Bed and Breakfast
Return flights from London Gatwick
Food and Drink in Bodrum
When it comes to dining out, the resort offers a wide range of choice, offering local Turkish dishes, Mediterranean food and international cuisine. There are many restaurants, cafes, traditional taverns and snack bars in the Bodrum region, so holiday makers will be able to find a place to suit their taste and budget.

The fishing village resorts Gumusluk and Torba are well-known for their seafood restaurants that serve delicious fresh fish. Meze, a selection of tasty Turkish appetisers made to share, is widely served across the Bodrum region and is best with a glass of wine and good company. Turkish kebabs are extremely popular too!
Nightlife in Bodrum
The nightlife in the Bodrum region is diverse so whether you feel like a romantic meal for two in a charming taverna, or a wild night of partying with friends, you'll find a place to suit you.
In Altinkum, tourists can enjoy belly-dancing performances and traditional Turkish music or head to the nightclub near the harbour. Dolphin Square has a great variety of bars ranging from family-friendly venues to Irish bars and Karaoke. Bodrum also has a buzzing atmosphere after dark, has a very popular bar and club scene as well as being home to Europe's biggest open-air nightclub venue called Halikarnas.
Activities
Home to the Mausoleum of Halicarnassus, one of the remaining Seven Wonders of the World, as well as a multitude of other historic attractions is what makes Bodrum a fascinating place to visit. History enthusiasts can explore castles, ancient sites and museums.

There's also plenty for families to do and the region boasts several water parks. The Adaland complex in Kusadasi is a fantastic day out for all ages with water slides, themed rides, a Dolphin Park where you can even swim with dolphins and a Seapark where you can swim through an aquarium and feed the marine life. It's a great place for making memories on your Turkish holiday.

For those who like to be active, the peninsula beaches offer a great opportunity for watersports; windsurfing is a popular activity or you could even try river-rafting along the Dalaman. There's also diving schools where tourists can learn how to dive or snorkel before exploring the coastline. If you prefer dry land adventures, then horse-riding, trekking and jeep-safaris are all fantastic ways to explore the landscape.
Popular Resorts
Altinkum

Ideal for beach lovers, Altinkum translates to 'Golden Sands' and boasts a wide, sweeping bay as well as two quieter beaches by the harbour. It's a tranquil resort, perfect for relaxing but also promises plenty to do. Holidaymakers can visit the historic Temple of Apollo and other ancient sites, take a boat trip around Bozbuk Bay or head to Dolphin Square for shopping, eating and drinking.

Bodrum

A picturesque resort located behind the bay, Bodrum is a maze of narrow streets lined with boutiques, cafes and bars. Bodrum's lively nightlife, immersive culture and quieter, romantic areas mean the city offers the best of both worlds and makes a great destination for couples, families and groups. Why not discover Bodrum's historic attractions such as St Peters Castle, take a stroll around the chic marina or take the family to the nearby Dedeman Bodrum Aqua Park.

Cesme

The colourful resorts of Cesme, Ilica and Alacati on the Cesme Peninsula promise sandy beaches, quiet bays and fun watersports. Ilica beach is ideal for families with younger children due to the shallow, calm waters and Alacati Beach is the perfect spot for windsurfers. Holidaymakers can sail out to the local islands on a traditional gulet, shop around Cesme town centre and marina or visit the 16th-century castle.

Gumbet

An excellent resort for couples and the young crowd, Gumbet offers a golden beach lined with bars and cafes, plenty of opportunity for shopping and a lively nightlife scene. Watersports such as windsurfing and banana boats are popular in the bay, and the local diving centre offers a scuba diving course so beginners are able to check out the local dive spots and marine life.

Kusadasi

With eight beaches and a marina, Kusadasi is a fantastic resort for taking it easy by the sea. The former fishing village has a vibrant atmosphere and is a delightful mix of old and new. In the evenings holidaymakers can choose between traditional tavernas, lively bars or clubs. A day trip to the ancient city of Ephesus is highly recommended for history lovers.

Torba

The idyllic fishing village of Torba can be found nestled in a beautiful bay on the Bodrum Peninsula and is the perfect place to spend your days relaxing, sightseeing and shopping. The calm waters are perfect for taking a dip or you can take a boat trip from the harbour. It's a quiet and peaceful resort, but if you fancy a livelier night out then the city of Bodrum is only a short distance away.

Useful Information for holidays to Bodrum

The average flight time to Bodrum from London Gatwick Airport is around 4 hours.

The local language is Turkish, however many people speak English in the tourist resorts meaning communication and navigation should be easy for English speaking holidaymakers.

The local currency in the Bodrum region is the Turkish Lira. As always, we recommend you shop around in order to get the best exchange deal.

Search the sunshine.co.uk website:
×