Algarve Holidays
Along the sunny south coast of Portugal, the Algarve attracts tourists from all over the world year after year. With a resort to suit every holidaymaker, a beach for every mood and delicious local food that will make anyone's mouth water, there's no wonder us Brits have it down as one of our favourite holiday destinations. From the historic sites of Faro, to the famous nightlife in Lagos, to the tranquil setting of Carvoeiro – wherever you decide to unpack your case, you'll be met with a warm welcome and even warmer weather!
Muthu Clube Praia da Oura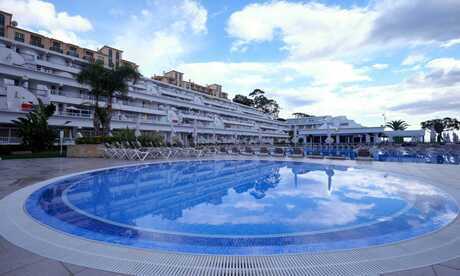 7 nights
Self Catering
Return flights from London Gatwick
7 nights
Self Catering
Return flights from Birmingham
Albufeira Sol Hotel & Spa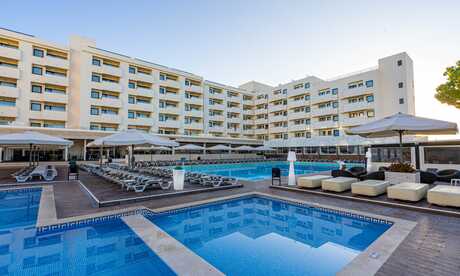 7 nights
All Inclusive
Return flights from London Gatwick
7 nights
All Inclusive
Return flights from London Gatwick
Janelas do Mar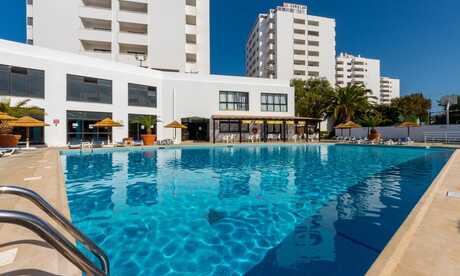 7 nights
Room Only
Return flights from London Gatwick
Auramar Beach Resort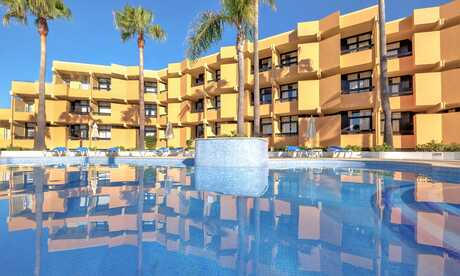 7 nights
All Inclusive
Return flights from London Gatwick
7 nights
Self Catering
Return flights from London Gatwick
Grand Muthu Forte do Vale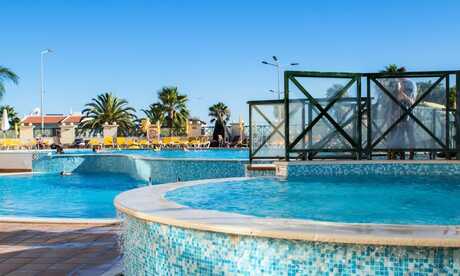 7 nights
Self Catering
Return flights from London Gatwick
Brisa Sol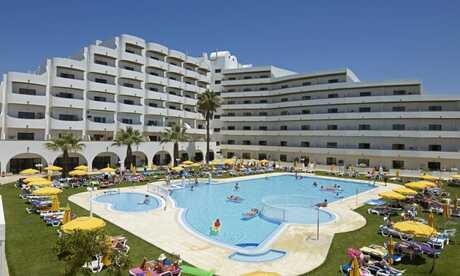 7 nights
Self Catering
Return flights from London Gatwick
Why Holiday in Algarve?
Whether you need a fun-filled family holiday, romantic couples' getaway or a top mates' break, the Algarve will tick all of your boxes. Not to mention the warm weather and the easy three-hour flight time too. Praia da Rocha and Albufeira are hot spots for families and feature plenty of hotels that are perfect for kids. Plus, you'll find a great choice of waterparks and attractions for all ages across the region, keeping the whole gang happy throughout the trip. If you're looking for a dreamy break just you and your loved one, the Algarve also holds some beautiful traditional fishing villages that make for wonderful romantic destinations. Cobbled streets, charming architecture and candle-lit dinners under the stars await in Tavira and Praia do Carvoerio - just two of the region's resorts that can provide you with the perfect atmosphere for an intimate getaway. Not travelling with family or your partner? Don't worry. Grabbing your mates and jetting off to the Algarve is a great idea, as you'll be met with not only a beach to suit everyone's needs, but also a harmonious mix of laid-back bars and buzzing nightlife in Lagos and Albufeira. An added bonus if you're a golf lover, as the Algarve has a prominent golfing scene and is renowned for its top-class courses.
Beach Holidays in Algarve
If the Algarve is known for one thing, it's the beaches. The region's coastline stretches an impressive 150km in length, meaning that you've got a glorious selection of sun, sea and sand to choose from. For a classic holidaymaker's beach, Praia da Rocha in Portimao is the place to be, attracting families, couples and groups with its spacious sandy surface and fantastic collection of bars and restaurants. One of the most beautiful beaches in the world, Praia da Marinha, is a must-visit with its turquoise waters and stunning cliff-side backdrop, plus its home to the famous 'M rock'. The Algarve isn't short of blue-flag beaches either, Ilha Deserta in Faro is a top pick as it's one of the most immaculate beaches on the southern coast, so it's no surprise its name directly translates to 'Deserted Island'. Want guaranteed space to relax? Praia de Tavira stretches a generous 12km in size and offers smooth sand alongside calm waves, making it a perfect spot for families and couples alike who seek a tranquil day by the seaside.
Food and Drink in Algarve
Stretching across the southern coast of Portugal, there's no wonder seafood is a great part of the Algarve's diet. Shrimp, tuna, swordfish, seabass and more - indulge in freshly-caught fish dishes for a taste sensation. One local delicacy to look out for is bacalhau, a delicious Portuguese salted cod, which can be served with potatoes, egg or even cream. If you prefer meat to fish, sausages are also a big hit with one of the most popular regional meals being a soup made with spicy sausage, kale and potatoes, called calo verde. Let's not forget dessert either! If you like egg custard then you'll love pastel de nata – the country's famous pastry, which can only be described as a delightfully upgraded egg custard tart. Wine is an obvious choice when in Portugal, with plenty of locally-produced reds and whites readily available and highly recommended. Those who prefer something a little stronger can try Ginjinha, a liqueur made from ginja berries fermented in brandy.
Visiting Algarve
The Algarve will welcome you with open arms as the Portuguese culture is very much based around a relaxed way of life, with family and friends close to their heart. Stepping away from the beaches, you'll find narrow streets and colourful houses in the fishing towns, and plenty of attractions for the whole family in more prominent tourist areas. Experience the taste of the Algarve at one of the local wineries or vineyards. With a great selection dotted across the region, you can expand your knowledge with a tour and take part in wine tasting - an all-round cultural experience.

If you're lucky enough to visit during Easter time, the Flower Torches Festival is a must-see event, traditionally occurring every Easter Sunday. The streets are lined with red carpets and 'torches' made from bunches of flowers are carried from the church throughout the town. Another big day for the country is Liberation Day on 25th April, a day filled with fireworks, entertainment and music. Celebrating Liberation Day is a nationwide occurrence, but is a big deal in the Algarve, so is one to definitely look out for!

Useful Info for Visiting Algarve
The Algarve's popularity may also stem from its sunshine, with the average temperature rarely falling below 15°C throughout the year, and reaching heights of 28°C in the summer months. Another great thing about Portugal as a whole is that there's no time difference between there and the UK, meaning that there's no jet lag to prey on your mind.
The local currency is the Euro, and some credit and debit cards are accepted in larger establishments due to the amount of tourists passing through. However, it's best to check for any transaction charges that may incur before you travel.

The national language is Portuguese, and although there may be locals who know some English, it's useful to know some basic phrases (and they'd appreciate the effort too). Greet someone by saying ola (hello), say please with por favor and, most importantly, you can thank someone by saying obrigado.


7 nights
Self Catering
Return flights from London Gatwick
7 nights
Self Catering
Return flights from London Stansted
7 nights
All Inclusive
Return flights from London Gatwick
Search the sunshine.co.uk website:
×