Holidays to Costa Brava
Located in the Catalonia region of Spain, Costa Brava is home to stunning beaches, quaint fishing villages, and popular resorts. Often referred to as the 'Wild Coast' due to its dramatic coastline, Costa Brava promises beautiful scenery and diverse destinations that offer family entertainment, lively nightlife, and fantastic weather.

Costa Brava offers a range of resorts allowing holidaymakers to create their ideal Spanish getaway. The region caters to all whether you prefer to spend your days relaxing on the beach, dining on fresh seafood, partying with friends or creating everlasting memories with the family. Book your holiday to Costa Brava with Sunshine.co.uk for great deals on flights and hotels.
Blue Sea Montevista Hawai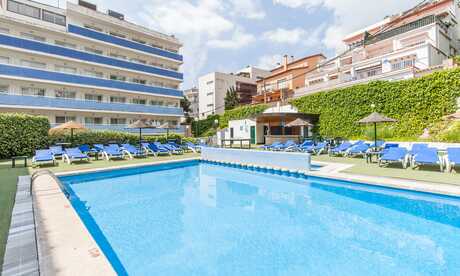 7 nights
Bed and Breakfast
Return flights from London Gatwick
Ibersol Hotel Sorra D'Or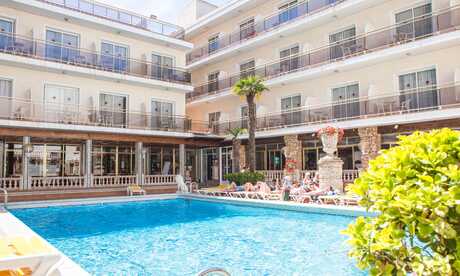 7 nights
Half Board
Return flights from London Gatwick
GHT Oasis Tossa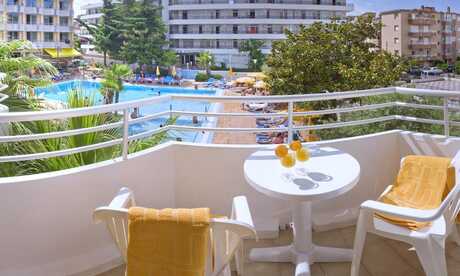 7 nights
Bed and Breakfast
Return flights from London Gatwick
Merce Hotel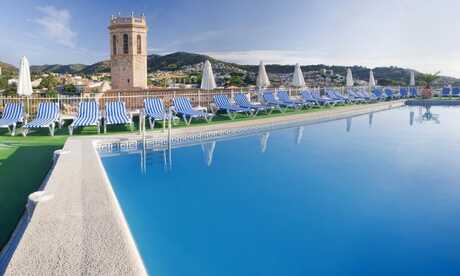 7 nights
Room Only
Return flights from London Gatwick
Hotel Samba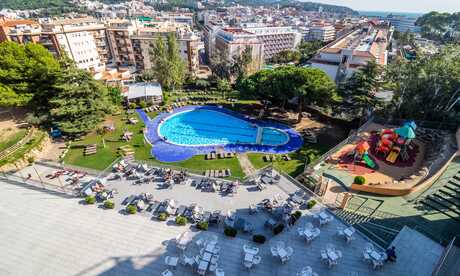 7 nights
Room Only
Return flights from Birmingham
H.TOP Olympic Hotel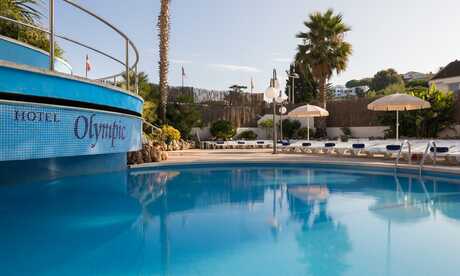 7 nights
Room Only
Return flights from London Gatwick
Tahiti Playa & Suites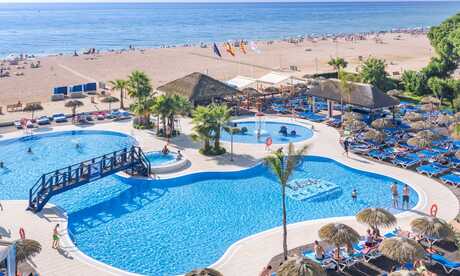 7 nights
Bed and Breakfast
Return flights from London Gatwick
Maria del Mar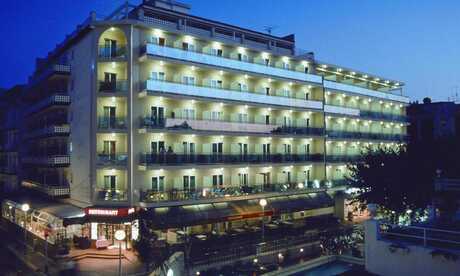 7 nights
Room Only
Return flights from London Gatwick
30 Degrees Hotel Pineda Splash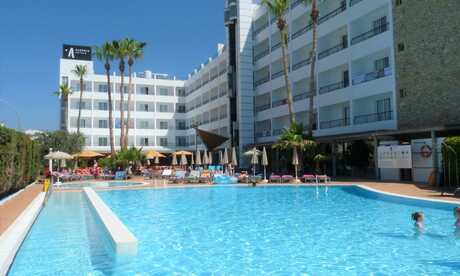 7 nights
Room Only
Return flights from Birmingham
Food & Drink
The Costa Brava region offers an exceptionally wide range of restaurants serving food from around the world so you won't struggle to find a spot that suits your taste. For those who want to experience the area's traditional cuisine, there is also plenty of opportunities to enjoy authentic tapas and freshly caught seafood.

Popular local tapas dishes include the Catalan speciality Pa amb tomàquet, which consists of bread brushed with tomato and seasoned with olive oil and salt. A fish stew known as Suquet comes highly recommended as well as mar i munyanya (sea and mountain), a paella dish that combines seafood with meat such as crayfish with chicken or cuttlefish with meatballs. If you fancy a traditional tipple, then no trip to Costa Brava is complete without tasting the fruity Sangria or sampling some locally-made wine.
Nightlife
From relaxed evenings in Blanes and Calella to the vibrant club scene of Lloret de Mar, the Costa Brava coast offers a rich and diverse nightlife. Holidaymakers can experience traditional fiestas and Spanish music in the more laid-back areas, as well as a wide range of restaurants and charming cocktail bars. The region also has plenty to offer the younger crowd, boasting a large number of discos and late-night clubs where the party people can drink and dance until the early hours.

Costa Brava offers plenty of cocktail bars such as the pretty Romantic Garden Bar in Tossa de Mar, perfect for a relaxed drink and some tapas whilst listening to some live music. There are also many family-friendly venues offering evening entertainment such as karaoke or comedy shows.
Activities
One of the main attractions of Costa Brava is its 4km of coastline and the wide choice of beaches ranging from Blue Flag certified sandy bays to discreet rocky coves. Many of the beaches along the coastline offer plenty of opportunity for water sports from jet-skiing to scuba-diving. For family-friendly beaches, head to Sant Pol de Mar which boasts a long stretch of sand, shallow waters ideal for paddling, and a play area. The new extension to Platja Blanes is also ideal for families as the beach here has a gentler slope to the sea. For a quieter beach experience head to Sa Caleta, the idyllic fisherman's cove which is overlooked by an historic castle and located next to Lloret beach.

There is plenty to see and do in Costa Brava so keen explorers and history enthusiasts will not be disappointed. Those who like to stay active on holiday can experience the region and take in the beautiful sights and scenery on a walk, hike or horse-ride through the hills. For those seeking a unique and memorable experience, there is the opportunity for amazing hot air balloon rides over the dramatic landscape. If culture and history are more your thing, then why not visit the Town of Figueres in Girona and discover the home of Salvador Dali and the large museum designed by the artist himself.

For family fun, holidaymakers can make a day trip to a number of water parks including Water World Lloret to experience their thrilling water slides and river rapids and more. The attraction offers something for everyone despite age and ability as there's also a children's island and a relaxing lagoon.
Popular Resorts
Blanes

Blanes, known to many as the Gateway to the Costa Brava, has a relaxed vibe and is an ideal destination for families. Boasting a rich blend of old & new, holidaymakers can explore the colourful Mar i Mirta Gardens, shop at the markets or visit the ancient sites such as the palace of the Viscounts of Cabrera and the medieval castle of Sant Joan. For family fun, Europe's biggest water park Waterworld is close by. In terms of nightlife, expect memorable evenings filled with traditional fiestas, folk dances and plenty of Spanish music.

Calella

A fantastic resort for all ages, Calella boasts 3 main beaches, a sports complex and an exciting nightlife scene. During the day there are plenty of opportunities to relax, swim in the shallow waters, explore the town or soak up some local history and culture at the museum. As evening falls, holidaymakers can enjoy a delicious meal or drink at the quaint bars in the older part of town. For the younger crowd, there are a number of bars and clubs where you can dance the night away.

Lloret De Mar

Considered the Costa Brava's most popular and vibrant resort, Lloret De Mar offers a fantastic experience for families, couples and groups looking for a place to relax, party and make memories. Holidaymakers have a choice of five beaches as well as plenty of opportunities to explore the area's history and culture including the Verdaguer Cultural Centre. The resort is also the ultimate party hotspot in the area and is home to hundreds of bars and over 30 nightclubs.

Malgrat De Mar

An interesting mix of old and new, Malgrat De Mar offers holidaymakers a unique holiday within a short distance of Costa Brava's biggest attractions. With three diverse beaches, linked by a waterfront promenade, the resort offers great watersports and plenty of chance to relax. Culture lovers should head to the Church of St Nicolau, which also offers beautiful views of the wild coast. In the evenings there are a number of local bars offering varied entertainment from karaoke to comedy nights.

Santa Susanna

Santa Susanna is a laid-back resort ideal for families and those seeking traditional Spanish charm. There are three beaches perfect for relaxing and catching some rays as well as the charming old town. The Massif Montnegre National Park is a popular attraction for those who love to explore and the La Mare de Deu de Gracia chapel also offers stunning views. In the evenings, holidaymakers can enjoy some local seafood, have a few drinks at a local bar or take a taxi up the coast to the lively Lloret de Mar.

Tossa De Mar

Home to cobbled streets and an ancient castle, Castillo de Tossa de Mar has a rich background and offers some truly picturesque scenery. Although it may not be as lively as other Costa Brava destinations, Tossa de Mar still has plenty to offer in terms of nightlife including some fantastic bars and great restaurants by the seafront.

Useful Information for Holidays to Costa Brava

The average flight time is around 2 hours from the UK to Costa Brava.

The local currency used in Costa Brava is the Euro. We recommend visitors to shop around for the best exchange rate in order to gain the best deal.

The local language in Costa Brava is Catalan, although Spanish is widely spoken too. However, many people speak English, especially in the more popular tourist areas, this means English-Speaking holidaymakers can easily communicate and navigate the region.

Search the sunshine.co.uk website:
×