Sardinia Holidays
Sandy shores, hidden coves and some of the best food in the world - it's got to be Sardinia! Italy's second largest island is a jewel in the Mediterranean and it's clear to see why - surrounded by crystal clear turquoise waters and a plethora of events and sights – there isn't such thing as a dull day here.

Shop at the stalls lining the winding streets in Cagliari, spot a starfish on one of the sandy beaches or grab your walking boots and see the island from a different angle whilst atop a mountain peak. Sardinia is a beautiful island which is ideal for a fun family holiday or a relaxing trip away with your partner.
Lu Hotel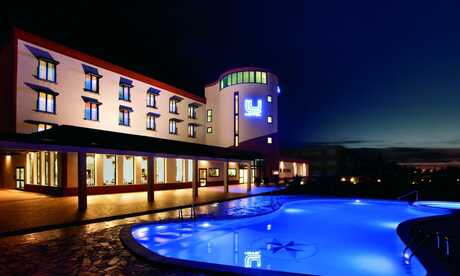 7 nights
Bed and Breakfast
Return flights from London Gatwick
Villa Margherita Hotel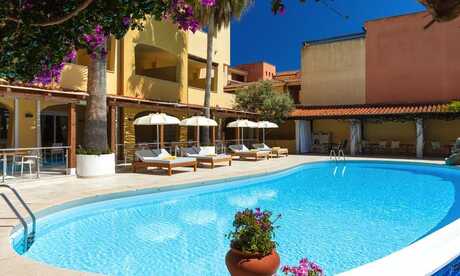 7 nights
Bed and Breakfast
Return flights from London Gatwick
Alma Di Alghero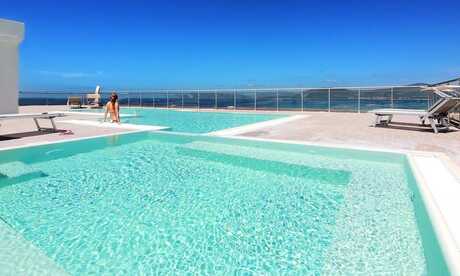 7 nights
Bed and Breakfast
Return flights from London Gatwick
Jazz Hotel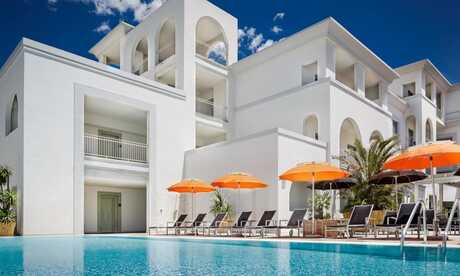 7 nights
Bed and Breakfast
Return flights from London Gatwick
Santa Lucia Capoterra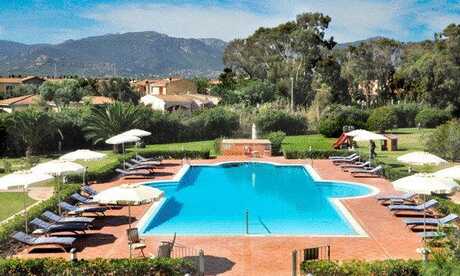 7 nights
Bed and Breakfast
Return flights from London Gatwick
T Hotel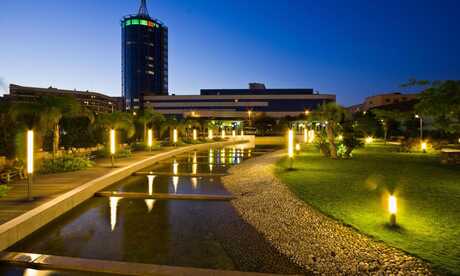 7 nights
Bed and Breakfast
Return flights from London Stansted
Residence Palau Green Village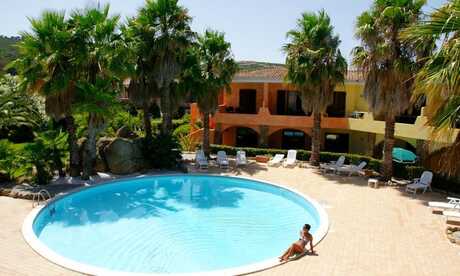 7 nights
Room Only
Return flights from London Gatwick
Why Holiday in Sardinia?
With long hot summers lasting around six months and lovely warm winters – Sardinia draws visitors in all year round and it's not hard to see why. The island has a shoreline of around 2,000km – that's plenty of space for catching rays on the sun-kissed sands or admiring the sea life in the hidden coves.

If you enjoy the heat, this is the place for you! The island has an average temperature of 25°C and – unlike summers here in the UK – Sardinia's summers last for six months. In the winter the weather is still warm, making it the ideal destination for a year-round holiday choice, and swimming in the sea during January is a bit more pleasant here!

Beach Holidays in Sardinia
The island has a spectacular coastline – close your eyes and image walking across powder white sands whilst looking out over the majestic emerald waters. Who knew you could find paradise just a few hours away by plane? There are so many beaches here to suit each beachy-personality; for sand dune heaven, the west is the best place to visit, however, for that perfect Instagram picture, the limestone mountains and secluded coves in the east are the best places to go.

With more beaches than you can shake a stick at, it's incredibly hard to choose our favourite as they're all so different and beautiful. A popular choice amongst both locals and visitors is Cala Capra - a beauty spot in the north which has pristine white sands and emerald waters surrounded by luscious pine trees and flowers. Most importantly, it's beneath the magnificent Capo D'Orso headland and its distinctive bear-shaped weathered rock. Your photos will look amazing, but being there is even better!
Food and Drink in Sardinia
As with any Italian island, you know you'll be dining in some of the best restaurants in the world and the food will be second to none. Be prepared to try the best pizza you've ever had - forget those fast food favourites, this doughy goodness is at its best in Italy.

If you like carbs, Sardinia is for you, as almost all meals are served with a type of bread, either as a small side or a basket to get you started. There are hundreds of varieties to choose from, including pane guttiau - which is brushed with olive oil and topped with a sprinkling of salt - and spianata, which is similar to pitta bread.

Sardinians tend to call themselves shepherds – and it's clear to see why. Meat is often the dish of the day and traditional dishes include pork, mutton or boar and - if you're feeling a little more adventurous - horse and donkey are also known to appear on menus. Of course – as a Mediterranean island - seafood is an important part of the Sardinian diet with popular dishes including sea bass and lobster, either served simply with melted butter and a squeeze of lemon, or with fresh pasta. Is your mouth watering yet?

To drink with your meal, why not enjoy refreshing glass of San Pellegrino lemonade? Produced in the north of Italy, it's a favourite soft drink of locals and tourists alike. Or if you're after a something a bit more boozy, Sardinian wines are world-renowned. Whether you fancy a glass of rich and strong red accompany a meaty dish, or a glass of white to enjoy with your fish – the local wines are truly amazing.
Visiting Sardinia
Beaches play a very important role in most holiday destinations, but look a little further inland and you'll find that there's plenty going on further inland. Life here is very different to the way Italians live on the mainland – the island is host to lots of traditional feast festivals and events which take place throughout the year - and they show a lot about Sardinians and the history of their beautiful island. The majority of festivals have a religious theme and you'll also find a plethora of cultural events you can take full advantage of – ranging from the annual fish festival in July to the International Jazz Festival in August. Make sure you check with the tourist board before you travel as there are plenty more events like these held throughout the year!

The streets in Cagilari and Olbia are sprawling with markets and each stall is decorated with warming colours. They're ideal for souvenir shopping – you'll find traditional willow baskets, blue and white painted ceramics and beautiful clothing, made from cotton grown in northern Italy. If you're after some Sardinian delicacies, the markets have everything from fruit and vegetable dishes, to meat, sugary treats and local honey.

As night falls, the island is still lively and full of entertainment. Head to Cagliari for bustling bars and nightclubs where you can dance until the sun comes up. A hot spot amongst locals and visitors is Twist Beach Club which is just a short journey out of the center towards the coast – visitors can enjoy delicious local drinks and dance to traditional Italian music and a range of tunes from the charts! If you're looking for a quieter night, there are plenty of areas around the island for a relaxed socializing atmosphere while enjoying a drink or two.

Useful info for visiting Sardinia
A trip to Italy wouldn't be complete without a shopping trip (or more), and in order to shop til' your hearts content you'll need to convert your pounds to Euro. For the best rates you'll want to sort your currency before you travel, but if need be there are also plenty of bureau de changes across the island.
The official language is Italian and picking up a few common words like ciao (hello) and addio (goodbye) will be helpful, although you won't struggle to find English translations in restaurants and popular tourist spots.

The average flight time from London is 2 hours 30 minutes so you'll be sunning it up in no time! Sardinia is one hour ahead of BST, so jet lag won't be a thing for you. Italy is a very Catholic country and as with the mainland, you'll find plenty of churches dotted around the island. As ever, if you're planning on visiting a place of worship - please be respectful and dress appropriately.

Search the sunshine.co.uk website:
×