Canary Islands Holidays
The Spanish archipelago that offers sunshine, serenity and so many adventures! Made up of Lanzarote, Fuerteventura, Gran Canaria, Tenerife, La Palma, La Gomera and El Hierro, there's no wonder the Canary Islands welcome British holidaymakers year after year, with their stunning shores, amazing nature trails and activities to suit everyone. From luscious Lanzarote to terrific Tenerife, fantastic Fuerteventura to gorgeous Gran Canaria – if you're seeking an escape that will be soaked in year-round sunshine, we've got the perfect holiday to the Canaries for you. The main tourist resorts offer fantastic facilities for windsurfing, sailing and golf for those looking for active holidays.
Bakour Lanzarote Splash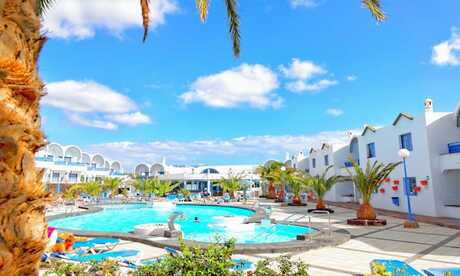 7 nights
All Inclusive
Return flights from London Gatwick
Laguna Park II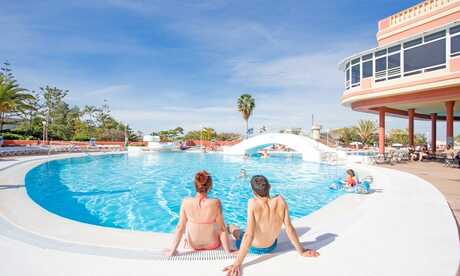 7 nights
Self Catering
Return flights from London Gatwick
Checkin Bungalows Atlantida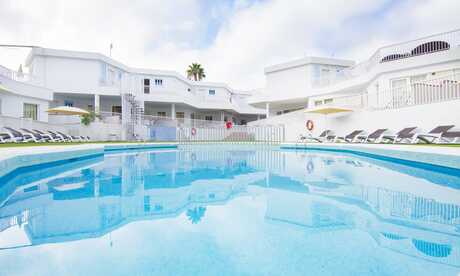 7 nights
Self Catering
Return flights from London Gatwick
Castillo Beach Club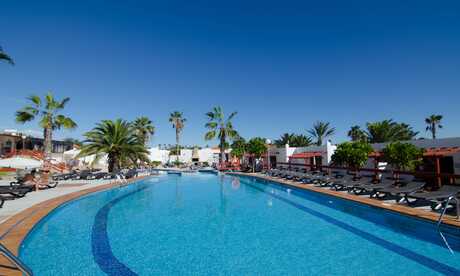 7 nights
Self Catering
Return flights from London Stansted
Las Piramides Resort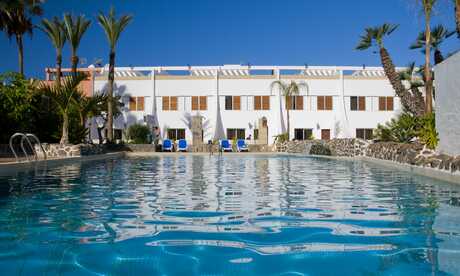 7 nights
Self Catering
Return flights from London Gatwick
Blue Sea Costa Teguise Gardens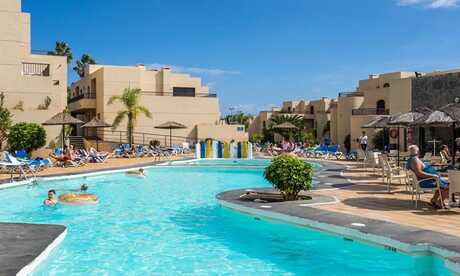 7 nights
Self Catering
Return flights from London Gatwick
Servatur Puerto Azul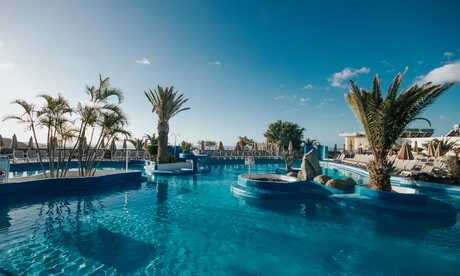 7 nights
Bed and Breakfast
Return flights from London Gatwick
Sol Tenerife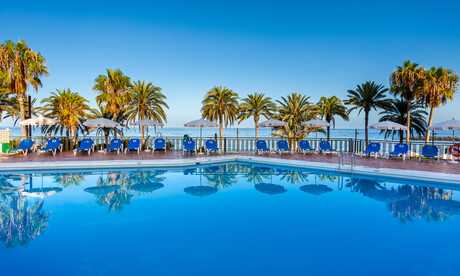 7 nights
Bed and Breakfast
Return flights from London Gatwick
SMY Tahona Fuerteventura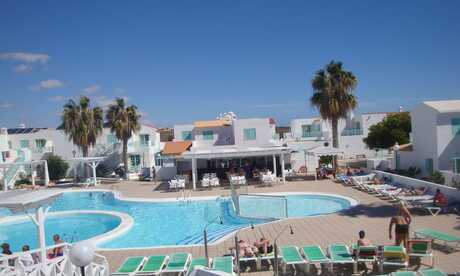 7 nights
Bed and Breakfast
Return flights from London Stansted
Why Holiday in the Canary Islands?
Situated perfectly off the coast of North Africa, these Spanish Islands boast Mediterranean culture with the sizzling African heat. With year-round heat and sublime sunny skies, the Canaries are the top pick for a beachy break no matter the season. Whether you're seeking a summer escape to somewhere hot where you can unwind, or you're looking to get away from the brisk winters of the UK but don't want to travel too far – the Canary Islands are your answer. Families love the islands for their many beautiful beaches and brilliant kid-friendly hotels, couples adore the charming old towns and the oh-so-romantic restaurants and groups of friends love to live it up in the bustling party towns such as Las Palmas in Gran Canaria, Puerto del Carmen in Lanzarote and the famous Playa de las Americas in Tenerife.
Beach Holidays in the Canary Islands
Sun-soaked days, sandy beaches, dipping into warm waters – there's nothing quite like a beach holiday, is there? Live the laid-back island lifestyle in the Canary Islands with beautiful beaches within easy reach. Jet off to gorgeous Gran Canaria, where you'll be met with 60km of shimmering beach just waiting for you to relax on. If you're looking for a slice of paradise to unwind on, Alnfi del Mar is the palm tree-studded spot of the shore for you. For spacious sunbathing spots and nearby bars and restaurants, head the island's longest beach Las Canteras. Over in Tenerife, there are over 40 beaches to discover, from sandy shores to rugged volcanic coastlines. If you fancy spending your days simply relaxing peacefully by the sea, head to Los Gigantes where you'll find sea, sand and stunning natural surroundings. Prefer a hidden gem? Tenerife's Mesa del Mar offers untouched sands and is truly serene.

Lanzarote's luscious beaches are a dream. Stroll along sweeping golden sands at Playa Grande or for family-friendly beach days head to Playa Flamingo where you'll find soft sands meeting crystal waters. Those who love to surf the waves can visit the beaches in the north-west of the island, which offers perfect watersports conditions. If you're seeking world-class watersport beaches, make sure to visit Fuerteventura, where you'll find El Cotillo that's great for beginners, The Bubble beach for more advanced surfers and Flagbeach for the more laid-back and relaxed watersport enthusiasts.

Food and Drink in the Canary Islands
Canarian cuisine is one of a kind – combining the very best of Mediterranean and African tastes and textures to create something unique. Potato fans will fall in love with the local delicacy, papas arrugadas – crispy and salty potatoes that are the elite savoury snack or dish and are perfectly paired with the local mojo sauce. One thing that is always absolutely spot on whilst anywhere by the beach is fresh seafood and that can definitely be said for the Canaries. With the islands boasting year-round heat and their position in the North Atlantic Ocean, it's a prime spot for tasty fresh fish and seafood that make outstanding dishes fresh off the grill. Cheese lovers will drool over queso asado, a local goat's cheese that can be fried, baked or dipped in sauce! Love your Spanish cuisine? The Canaries also, of course, offer delicious dishes from mainland Spain like paella and traditional tapas. If you have a sweet tooth, make sure to try the selection of desserts on offer, starting with the bienmaesabe, a traditional treat made from almonds, lemon and honey and amazing with some ice cream. Marzipan and nougat are also popular picks in the Canaries, however, the marzipan is unlike anything you will have tasted and is more of a cake than what we know – a definite must-try!
Visiting the Canary Islands
Whichever island you choose for your sun-soaked getaway, there are plenty of places to go, sights to see and adventures to go on. Families will find an amazing range of kid-friendly hotels with top-class entertainment and facilities to keep the whole gang smiling from ear to ear. Plus, if you're a group of water babies who love to find the local waterparks, there are so many to choose from. If you're thinking of heading to Tenerife, make sure to visit the famous Siam Park where adrenaline junkies and lazy river lovers alike will have an unforgettable day out.

The stunning mountainous landscapes paired with the lush green nature on the islands make them a hit with hikers and cyclists. For the premium hiking day out, Mount Tiede in Tenerife offers jaw-dropping views with the heights reaching 3781m and has blissful surroundings on the route up to the top. Those who prefer to stay close to the sea will feel at home on any of the islands, not only due to the extensive selection of stunning beaches but also because the islands are known for being the prime destinations for watersports. So, whether you surf, sail or even just fancy a snorkel, you're in the right place.

If your idea of a dream holiday is to sleep all day and party all night, there are plenty of top nightlife spots across the islands. Discover cool little bars, have cocktails with sea views and dance the night away – some of the best spots for fun-filled nights out include Playa de Las Americas in Tenerife, Las Palmas and Playa del Ingles in Gran Canaria, and Puerto del Carmen in Lanzarote.

Useful info for visiting the Canary Islands
Aside from how beautiful, beachy and brilliant the islands are, what is the need-to-know information about the Canaries? Well, the Canary Islands include Tenerife, Lanzarote, Gran Canaria,Fuerteventura and La Palma. The average flight time from the UK to one of the islands is around 4.5 hours and there's no time difference between there and the UK. The currency used on the islands is the Euro and the local language is Spanish.
Airports
The Canary Islands are served by 6 main airports, 2 of which are in Tenerife covering the north and the south of the island. The average flight time is 3 to 4 hours depending on which part of Britain you fly from. Flying to the Canaries has become ever more popular due to the all-year-round great weather, consequently, there are always cheap flights throughout the year.
How hot?
Everyone likes to know how hot it is likely to be on holiday, so we've rustled up some info to let you know a little more about the Climate. The Canary Islands are known as 'The Islands of Eternal Spring' for their famously pleasant weather all year round. The Canaries have warm and sunny weather, with temperatures rarely under 61°F (16°C) in winter and 77°F (25°C) in summer
Destinations in Canary Islands
Search the sunshine.co.uk website:
×