Package Holidays
At Sunshine.co.uk, we believe booking your ideal holiday should be as easy as possible, so we're happy to offer an excellent range of package holidays including flights and hotels at incredibly competitive prices.
All of our flight-inclusive package holidays are protected by the ATOL scheme too so you won't need to worry about losing out on any money if there are any unforeseen circumstances regarding the companies involved.
Our package holidays include the best possible deals and resorts, meaning you don't need to worry about building your own package. Simply enter your chosen dates and search for your perfect holiday including flights, hotels and any transfers necessary.
With over 30 destinations, we have packages suitable for all, whether you are planning a family-fun holiday, a romantic getaway, a relaxed beach break, or you just fancy a spontaneous cheap deal. You can browse our large range of package holidays by destination and category so you can find a holiday that's ideal for your budget and interests.
All Inclusive
Manchester to Tenerife South
Hotel Best Jacaranda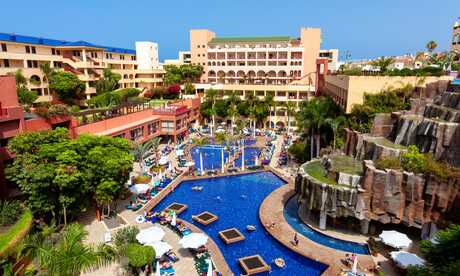 Bed and Breakfast
Birmingham to Tenerife South
Gran Oasis Resort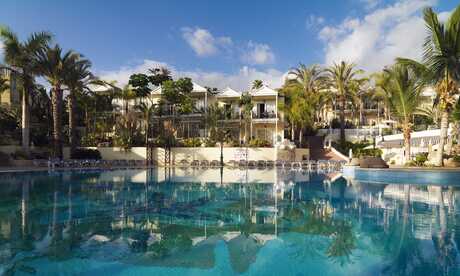 Room Only
Manchester to Tenerife South
Holidays for Families
Family holidays are all about getting together and making memories, and our package holidays make it as easy as possible. If you and your family are hoping for some fun in the sun check out our package deals to a range of popular resorts offering both short-haul destinations like Spain and the Balearic Islands as well as long-distance flights to places like Egypt or Florida.
We offer plenty of kid-friendly holidays and packages with all-inclusive dining options, mini clubs, children's pools, and amenities, making sure your little ones are well fed, entertained and having the maximum amount of fun.
Eden Apartments
Self Catering
Birmingham to Gran Canaria
Cordial Mogan Valle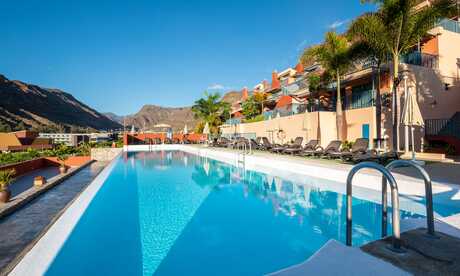 Self Catering
Birmingham to Gran Canaria
Paradise Lago Taurito & Aqua Park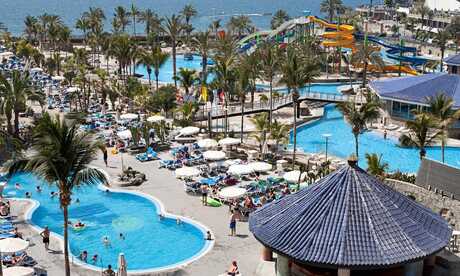 All Inclusive
Birmingham to Gran Canaria
Romantic Couple holidays
Why not treat your partner to a romantic escape? At Sunshine.co.uk, we offer a wide range of packages to stunning destinations where you can both relax on the beach, go for a dip in the pool, feast on local delicacies and enjoy a cocktail or two in the evening. Our holidays include spa hotels and adult-only resorts in many destinations including Fuerteventura and Corfu.
You may prefer to immerse yourselves in a cultural city visiting museums and art galleries, we have packages for that too. Or, maybe you and your significant other deserve to let your hair down so why ot head to a vibrant destination full of bars and clubs like Magaluf or the party island of Ibiza.
Sol Principe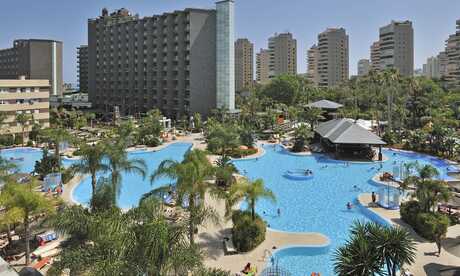 Bed and Breakfast
London Stansted to Malaga
H.TOP Pineda Palace Hotel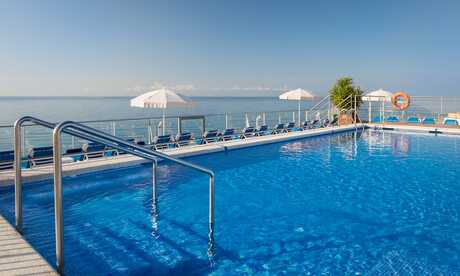 Room Only
London Stansted to Barcelona
Albir Garden Resort & Aquagarden
Self Catering
London Gatwick to Alicante
Package holidays available at Sunshine.co.uk
Take a look at some of our available destinations and package deals including flights and hotel accommodation.
The Canary Islands
An ideal destination for relaxing on a beach, splashing around at a family-friendly water park or getting involved in activities and water sports. The islands boast Mediterranean temperatures and an average of 300 days of sunshine a year. Gran Canaria promises glorious weather, huge beaches, and a lively nightlife and Tenerife is also extremely popular with British tourists offering a wide range of attractions whatever your age. Or maybe you will discover Lanzarote's volcanic landscape and delicious cuisine, climb the sand dunes or go scuba-diving at Fuerteventura. Whatever you want from your holiday to the Canaries, whether it's a romantic and relaxing break or an action-packed adventure, check out our package holidays at Sunshine.co.uk to find flights and hotels to suit you.
Servatur Terrazamar & Sun Suites
Self Catering
London Stansted to Gran Canaria
Caleta Garden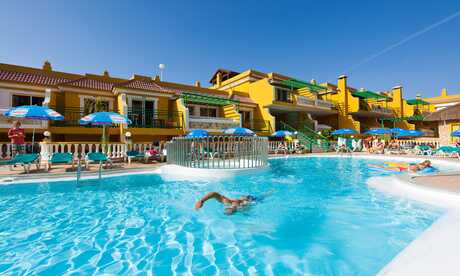 All Inclusive
London Stansted to Fuerteventura
All Inclusive
Manchester to Tenerife South
The Balearic Islands
The Balearics are a short travel distance ideal for a family getaway and at Sunshine.co.uk, we offer a range of package holidays where you can find flights and hotels to suit your budget. The islands are known for beautiful stretches of beach, picturesque scenery and plenty of sun. Majorca is a well-known destination with family-friendly resorts and Mediterranean culture. Menorca offers a quieter experience with laid-back beaches and romantic coastal towns. Ibiza, famous for its vibrant party scene, also offers a more rural side with stunning views and historic sites.
Punta del Mar Hotel & Spa - Adults Only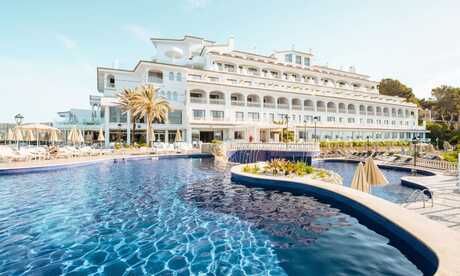 Bed and Breakfast
Manchester to Palma Majorca
Zafiro Rey Don Jaime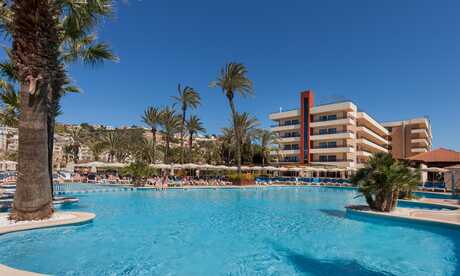 Self Catering
Manchester to Palma Majorca
JS Palma Stay - Adults Only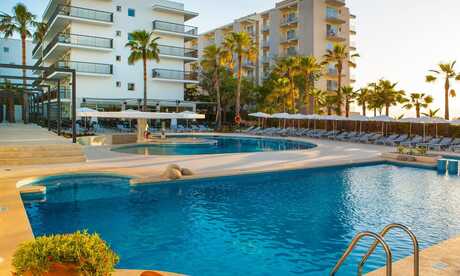 Room Only
Manchester to Palma Majorca
Mainland Spain
Spain is a perfect holiday destination promising the sun, sand and sea as well as cultural cities, idyllic rural villages, party resorts, and family-friendly fun. It's a vibrant place to visit and offers something for all types of holidaymakers including families, couples and groups. You can explore Barcelona's architecture, relax on the white coast of Costa Blanca, take in the views of the Costa Brava or play a few rounds of golf on the Costa del Sol. Book your package holiday to Spain with Sunshine.co.uk for a wide choice of hotels and flights.
Sol Pelicanos Ocas
Bed and Breakfast
London Stansted to Alicante
Dynastic Hotel
Bed and Breakfast
London Stansted to Alicante
Globales Gardenia
Half Board
East Midlands to Malaga
Destinations a little further away
We have package holidays including hotels and flights to countries that are slightly further away too. Check out our mid-haul destinations such as Greece and its islands. As a destination, Greece offers a culturally rich holiday with plenty of ancient sites and museums to visit in the capital Athens as well as breathtaking scenery, beach resorts, a vibrant nightlife and a range of activities.   Why not visit Turkey and explore the charming city of Bodrum or relax at the famous Blue Lagoon? We also offer package holidays to Egypt where you can explore ruins or swim in the Red Sea.
Hilton Dalaman Sarigerme Resort & Spa
Full Board
London Gatwick to Dalaman
Limak Lara Hotel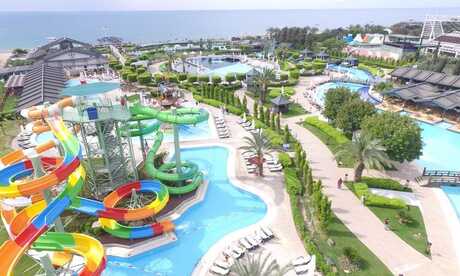 All Inclusive
East Midlands to Antalya
Delphin BE GRAND Resort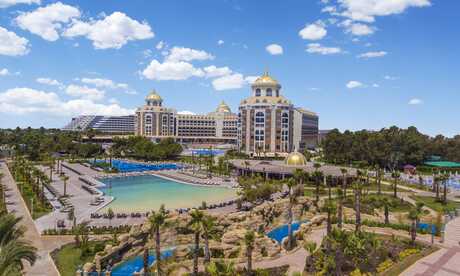 All Inclusive
Birmingham to Antalya
Long-haul destinations
At Sunshine.co.uk, we also offer package holidays to distant destinations. Book your memorable or once in a lifetime adventure with Sunshine.co.uk and choose flights and hotels to suit you. Our exotic destinations include glamorous Dubai where you can relax on Jumeriah beach or shop until you drop. If you are looking for dramatic views and an immersive culture head to Thailand and experience beautiful beaches, delicious food, exciting parties and amazing places of worship. If you are planning a romantic getaway or honeymoon then consider the Maldives for a gorgeous setting and a true taste of paradise.
Aquamarine Resort and Villa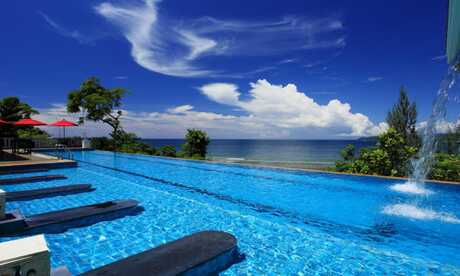 Room Only
London Stansted to Phuket
The Charm Resort Phuket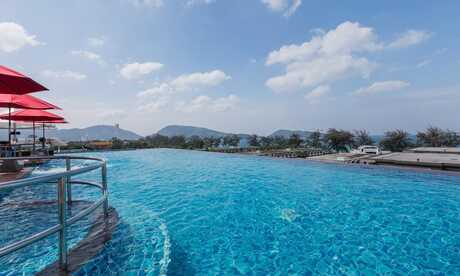 Room Only
London Stansted to Phuket
Andaman Cannacia Resort And Spa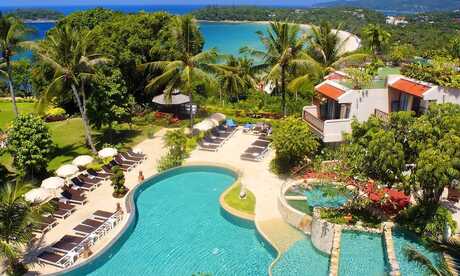 Bed and Breakfast
London Stansted to Phuket
From the high-end shopping and glamorous resorts of Dubai to a huge selection of incredibly competitive seaside holiday deals, our choice of package holidays truly has something for everyone. Each of our flight + hotel package holiday deals has been carefully selected by the team at Sunshine.co.uk to ensure we're not only offering the best possible holiday packages and resorts, but also the most competitive prices. Again, every flight-inclusive package holiday in this category is protected by ATOL, giving additional protection and peace of mind in the unlikely event of a cancellation due to unforeseen circumstances.
Book your package holiday today with Sunshine.co.uk and secure your holiday at an incredible price!
reviews recommend Sunshine.co.uk
Search the sunshine.co.uk website:
×