Las Vegas Holidays
Dazzling bright lights illuminate the sky each night in this iconic party town. Vegas' unreal atmosphere will jump out at you as soon as you arrive. Off-the-scale extravagant casinos, fantastic cabaret acts and incredible five-star resorts – its magnificence is simply beyond belief. Whether you're here to jump straight in and join the party or simply want to get a glimpse of the world-famous Vegas action with your very own eyes, this lively American hotspot is undoubtedly worth the hype.
Fontainebleau Las Vegas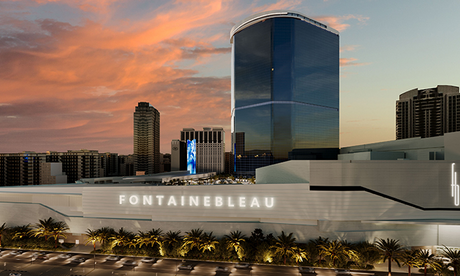 7 nights
Room Only
Return flights from London Gatwick
Luxor Hotel and Casino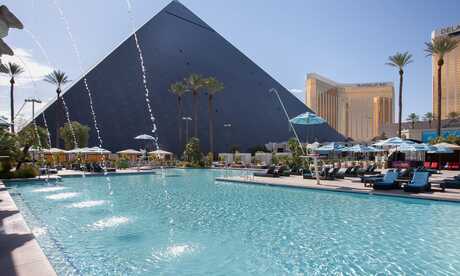 7 nights
Room Only
Return flights from London Gatwick
Virgin Hotels Las Vegas, Curio Collection by Hilton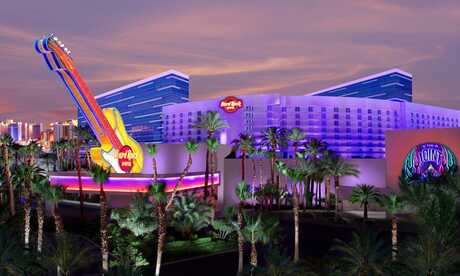 7 nights
Room Only
Return flights from London Gatwick
Harrah's Las Vegas Casino & Hotel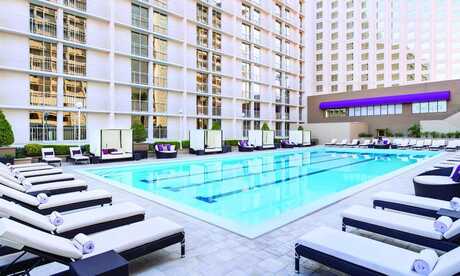 7 nights
Room Only
Return flights from London Gatwick
The Cosmopolitan of Las Vegas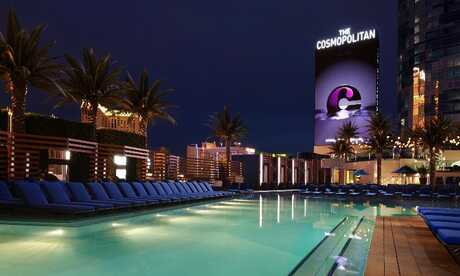 7 nights
Room Only
Return flights from London Gatwick
New York New York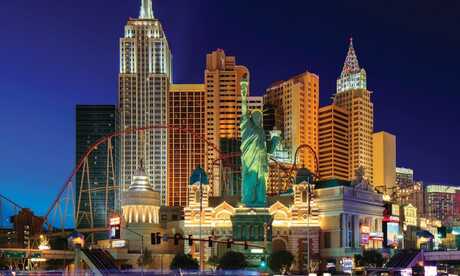 7 nights
Room Only
Return flights from London Gatwick
LINQ Hotel and Casino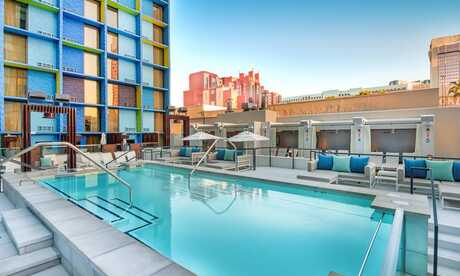 7 nights
Room Only
Return flights from London Gatwick
The D Las Vegas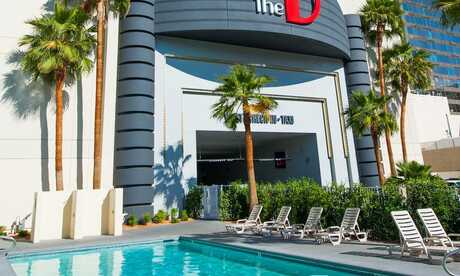 7 nights
Room Only
Return flights from London Gatwick
Excalibur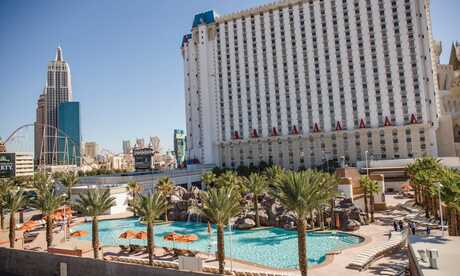 7 nights
Room Only
Return flights from London Gatwick
Why holiday in Las Vegas?
The legend of Vegas promises wild late nights, crazy casino antics and out of this world parties. A playground of the rich and famous, this sun-soaked city is packed with plush hotels, lavish restaurants and even its very own Eiffel Tower. Splash some cash at the shopping malls, discover backstreet American eats and revel in the sparkling Nevada sunshine by the poolside – this loud city has it all. We've got a great range of hotels to explore, so you can treat yourself to a luxury getaway at one of the cities chicest hotels, or save it for some spending money with a more budget-friendly option, there's something to suit every holidaymaker.
Sightseeing in Las Vegas
Explore the bright lights of the infamous Las Vegas strip, there's no place on earth quite like it. The scale of this bustling stretch is beyond what your mind can imagine. Hop in an iconic yellow cab and whizz past high rise hotels, fluorescent neon lights and thriving nightclubs with the faint sounds of bass blearing in the distance. Be sure to catch a cabaret show whilst you're here, you'll be in for a wild night of entertainment you're sure to never forget! These elaborate spectacles feature incredible performers, from dancers and singers to illusionists and circus acts - these magnificent shows are sure to leave you stunned. Whilst dazzled by the magnificence of the of the Vegas strip, make sure you stop to appreciate the humongous Bellagio Fountains. Watch as water shoots way up into the air in time to the booming dramatic music, stand with the crows at the foot of the fountain and appreciate this fascinating display.
Food and drink in Las Vegas
What can you expect to find on your plate in this extravagant city? No less than the best, that's for sure. As Vegas' vast culinary offerings range from top of the range fine-dining cuisine to cosy restaurants serving tastes from around the world and even traditional all American diners that serve pancakes stacks up to your eyeballs. Enjoy a sophisticated night of Asian-fusion flavours at the Momofuku restaurant. Elegantly perched on the second floor of the Cosmopolitan casino, this swanky little venue delivers a unique American twist on traditional Japanese flavours. You're truly in for a treat, with fresh, vibrantly coloured dishes and mushroom bao buns that will simply blow your mind! Although Las Vegas is famed for its fancy dining venues and world-class cuisine, the street food scene here has recently boomed in popularity too. Get down to Tacos el Gordo for some of the best tasting tacos in the whole of America. You'll be in for a flavoursome fiesta with a tray of these bad boys, with perfectly crunchy shells and a unique zesty twist, it's a must for any Mexican favouring foodie. Last, but by no means least, it wouldn't be a true American adventure without a trip to the doughnut store. Stop by the highly admired Doughnut Bar, which has earned a name for itself in this state for its fantastic fluffy treats. This little store is home to all the goods, from cream filled treats to tasty vegan-friendly flavours – it's a doughnut lover's dream.
Visiting Las Vegas
Grab your pals and make the most of the desert sunshine at one of Vegas' infamous pool parties. Take your pick, with a long list of plush hotels lining these city streets, you'll be spoilt for choice. Whether you're seeking a boozy brunch with a splashtastic twist, an all-day rave in the sunshine or a sunset pool party with the drinks in full flow, there's a party here that's perfectly suited to you. As day turns to night there's only one place to be in these parts of town… it has to be the casino. The bright lights of the casino lure in many tourists, who come to try their luck and enjoy a night of gambling fun. The scale of these casinos will simply blow your mind, with blackjack tables for as far as the eye can see, shiny slot machines taking the floors centre stage and long, stylish bars serving a carefully selected list of hand-crafted cocktails. It's certainly a night you won't forget. If gambling isn't your game, don't worry. Instead, why not enjoy a night of non-stop bar hopping? This energetic city offers exclusive skyline bars, where you can admire the pretty, bright lights from above. Try out the classy 107 SkyLounge on the Las Vegas Boulevard, which has to be one of our favourites. The downtown nightclubs are local hangouts for world famous DJs and up and coming acts – making it the perfect place to get your groove on until the early hours of the morning.
Useful info for visiting Las Vegas
Flight times to Las Vegas take around 14 hours in the UK and normally include one stop along the way. This city is seven hours behind our UK time, but their official language is English too. Be sure to exchange your pounds for US Dollars before you jet off on your trip – you might just need them in the casinos!