Holidays to Madeira
An enchanting and peaceful archipelago, Madeira boasts a dramatic landscape with beautiful displays of nature as well as a charming city with a cosmopolitan vibe. Located off the northwest coast of Africa, the autonomous Portuguese island promises gorgeous weather all year round with glowing summers and mild winters. A truly stunning destination, it is little wonder Madeira has earnt affectionate titles such as Pearl of the Atlantic, the Floating Garden and the island of eternal spring.

Whether you hope to spend your days relaxing on the beach, exploring the cobbled streets of the old town or hiking through the mountains, Madeira offers it all and has been repeatedly voted as one of the world's top island destinations. For fantastic deals on flights, and hotels book your holiday to Madeira with Sunshine.co.uk today.
Pestana Promenade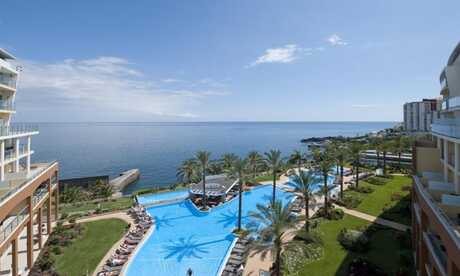 7 nights
Bed and Breakfast
Return flights from London Gatwick
Dom Pedro Madeira (ex Baia Club)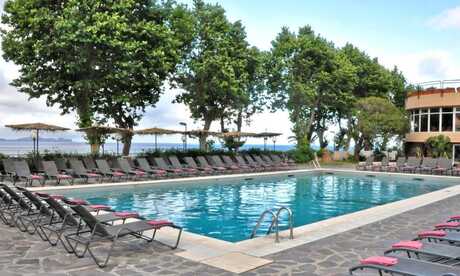 7 nights
Bed and Breakfast
Return flights from London Gatwick
Pestana Carlton Madeira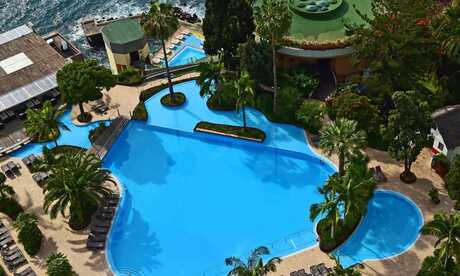 7 nights
Bed and Breakfast
Return flights from London Gatwick
Dom Pedro Garajau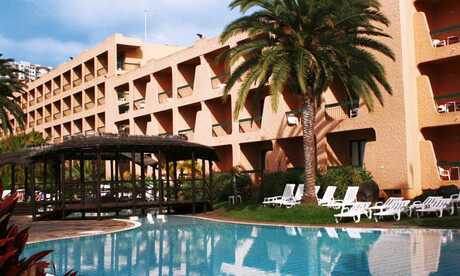 7 nights
Bed and Breakfast
Return flights from London Gatwick
Calheta Beach Hotel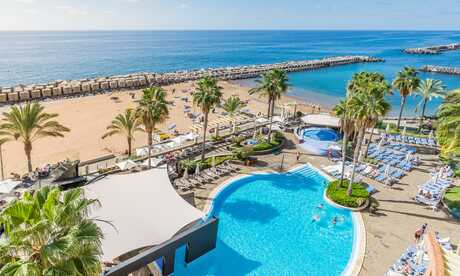 7 nights
All Inclusive
Return flights from London Gatwick
The Cliff Bay Resort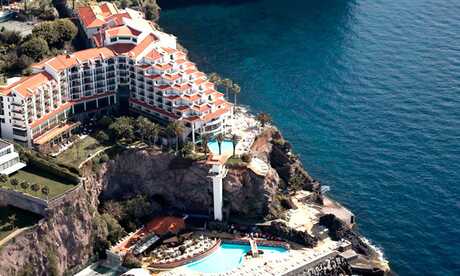 7 nights
Bed and Breakfast
Return flights from London Gatwick
Muthu Raga Madeira Hotel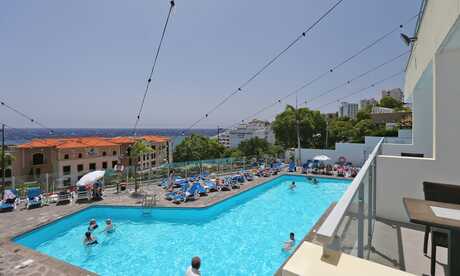 7 nights
Room Only
Return flights from London Gatwick
Quintinha Sao Joao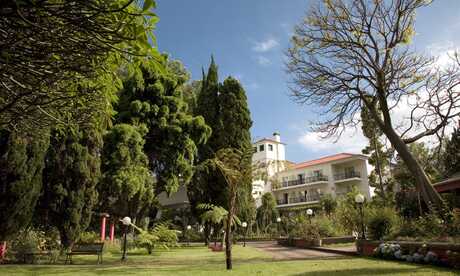 7 nights
Bed and Breakfast
Return flights from London Gatwick
REV – Savoy Palace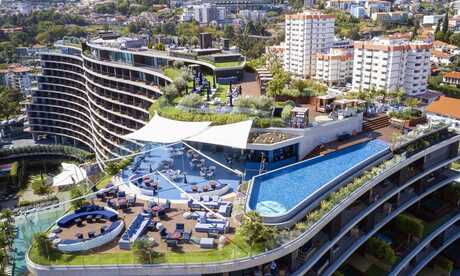 7 nights
Bed and Breakfast
Return flights from London Gatwick
Food & Drink
Although a Portuguese Island, the local cuisine in Madeira differs from traditional Portuguese food as the foundations lie in peasant tradition with local produce being used in a wide range of dishes. Meat and fish are a staple ingredient in the Madeiran diet, traditional main meals include grilled meat dishes such as Carne de Vinho e Alhos and Espetada as well as tuna, codfish and the regional delicacy, gaiado

Appetisers are not as popular in Madeira although Bolo da caco, a flatbread that is smothered with garlic butter and parsley, is often eaten before the main meal and at public fairs or feasts. Soup is also a very popular, and very tasty dish in Madeira and the sopa de tomate e cebola (tomato and onion soup topped with a poached egg) comes highly recommended.

Across Madeira, there is also a range of restaurants serving diverse, international food as well as the more traditional spots so you won't be short of choice when it comes to dining out. If you enjoy a tipple, why not sample some famous Madeira wine or even visit one of the island's wineries.
Activities
An incredibly stunning destination, Madeira offers some truly unique experiences including walking and hiking trails that vary in difficulty and allow you to immerse yourself in the island's natural beauty. Holidaymakers can also experience Madeira by air, Aeroclube de Madeira host a number of aerial excursions and tours of the island, Porto Santo and the Desertas Islands. A hot air balloon ride is a special experience and allows for spectacular panoramic views. Paragliding and hand-gliding are also options for the more adventurous but if you'd prefer a sturdier form of transport then why not take a cable car trip up a mountain and witness the dramatic landscape. The cable car line at Quinta Grande is said to be the tallest in the world at 350m high and is a must for those who can handle heights!

If you prefer the sea to mountains, then the gorgeous deep waters off the island are ideal for spotting fish, dolphins and migrating whales. Holidaymakers can go on a boat safari and discover the sea-life, you may be likely to spot a number of species of whale including humpback, pilot and sperm.

History lovers will have plenty of opportunities to discover Madeira's fascinating past, there are many churches and cathedrals to visit as well as organised tours around important landmarks such as the Valley of the Nuns. This small village, located in an extinct volcano crater, is home to the 16th century Santa Clara Convent where nuns would seek shelter and hide from pirates attacking the city.

Madeira also boasts some world-class golf courses set within a breath-taking landscape. Santo da Serra is considered one of the world's finest courses as is Palheiro Golf. Keen players can purchase a Madeira Island Golf Passport allowing them to enjoy the holes and views at both courses.
Nightlife
Whether you prefer to spend your evenings enjoying folklore dances and Fado singers at a mountainside tavern or you want to party at a nightclub until the sun comes up, then Madeira has nightlife to suit all. Although considerably quieter than other holiday destinations during the week, you won't struggle to find entertainment in the evenings as there is a wide range of bars and pubs across the island including several English and Irish pubs.

The islands capital city Funchal promises a vibrant nightlife scene with a diverse choice of bars and nightclubs. Popular places to enjoy a tipple include the Revelucion Rock Bar located in the old town. This venue stays open until late serving fabulous cocktails and playing rock favourites. The Madeira Rum House is also a popular spot and a great place to relax and sip on a locally produced rum drink as the sun sets. If you're staying in Calheta, why not visit Madeira's first tiki bar. Pukiki Bar promises a laid back vibe and an extensive cocktail menu.
Popular Resorts
Calheta

Located on the southwest coast of Madeira, Calheta offers a laid back atmosphere and colourful views making it a truly beautiful place. Holidaymakers can get involved in a wide range of water sports at the marina, relax on the golden, sandy beaches or explore the islands stunning mountainous landscape.

Canico

Divided into two sections, Canico is a unique blend of old and new with a traditional square and Old Village, as well as a modern resort area. There's also a pebble beach and opportunities for activities such as water sports, hiking and golf. A luxury holiday spot, it's an ideal destination for those seeking a peaceful break although it is only a short trip from the shopping and nightlife scene of the city.

Funchal

The capital city of Madeira, Funchal is a bustling centre with many shops, restaurants and bars. Although it's a small place, the city offers plenty to do and see including the waterside promenade and charming Old Town. History lovers should visit the colonial style manor house, Jardin Do Palheiro and the blooming, botanical gardens.

Porto Moniz

A vibrant fishing village, Porto Moniz boasts natural swimming pools along the rocky coastline and is also a fantastic place to dive, surf and go canoeing. There's also a promenade which connects the pools to a pier where you can enjoy a meal or do some retail therapy.

Prazares

A quaint and scenic village, Prazares sits on a flat terrace and boasts spectacular views over both the Atlantic and dramatic inland. It's the perfect destination for nature-lovers with opportunities to explore the landscape, go birdwatching or visit the zoo.

Santa Cruz

Surrounded by vineyards and sitting at the edge of the cliffs, Santa Cruz offers rugged, natural beauty and is an ideal destination for adventuring. Holidaymakers can enjoy walking trails, historic architecture and a pebbled beach. For family fun, head to the Water Park for a great day of splashing around and making precious memories.

Sao Vicente

Considered one of the main villages on the north coast, Sao Vicente is popular with surfers and other water sport enthusiasts. However, there's also plenty to do inland including a visit to the volcanic caves and the fascinating chapel that is built into the rock. The village is also home to some excellent seafood restaurants

Useful Info for Madeira Holidays

If you're travelling to Madeira from the UK, then the flight time is around 3 hours to 4 hours.

The local currency used in Madeira is the Euro, at Sunshine.co.uk we recommend visitors shop around for the best exchange rate to ensure a fair price due to regular changes in value.

The local language in Madeira is Portuguese. However, locals may speak English in the more popular tourist areas and hotels, meaning English-speaking holidaymakers can easily communicate and navigate the island.

Search the sunshine.co.uk website:
×