Holidays to Vilamoura
Located in the centre of Portugal's Algarve, a region known for its beautiful whitewashed fishing villages and sandy coves, you can find the 2,000-acre Vilamoura tourist resort. Perfectly situated on the picturesque coast, Vilamoura offers visitors access to sprawling gold sanded beaches, exciting outdoor activities, enthralling evening entertainment and some of the warmest summer temperatures in Europe. Book your holiday to Vilamoura with Sunshine.co.uk now!
Apartments Old Village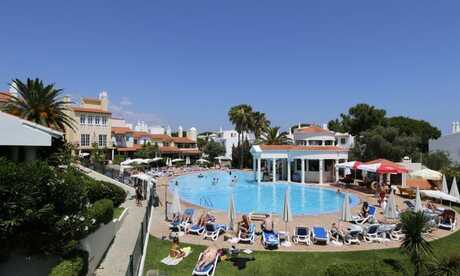 7 nights
Self Catering
Return flights from Manchester
Luna Olympus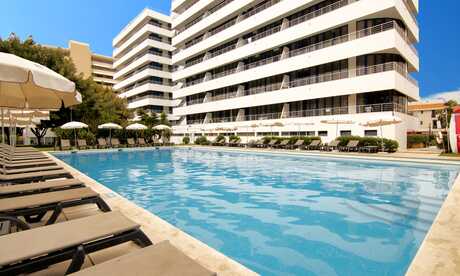 7 nights
Self Catering
Return flights from Manchester
Algamar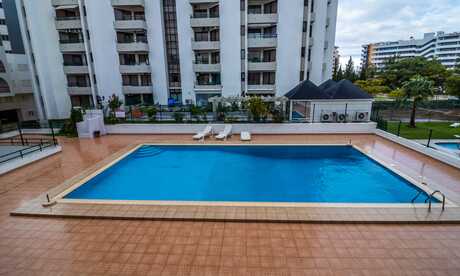 7 nights
Self Catering
Return flights from Manchester
Vila Sol Spa & Golf Resort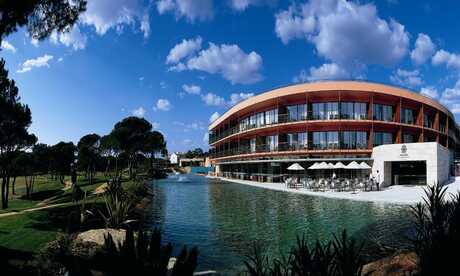 7 nights
Bed and Breakfast
Return flights from Manchester
Hilton Vilamoura As Cascatas Golf Resort & Spa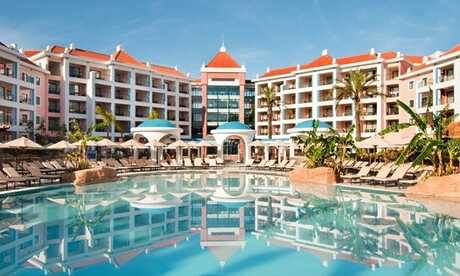 7 nights
Room Only
Return flights from Manchester
Browns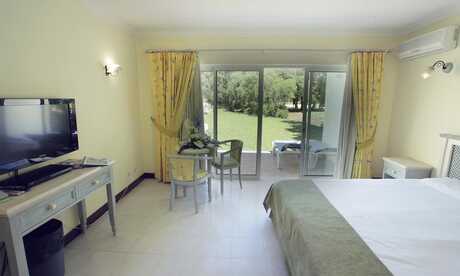 7 nights
Room Only
Return flights from London Gatwick
Vila Gale Ampalius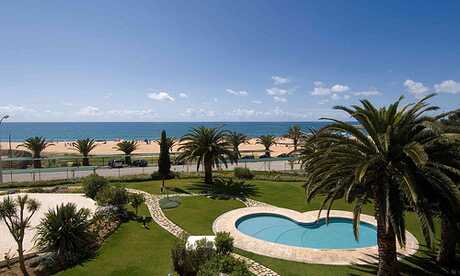 7 nights
Bed and Breakfast
Return flights from Manchester
The Residences At Victoria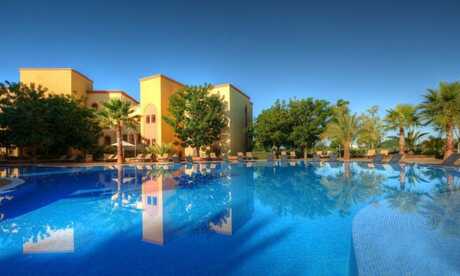 7 nights
Room Only
Return flights from Manchester
As Cascatas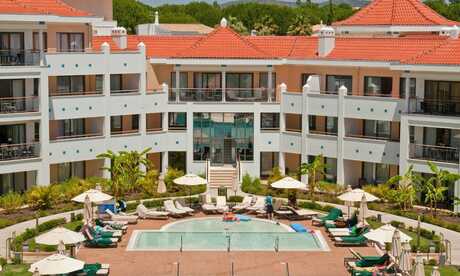 7 nights
Self Catering
Return flights from Manchester
Why Choose to Holiday in Vilamoura
There are plenty of reasons you could pick Vilamoura as this summer's holiday destination, but why not just start with the weather? The average temperature over the summer months is roughly 23°C in Vilamoura, making it a fantastic destination for those looking to spend some quality time soaking up the sun. Thankfully, the Vilamoura resort offers visitors access to two enormous well-kept beaches with the Praia de Vilamoura to the east and the Praia da Falésia to the west - so there'll be plenty of space for you to stretch out and enjoy the sun.

Within the Vilamoura resort, there's a wide range of 3 to 5-star hotels available for visitors to stay in. There's also a broad selection of tourist apartments as well as self-catering hotel rooms which are ideal for those wanting a bit more independence and solitude during their holiday.
As Vilamoura is one of the largest tourist resorts in Europe, it's no surprise that the vast number of activities the resort offers its visitors reflects its grand size.
Beach Holidays in Vilamoura
With such brilliant weather over the summer months, many of Vilamoura's visitors are purely in pursuit of the perfect beach holiday. Thankfully, Vilamoura's two beaches, the Praia de Vilamoura to the east and the Praia de Falésia to the west definitely don't fail to impress!

The Praia de Vilamoura offers sunbathers soft golden sands, tranquil blue waters and excellent access to amenities and tourist facilities. The beach is protected from the strong currents and waves of the Atlantic Ocean by a sea groyne, which ensures the waters of the Praia de Vilamoura are calm and perfect for everyone to enjoy.

The slightly more secluded Praia de Falésia is an enormous beach with golden sands that stretch for over 5km; the size of the beach provides ample space for sun-seekers to spread out and seek solitude. Falésia is backed by beautiful rolling sand dunes and distinctive red sandstone cliffs which you can explore. This part of the coastline is less developed than the Praia de Vilamoura so the beach is often less crowded – but this also means that it's slightly less well serviced as the Praia de Vilamoura is.

Activities in Vilamoura
One of the largest appeals of Vilamoura, over other Mediterranean holiday destinations, is the resorts ability to provide an enormous range of activities for visitors to enjoy. The resort hosts a Lawn Bowling Green, a Tennis Centre, a Sports Club, a Horse-Riding School, a Shooting Club and over 5 different Golf Courses for guests to get involved with!

Vilamoura is also full of culture and history; the resort was initially developed around a small harbour that was a significant Roman trade centre. The nearby ruins of Derro da Vila are available to explore, allowing history buffs the chance to see how the famous fish sauce Garum was produced in ancient times.
Food, Drink & Nightlife
There are plenty of opportunities for foodies to explore the wonders of Portuguese cuisine when holidaying in Vilamoura. The resort hosts a broad range of restaurants catering to all tastes, cravings and budgets. Many of the resort's best restaurants can be found in the Marina de Vilamoura, Portugal's largest Marina.

If you're looking for exciting nightlife, then Vilamoura has you covered with your first port of call should be one of the prestigious hotels that host fantastic stage shows lavished with dancers, colours and exciting costumes. The resort even plays host to an incredibly popular international casino, Casino Vilamoura! But if you want something a bit more low-key, there are a multitude of brilliant bars and small clubs dotted around the resort and Marina.

Useful Information
If you're travelling from the United Kingdom to reach Vilamoura, you'll likely spend roughly 2 hours and 40 minutes in the air. This makes Vilamoura a fantastic destination for young families, as the relatively short flight time is agreeable with young children. The nearest airport is Faro Airport.

As Portugal is a member of the Eurozone, the primary currency used in the country is the Euro. In order to find the best deals on exchanging Sterling to Euro, Sunshine.co.uk would recommend beginning to look out for exchange rates and deals approximately a month before you are due to travel. This will give you ample time to make sure you find the best deal available.

Portugal's national language is Portuguese. With that being said, Vilamoura is a tourist resort with an economy that is reliant on tourism and many of the locals will speak very good English so you should have no trouble communicating. Nevertheless, it's often polite to learn a few of the basic words and phrases.

Search the sunshine.co.uk website:
×