Holidays in Benidorm
With its abundance of English-speaking bars and restaurants and year-round popularity with UK tourists, Benidorm offers a sandy Spanish holiday experience unlike any other.

Visitors can enjoy a lively night out in the vibrant venues of the 'new town' pub and club scene, or embark on a more relaxed adventure in the city's picturesque 'old town'
Gran Hotel Bali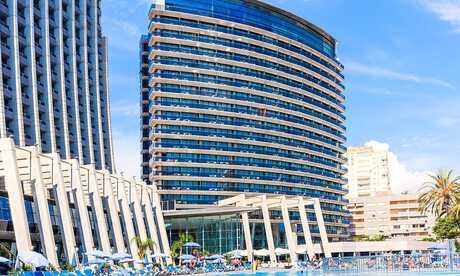 7 nights
Bed and Breakfast
Return flights from London Gatwick
Dynastic Hotel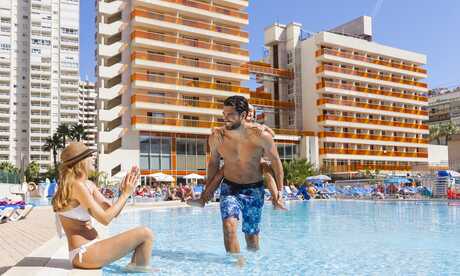 7 nights
Half Board
Return flights from London Gatwick
Hotel Gala Placidia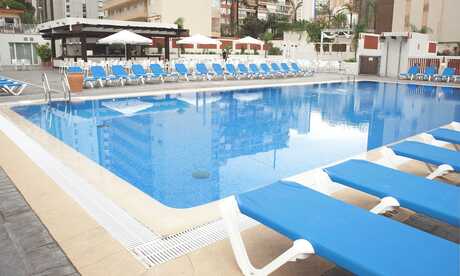 7 nights
Bed and Breakfast
Return flights from London Gatwick
Marina Benidorm Hotel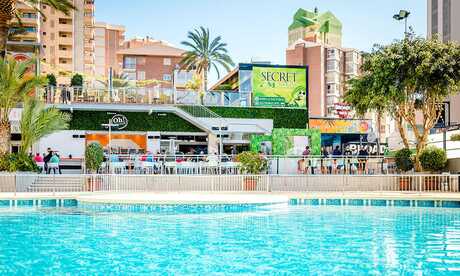 7 nights
Room Only
Return flights from London Gatwick
MedPlaya Flamingo Oasis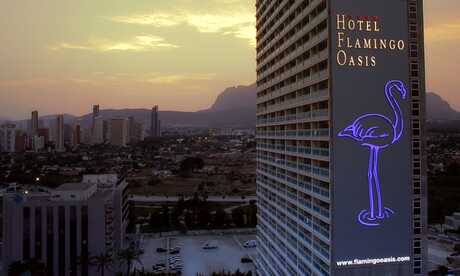 7 nights
All Inclusive
Return flights from London Gatwick
7 nights
Bed and Breakfast
Return flights from London Gatwick
7 nights
All Inclusive
Return flights from London Gatwick
Sandos Benidorm Suites
7 nights
All Inclusive
Return flights from London Gatwick
Vistamar Apartments Benidorm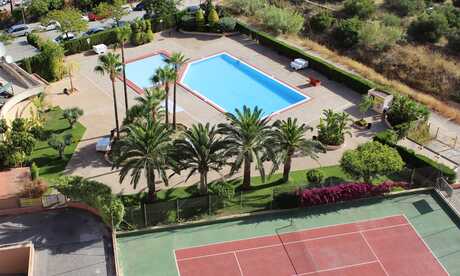 7 nights
Self Catering
Return flights from London Gatwick
Why holiday in Benidorm?
Travellers who like all of the trappings and conveniences of their home life while on holiday will feel right at home in Benidorm. With a huge expat community and a local economy driven almost entirely by tourism, Benidorm is a city that offers fun and frolics without a language barrier in sight!

Located on the Eastern coast of Spain, Benidorm offers the idyllic Spanish climate and two wide, sandy beaches to boot. Visitors can enjoy a day soaking up the sun, with regular breaks to visit the many cafes, restaurants, shops and bars along the seafront!

There is also a more quiet and quaint experience to be enjoyed on the checkered paving of the city's Old Town. Set atop a hill where a castle once stood, visitors to Benidorm's Old Town offers stunning views of the Spanish sunset.

Be sure to check our selection of fantastic deals on holidays in Benidorm to book your trip at a price you'll love!
Beach Holidays in Benidorm
Benidorm offers two beaches, often accommodating thousands of sunbathing tourists and locals - the 'Levante' and the 'Poniente'.

While the beaches can become busy during peak summer months, there is an astounding number of beachside conveniences, meaning a trip to the seaside needn't be a 'there and back' excursion. Visitors often head to and from the golden shores of Benidorm several times per day, especially when staying in one of the city's highrise beachside hotels.
Food and drink in Benidorm
First-time visitors to Benidorm will likely notice the huge amount of traditional English food on offer at the various cafes and restaurants around the city. From full-English breakfasts to seaside fish & chips, there is an abundance of Britain's favourite dishes available throughout the city.

That's not to say that visitors can't enjoy a traditional Spanish meal, however; there is a fantastic selection of fresh seafood dishes, hearty paellas and flavoursome pistos to be discovered too! 'Restaurant Llum del Mar' offers a fine dining experience and a fantastic selection of wines with a stunning view of the Mediterranean coast.

Visitors can also find a huge selection of beers, wines and colourful cocktails on offer at the various pubs, bars and clubs around the city's New and Old Town. Jonny's Cocktail Bar & Bistro offers an outdoor cocktail experience where patrons can keep an eye on the football while they drink.
What to do in Benidorm
Benidorm is packed with a wide range of activities to suit visitors of all ages. While the vibrant pub and club scene is often enough to keep many visitors happy, there's a host of lively beach activities and watersports available through the day, including jet ski rental, parasailing and more!

The famous Terra Mitica theme park boasts an awesome selection of exciting rides and roller coasters for all ages, with a full day ticket costing around 25€.

For thrills that beat the heat, there is also Aqualandia, Benidorm's famous waterpark which boasts fifteen fantastic water rides and slides, including 'Vertigo', a nerve-testing 108ft drop which accelerates riders to speeds of up to 100kmph! Full day passes to the park are around 30€ for children and 35€ for adults tickets.
7 nights
Bed and Breakfast
Return flights from London Gatwick
Hotel Cuco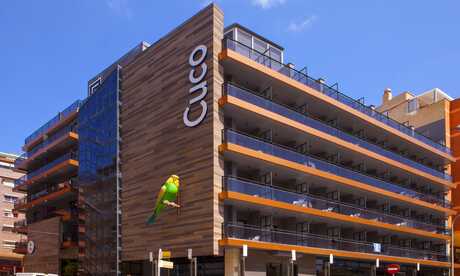 7 nights
Bed and Breakfast
Return flights from London Gatwick
7 nights
All Inclusive
Return flights from London Gatwick
Resorts in Costa Blanca
Villajoyosa
Search the sunshine.co.uk website:
×