Mexico Holidays
Home to incredibly tasty cuisine, sparkling shorelines and a climate that's easy to envy, Mexico has hit the jackpot as a holiday destination. Whether you're looking for a non-stop party with your best mates, a fun-filled beach break with your family or a luxury sun-soaked getaway with your loved one, Mexico has the perfect spot just for you.
Bluebay Grand Esmeralda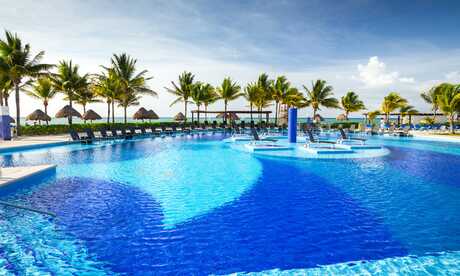 7 nights
All Inclusive
Return flights from London Gatwick
Grand Oasis Cancun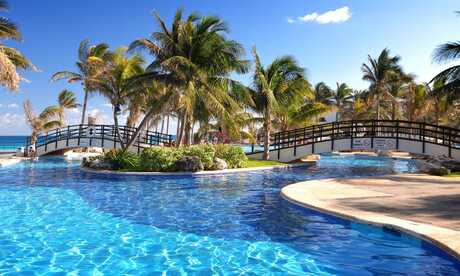 7 nights
All Inclusive
Return flights from London Gatwick
Crown Paradise Club Cancun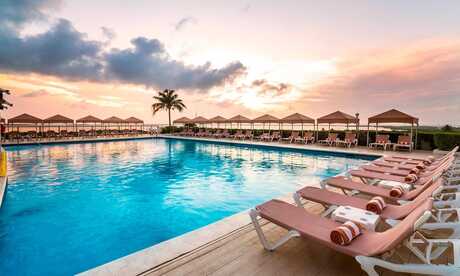 7 nights
All Inclusive
Return flights from London Gatwick
Hyatt Ziva Cancun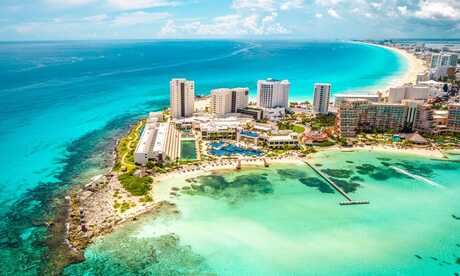 7 nights
All Inclusive
Return flights from London Gatwick
Occidental Costa Cancun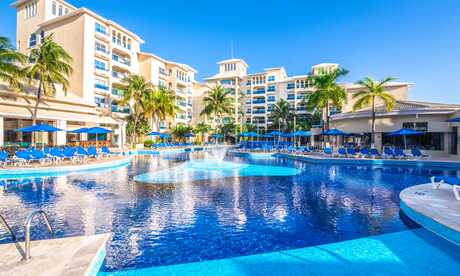 7 nights
All Inclusive
Return flights from London Gatwick
H10 Ocean Coral & Turquesa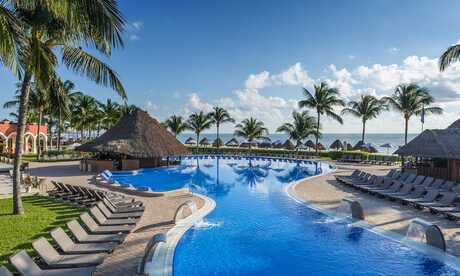 7 nights
All Inclusive
Return flights from London Gatwick
Dreams Riviera Cancun Resort & Spa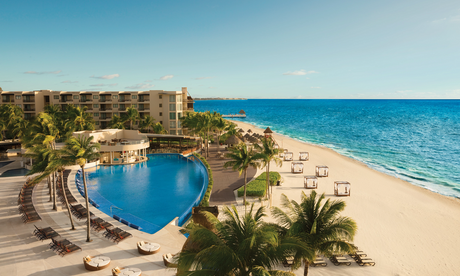 7 nights
All Inclusive
Return flights from London Gatwick
Grand Oasis Tulum
7 nights
All Inclusive
Return flights from London Gatwick
Dreams Aventuras Riviera Maya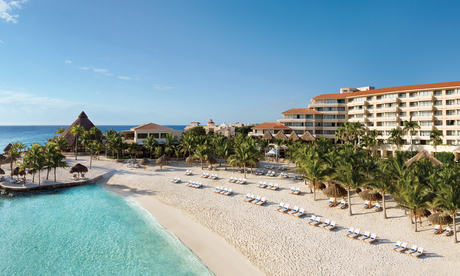 7 nights
All Inclusive
Return flights from London Gatwick
Why Holiday in Mexico?
The heat, the culture and most of all, the beaches. Mexico is a hot spot for holidaymakers and it's clear to see why. Families love the calm, clear waters, the facility-filled hotels and the array of activities that are on offer. From watersports, to ancient ruins, to waterslides and amusement parks, there's so much to do and see for all ages. It's an amazing destination for groups of friends too, whether you're into adventures and want to go scuba diving or simply want a week of exploring the famous electric nightlife – you're sure to have a once-in-a-lifetime break filled with memories. As for a romantic break away with your favourite person, Mexico is not only home to some of the dreamiest beaches ever, but also outstanding luxury hotels to make you feel like a pair of royals for a week (or two).
Beach Holidays in Mexico
Mexico's coast is nothing short of spectacular, with the combination of bright white sand, golden stretches of shore, splashes of greenery and the crystal-blue waters. Take your pick of popular beach resorts, such as Playa del Carmen, Cancun, Puerto Vallarta, Tulum and Cabo San Lucas – all of which have their own unique twist on a Mexican holiday. Find pristine sand as white as snow in Tulum, located on the Riviera Maya, with palm trees and without the big crowds – giving it the perfect desert island feel. If you're a fan of diving and watersports, Cancun beach is 14 miles of soft sand and clear waters with lots to see under the sea, including the incredible Mesoamerican Reef. Not only that, Cancun is one of the few places where you can swim with beautiful Whale Sharks in the summer months, as they feed at nearby islands between June and August. Over in Playa del Carmen, you'll find relaxing beaches where you can sit back, unwind and take in the fresh sea air and sunshine.
Food and Drink in Mexico
Don't be fooled by the Mexican food kits you find in the supermarket. Authentic Mexican cuisine is more than just meat, spices and bread. A myriad of colours, textures and tastes are what the local food is all about, with the complimenting vegetables, seasonings and meats. One dish you're sure to have heard of is tacos. Choose from succulent fish, tasty beef or even go for Tacos Al Pastor, a delightful recipe of flavourful grilled pork, red onion, pineapple and a squeeze of lime. If you're looking for a nice, hearty meal when in Mexico, get yourself some Posole. This traditional and tasty Mexican broth features chicken, peppers, cabbage and is a go-to for when you're in need of comfort food. Corn is a massive part of Mexican cooking too, and is something that can be found in main meals, salads or even on its own as a street food bite. Elote isn't corn on the cob as we know it, as it's boiled and seasoned with salt, chilli powder, butter, lime, mayonnaise, cheese and sour cream – sounds amazing, doesn't it? If you're one for a sweet treat after your meal, churros are the famous, fried-doughy goodness that are sprinkled in sugar and can be dipped in chocolate sauce for an extra touch of sweetness. Flan is another loved dessert in Mexico, featuring a sponge base and usually topped with a crème caramel filling. To quench your thirst, one of the country's popular soft drinks is Jarritos, which is sold in many different fruity flavours, but apple flavour is exclusive to Mexico. If you're looking for something a little stronger, we're pretty sure you've heard of a spirit called Tequila! If you've got a few bad memories from tequila, it may be that you've not yet tried the real deal – so make sure to try a little when you're there. Anyone who's more of a cocktail sipper can indulge in such delightful refreshments as margaritas, palomas and micheladas.
Visiting Mexico
Eating tacos, swimming in the sea and catching a tan aren't all that Mexico is about. If you like to immerse yourself in the local history wherever you go, Tulum is the perfect spot with its Mayan ruins. The Tulum Ruins are a must-visit for holidaymakers as it shows what's left of the historic Mayan city that was built to be a fortress. If you're lucky enough to travel to Mexico during the Day of the Dead, you're in for a treat. The day might sound morbid to some, but it's actually a day where people celebrate and remember those who they've lost by hosting parties and parades to show their love and respect to the dead. One of the attractions that brings holidaymakers back each year is the famous nightlife. Cancun is top of the list for sunny days and wild nights, with Punta Cancun hosting some unbelievable clubs with buzzing atmospheres including Coco Bongo, Mandala Beach Club and The City. Over in Cabo San Lucas, there's also a big nightlife scene with exciting bars and clubs turning Downtown Cabo into one big party at night.
Useful Info for Visiting Mexico
Although Mexico is located in North America, the local currency is the Mexican peso. If you do have some US Dollars however, these are often accepted in the big holiday resorts but it isn't guaranteed. Mexico has many languages, including Nahuatl, Yucatec Maya and Mixtec, but the country's national language is Spanish. It's always a good idea to brush up on the local language before you go anywhere, so we're going to give you a few handy phrases to remember. 'Please' is por favour, 'thank you' is gracias, 'hello' is hola and 'goodbye' is adios.
Search the sunshine.co.uk website:
×