Phuket Holidays
Thailand's largest island, Phuket, is the epitome of a tropical beachy paradise, with fine white-sand beaches, crystal-clear waters and lush palms at every turn. The waters are warm, the sands are hot and the nightlife is even hotter – earning Phuket the reputation as one of Thailand's top party destinations. But it's not all about neon lights, UV paint and cocktails in buckets bigger than your head! This picturesque Thai paradise is full of charm, packed with culture and bursting with some of the most amazing food around!

The Senses Resort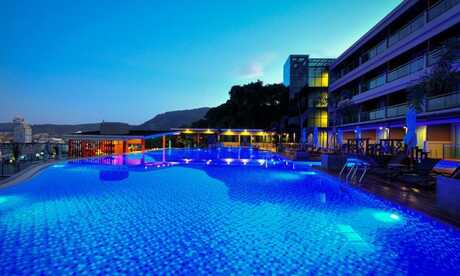 7 nights
Room Only
Return flights from London Stansted
Mandarava Resort and Spa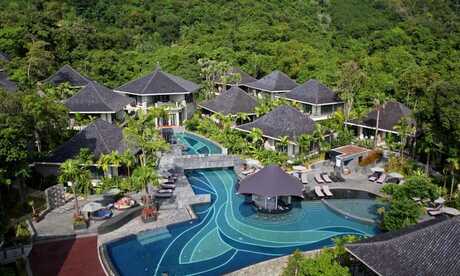 7 nights
Bed and Breakfast
Return flights from London Stansted
SAii Laguna Phuket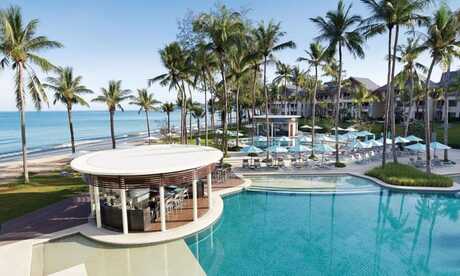 7 nights
Bed and Breakfast
Return flights from London Gatwick
Paradox Resort Phuket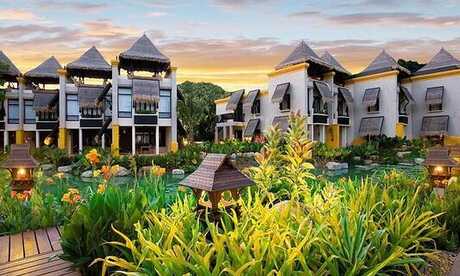 7 nights
Bed and Breakfast
Return flights from London Stansted
Wyndham Grand Phuket Kalim Bay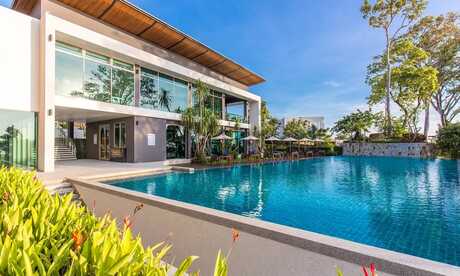 7 nights
Bed and Breakfast
Return flights from London Stansted
The ASHLEE Plaza Patong Hotel & Spa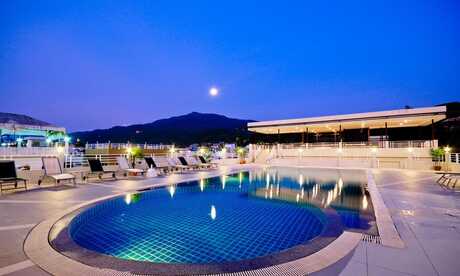 7 nights
Room Only
Return flights from London Stansted
The Yama Hotel Phuket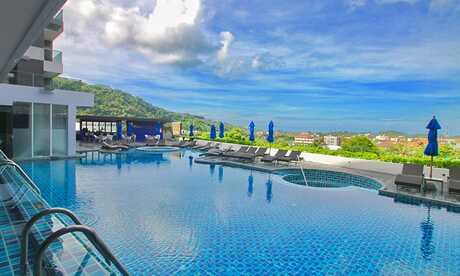 7 nights
Room Only
Return flights from London Stansted
Nap Patong Hotel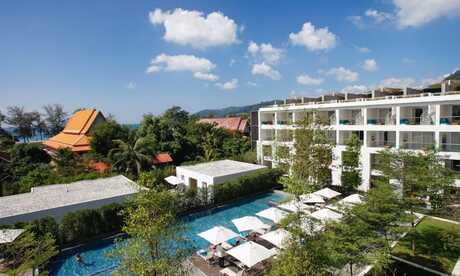 7 nights
Bed and Breakfast
Return flights from London Stansted
Metadee Resort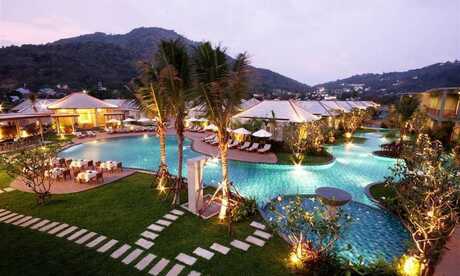 7 nights
Bed and Breakfast
Return flights from London Stansted
Why Phuket?
Whether you're looking for the ultimate beach holiday, the perfect party vaycay or a culture-rich far-flung escape, Phuket is sure to be top of your list. And, if not? Then we're here to show you why this one-of-a-kind island should be your next holiday destination. Head to Kata for a laid-back beach break suitable for the whole family. The shallow waters and sloping sands are perfect for little ones, while the chic beach bars and perfect sunsets will captivate the bigger ones. Looking to dance the night away? It's got to be Bangla Road in Patong. This infamous bar street will have you dancing until dawn with a booming soundtrack and some of the most interesting bar snacks you'll ever see.
Beach holidays in Phuket
Delightfully warm waters, porcelain-white sands and huge limestone karsts that rise from the emerald-hued sea, Phuket is every beach lover's fantasy (and every Instagrammer's dream backdrop!). With such a diverse beach catalogue, it's easy to find your idea of heaven in Phuket.

For a lively beach with a buzzing atmosphere, head to Patong Beach. The most popular beach on the island, this sandy stretch offers everything you need for a fun-filled day at the beach. Then by night, the beach comes alive with a party atmosphere to get you ready for a night down Bangla Road. Looking for something a little quieter? Kamala and Kata Beaches are perfect for those looking for a little more space and a little less noise. There's tonnes of amenities here, plenty of activities available and shallow waters – making it an ideal family beach. And, for those looking to discover Phuket's unspoilt beauty… it has to be Freedom Beach. This gorgeous small strip of sand is accessed only through a jungle trek, by car or by boat, making it a truly beautiful stretch of Phuket coastline.
Food and Drink in Phuket
Growing more and more in popularity across the globe, Thai food is a treat for all of the senses. Packed full of flavour, bursting with colour and full of contrasting textures, there truly is no other cuisine like it. Think of fresh and zesty lemongrass, a good kick of chilli and a sharp dash of lime – Thai food is all about combining sweet, sour, salty and spicy flavours into a powerful yet delicate dish.

Regarded as one of the national dishes of Thailand, tom yam is a must-try dish. This hot and sour soup can be served with a range of meat or seafood, but since you're visiting Phuket, we recommend trying the tom yam goong made with delicious fresh shrimp. No visit to Phuket would be complete without a trip to the night markets to sample the amazing selection of street food available here. Some of the top dishes to try include; moo ping – marinated pork cooked over a large open grill and served on skewers, por pia thod – crispy and delicious Thai spring rolls, and – of course – the insects! Bamboo worms, crickets, grasshoppers, silkworms, giant water beetles, scorpions – you name it, they've got it here!

With one of Thailand's best breweries located in Phuket, it's pretty easy to get hold of a good lager or beer here! The Full Moon Brewery produce the world-famous Phuket Lager and the slightly lesser known Chalawan Pale Ale. If these don't tickle your fancy, there's always the ubiquitous and infamous symbol of Thailand, Chang.
Visiting Phuket
With hidden temples and a Sino-Portuguese capital city, Phuket is so much more than just a party island. If you're a true culture vulture and feel like immersing yourself in the lifestyle and traditions of another culture then Phuket is perfect for you. Famous landmarks such as Wat Chalong and Big Buddha show the intricate architecture and respect for Buddha that is indicative of the Thai people, and are definitely not to be missed. If you're looking to visit in April then you could be in Phuket for Songkran (Thai New Year). Tradition dictates you sprinkle a cup of water over your family and a statue of Buddha to bring good luck. However, it's pretty hot over there and – as this is a national holiday – there's usually a few beers involved. By midday, expect to be fully drenched with people throwing water over each other in the street. The party doesn't stop there, with full water parties in Patong attracting guests until the early hours. April also sees the Phuket Gay Festival celebrated, while November is the time to celebrate Loy Kratong with the releasing of water lily floats and flowers.
Phuket nightlife
Neon lights, booming basslines and one party holiday you'll never forget. If you're heading out to Phuket for the nightlife, you won't be disappointed. Kata and Karon Beach are perfect for laid-back drinks: with chic bars, perfect sunset spots and late-night clubs. However, if you're looking for that world-famous strip – it has to be Bangla Road or Soi Bangla. As crazy as you can imagine, this unforgettable, hedonistic paradise is a bucket-list must for all party animals!
Useful information for your Phuket holiday
Before you jet off to the perfect shores of Phuket, here's a couple of handy little dollops of information. The average direct flight time is 11hrs 45mins but most airlines stop through another country bringing the total travel time to around 14 hours on average. The time difference from Britain to Phuket is +7hrs so travelling overnight means you won't lose out on a day when you get there! You'll need to take Thai Baht with you for your spends (so shop around before you get to the airport!). It's customary to cover the shoulders and knees when visiting temples and religious sites. It is also commonplace to remove shoes before entering such places as a sign of respect. The official language of Phuket is Thai. Some handy phrases include hello – sawasdee ka/krab, thank you – kob khun ka/krab and cheers – chai yo. Top tip: take note of the endings as phrases change whether you are speaking to a male or female!
Resorts in Phuket
Phuket Town
Search the sunshine.co.uk website:
×