Holidays to Costa-Adeje
The Canary Islands are located off of the north-western coast of Africa blessing them, not with the rains, but with wonderful year-round temperatures. The Costa-Adeje is nestled in a bay on the south-western coast of Tenerife, one of the most popular locations on the island. Boasting stunning scenery, exciting experiences and gorgeous weather throughout the year – it really isn't a surprise that the Costa-Adeje has been a firm tourist favourite for years!
Laguna Park II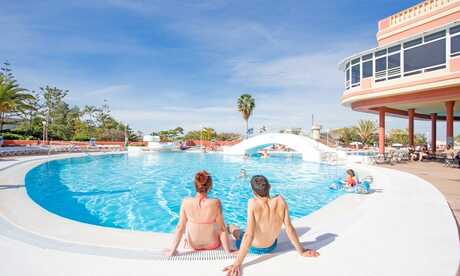 7 nights
Self Catering
Return flights from Birmingham
Checkin Bungalows Atlantida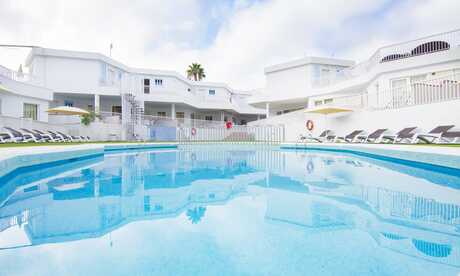 7 nights
Self Catering
Return flights from Birmingham
Las Piramides Resort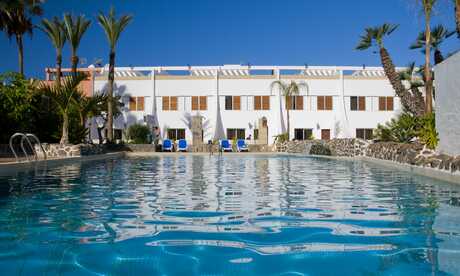 7 nights
Self Catering
Return flights from Birmingham
Sol Tenerife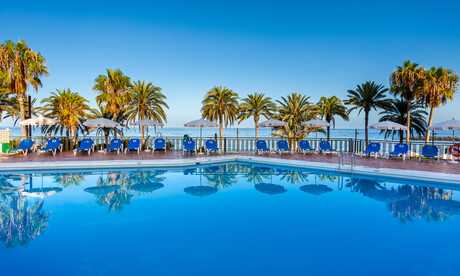 7 nights
Bed and Breakfast
Return flights from Birmingham
Laguna Park I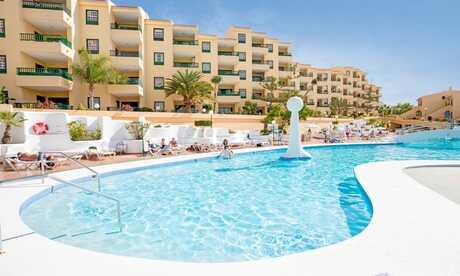 7 nights
Self Catering
Return flights from Birmingham
Iberostar las Dalias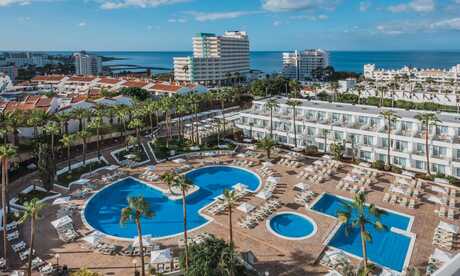 7 nights
All Inclusive
Return flights from Birmingham
Hotel Chatur Playa Real Resort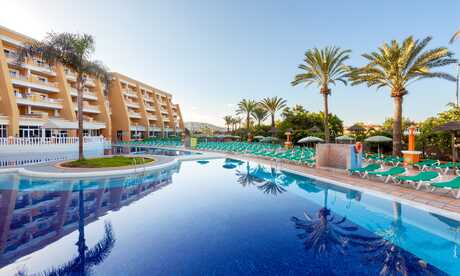 7 nights
All Inclusive
Return flights from Birmingham
Blue Sea Callao Garden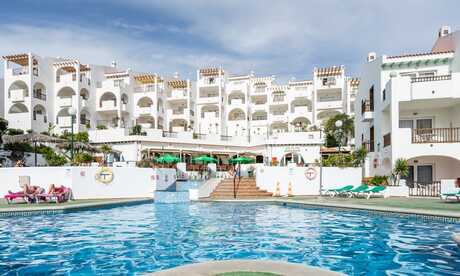 7 nights
Bed and Breakfast
Return flights from Birmingham
Guayarmina Princess - Adults Only (16+)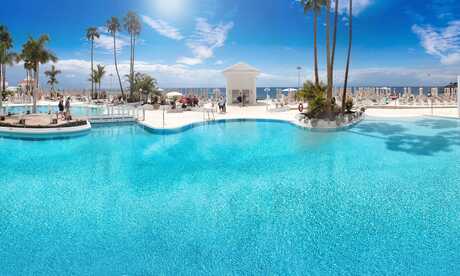 7 nights
Bed and Breakfast
Return flights from Birmingham
Why Choose to Holiday in Costa-Adeje
The main reason to choose The Canary Islands is of course….the weather! During the winter months, the average temperature is between 17° and 18°, however during the summer months, the average temperate is often between 28° and 30° - making the Costa-Adeje a fantastic destination for anyone looking to escape the colder temperatures of northern Europe.
Although you might want to make use of this time by spending it on the beach, and you'd not be wrong to do that, the island of Tenerife offers tourists plenty of exciting experiences to enjoy besides its beaches. Whether you want to splash down at the Siam Water Park, hike in the Teide national park or explore the Old town of La Laguna – the Costa-Adeje, and Tenerife as a whole has plenty for you to experience.

Beach Holidays
With such wonderful temperatures throughout the year, it's no wonder that the Costa-Adeje proves so popular for European sun-worshippers. Glorious and golden sanded beaches populate the southern coasts of Tenerife, recipients of sand that's travelled all the way from the Sahara Desert. The beach of Las Americas is one of the most popular beaches on this southern coast, drawing visitors from across the globe who come to bathe in its turquoise waters; accordingly, some of the most luxurious hotels in the Canary Islands can be found here.
Activities
The Costa-Adeje is home to the enormous Siam Water Park, which boasts over 14 unique slides for visitors to enjoy! However, if you're not a fan of water slides and rides, then you might enjoy the Siam Shopping Mall which is located next door. The Mall consists of two floors and has parking for over 1000 cars underneath it. These two locations proximity to one-another is incredibly complimentary, as if you're a family with differing interests (as most are) you can split up and tackle each venue!
However, if you're not excited by water slides or shopping malls, you might be more interested in visiting the Old Town of La Laguna; La Laguna Old Town is a UNESCO world heritage site that is populated with a multitude of fascinating historical buildings to discover. Similarly, the Villa of La Orotava has another perfectly preserved Old Town - so beautiful that it's gorgeous houses and scented gardens have been awarded the status of significant historical and artistic sites.
Regardless of whether you are planning on renting a car or not, you must plan a trip to Tenerife's Teide national park! The Teide national park is the second most visited national park on the planet and is also interestingly another UNESCO world heritage site. Tenerife's national park is a volcanic, almost moon-like landscape where you can find Spain's highest peak, and the third largest volcano in the world – Teide.

Food, Drink & Nightlife
Tenerife is the Canary Island's most populated island, and it's steeped history as a migratory location for Canarian's who travelled to and from Latin America has had an enormous impact on the island's cuisine.
Mojo sauce is the unofficial condiment of the Canary Islands and is often paired with anything and everything. It's not an incredibly spicy sauce, but it provides a mild heat that's seriously good! Furthermore, with access to such fresh seafood, you'd be foolish to not try Sancocho whilst on the island. This fish dish is another meal which has its origins in Latin America, unsurprisingly this dish also lavishly uses Mojo sauce. If you're looking for local cuisine such as Sancocho, then why not try Restraunte Sebastian in Costa-Adeje?

Useful Information
Travelling from the United Kingdom to the Costa-Adeje will entail being in the air for roughly 3 and a half to 4 hours. Although a slightly longer journey than Mediterranean island destinations, the Canary Islands are often noticeably warmer and sunnier throughout the year.
Although the Canary Islands are autonomous, they are part of Spain which means that the primary currency on the Canary Islands is the Euro. Sunshine.co.uk recommends beginning to look at exchange rates up to a month before your holiday, this is because exchange rates fluctuate regularly. By giving yourself ample time, you'll ensure you get the most Euro out of your Sterling.
The primary language of the Canary Islands is Spanish. With that being said, as the Canary Islands obtain a large portion of their income from tourism, many of the locals are fluent in languages such as English. Nevertheless, it's polite to have a bit of the basic vocabulary available such as please and thank-you.

Resorts in Tenerife
Vilaflor
Search the sunshine.co.uk website:
×