Cyprus Holidays
Cyprus is one of the Mediterranean's most sought-after holiday locations. Offering stunning scenery, idyllic beaches and an average of 300 days of sun each year, it's no surprise why tens of thousands of UK holidaymakers fly to Cyprus annually.

Those who long for golden brown sandy beaches and refreshing turquoise blue waters are sure to feel like they're in paradise when enjoying one of our incredible Cyprus holidays.
Why holiday in Cyprus?
Cyprus is a magnificent melting pot of Mediterranean culture, climate and cuisine. Offering a seemingly limitless supply of picturesque scenery, mouth-watering delicacies and a local population who are as warm and inviting as the island's many beaches.

Visitors who love to hike and explore during their vacations are sure to fall in love with the magnificent mountain ranges and dramatic coastlines found throughout Cyprus, while visitors who have something a little more relaxing in mind can soak up the sun and indulge at one of our many all-inclusive hotels and resorts. No matter what you look for in a vacation, Cyprus has something for everyone!

See also: Cyprus hotels
Food and drink in Cyprus
Cyprus' local cuisine has clear influences from its many surrounding territories including Turkey and Greece. In fact, you won't have to look hard to find one of the many cosy Greek tavernas scattered throughout the island, such as 'Dias Zeus Restaurant' in Paphos.

Popular local dishes include grilled halloumi cheese, and lahmacun, a delicious Turkish pizza-style dish which is often topped with tender lamb and various herbs. To wash down all of that delicious local cuisine, there is often a range of refreshing fruit juice cocktails and mocktails on offer using only the freshest local produce!
Cyprus Culture and Nightlife
Much like the local cuisine, there's plenty of Turkish and Greek influence to be found amongst the local culture in Cyprus. Traditions from the north and south blend seamlessly, creating the welcoming Cypriot culture which contributes to the island's addictive atmosphere.

Those who enjoy a lively nightlife are also sure to have a blast on the island. From the world-famous party and club scene of Ayia Napa to the varied selection of bars and pubs found on 'Bar Street' in Paphos, the island's vibrant nightlife has something for everyone!
Travel tips for visiting Cyprus
The average flight time to Cyprus is around 4.5 hours, a small and comfortable price to pay for the incredible destination that awaits you! The local currency is the Euro; we advise that you find the best exchange rates before you travel, ensuring you're not caught short by the less competitive exchange rates on offer at the airports.
Leonardo Plaza Cypria Maris Beach Hotel & Spa - Adults Only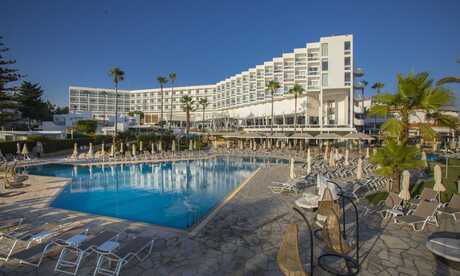 7 nights
All Inclusive
Return flights from London Stansted
Tasia Maris Beach & Spa - Adults Only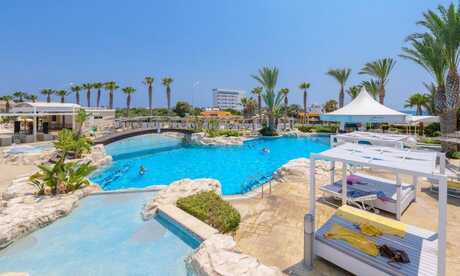 7 nights
Half Board
Return flights from London Gatwick
Tsokkos Constantinos The Great Beach Hotel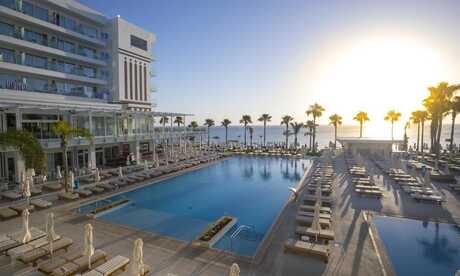 7 nights
Half Board
Return flights from Birmingham
Search the sunshine.co.uk website:
×