Lanzarote Holidays
The volcanic island of Lanzarote is one of the Canaries' most attractive holiday hotspots. With an idyllic summer holiday climate and a varied selection of hotels and resorts on offer, Lanzarote has something to offer every visitor, pulling in millions of holidaymakers from around the world each year.

From stunning beaches to countless high-quality cafes, bars and restaurants to choose from, it isn't hard to have a good time on this warm and welcoming island.
Bakour Lanzarote Splash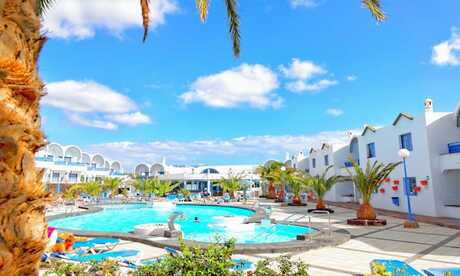 7 nights
All Inclusive
Return flights from London Stansted
Blue Sea Costa Teguise Gardens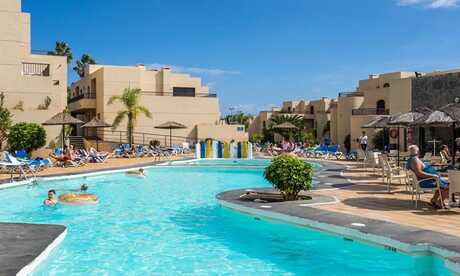 7 nights
Self Catering
Return flights from London Stansted
Hotel Grand Teguise Playa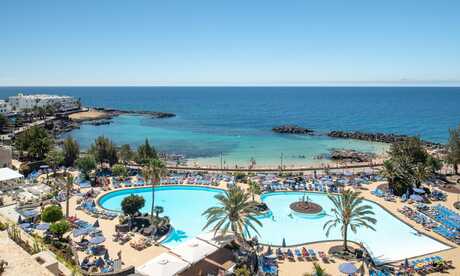 7 nights
Half Board
Return flights from London Stansted
Blue Sea Costa Bastian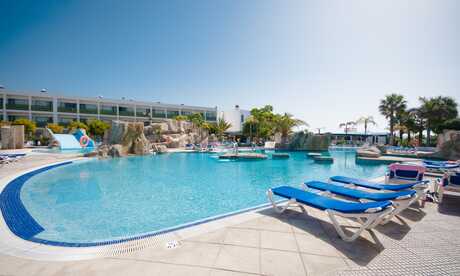 7 nights
Bed and Breakfast
Return flights from London Stansted
Blue Sea Los Fiscos
7 nights
Self Catering
Return flights from London Stansted
Blue Sea Lanzarote Palm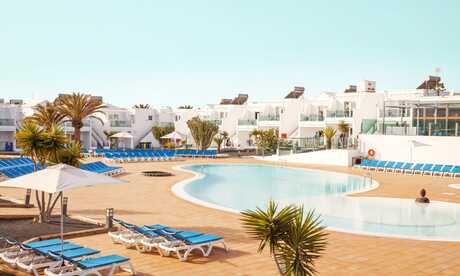 7 nights
Bed and Breakfast
Return flights from London Stansted
Be Live Experience Lanzarote Beach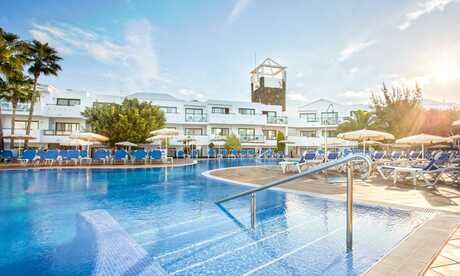 7 nights
Half Board
Return flights from London Stansted
HL Paradise Island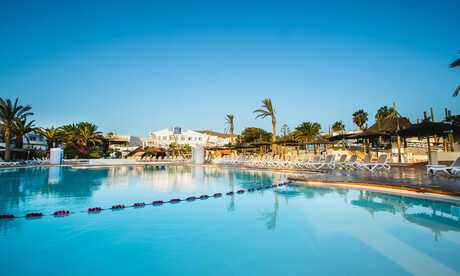 7 nights
All Inclusive
Return flights from London Stansted
BelleVue Aquarius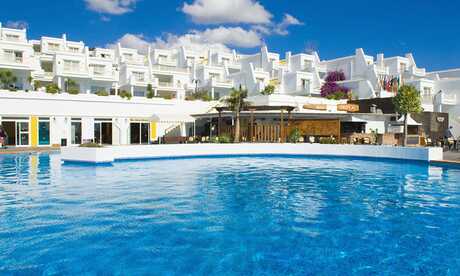 7 nights
Room Only
Return flights from London Stansted
Why Visit Lanzarote?
Lanzarote has long been known as a popular holiday destination for many European holidaymakers, not only because of its high temperatures, warm seas and sandy beaches, but also its seemingly endless selection of luxurious holiday resorts. From 'adults only' hotels to kid-friendly resorts, there's a perfect holiday for everyone to be found in Lanzarote.

Of all the Canary Islands, Lanzarote is the closest to the African coast, resulting in a dry climate with year-round good weather, making it a great holiday destination for any season. During the summer months, the average temperatures are between 64-75ºF and in the winter month's 61-68ºF.

The island sees very little rain, with an average of 16 days of rainfall annually, usually between December and February. The north of the island is usually windier, cloudier and has a little more rain due to moist trade winds, resulting in the perfect climate for enjoying surfing, windsurfing and kite surfing activities.

Lanzarote's coast is bejewelled with long ribbons of sandy beaches, with no shortage of nearby cafes and bars where sunbathers can break for refreshments. There are also a number of exciting water sports on offer at most beaches too, offering everything from jet ski rental and speedboat trips to paragliding and scuba diving tours!
Food & Drink in Lanzarote
As Lanzarote is a hotspot for European tourists, there are plenty of great places to eat to meet the high demand. Visitors can expect to find cuisine from around the world and fast food outlets amongst Lanzarote's many eateries, however for a taste of more traditional local dishes, you can find some great home cooked food on the island too.

Papas Arrugadas (often referred to as 'Canarian potatoes') are a delicious side-dish of potatoes boiled in salt water, served in a variety of ways, including a spicy sauce, stew and more! Seafood lovers may want to sample 'Boquerones' - pickled anchovy fillets with garlic. These are ideal as an appetiser, or a topping for some slices of freshly-baked bread.

If you are looking for traditional Canarian cuisine you are better off travelling further into the island away from the touristy areas. Here you will find a more typical choice of foods including local produce and little tapas bars. For a more formal dining option, these can be found in the quiet residential areas as well as the centre of the resorts. Playa Blanca is perfect for dining with its wide choice of bars, restaurants and tapas bars.

For a refreshing drink, all bars and restaurants offer the usual favourites, from lagers and wines to a colourful selection of cocktails and mocktails.
Things to do in Lanzarote
The north of the island has a number of popular visitor attractions including the Jardin de Cactus at Guatiza; a beautifully landscaped and extensive garden planted with thousands of cacti. A little further north in the seaside village of Punta Majeres, you can take a guided tour of the Cueva de los Verdes (the green caves), which were formed by lava from a volcanic eruption around 4000 years ago. You can also visit the Jameos del Agua, by day or night, to enjoy the beautiful landscaped pools and gardens set in open-air caves, browse the House of the Volcanoes museum or book an evening meal with a traditional folk dancing show. The Cueva de los Verdes and Jameos del Agua form part of the world's longest volcanic tunnel.

Inland, you might like to visit the peaceful, white-washed town of Haria, which is located amid the greenery of the Valley of a Thousand Palms. Around the town square, you can visit the two churches and the Museo de Arte Sacro, browse the artisan shops and the craft market which is held on Saturday mornings. There are walking and hiking trails or you can simply stroll up to the picnic area at the top of the Montana de Haria and enjoy beautiful views over Famara. In Tahiche you will find one of the most popular visitor attractions on the island, the Cesar Manrique Foundation. At the Cesar Manrique Foundation, you can stroll around the former home of the islands famous and artistic architect, built into underground volcanic rock caverns, the gardens and art gallery.

An easy way to visit most of the towns, historic and cultural attractions mentioned above is with the Lanzarote Vision; a fleet of double-decker tourist buses which circle two hop-on, hop-off routes in the north and the south of the island. The northern route links the beach resort of Costa Teguise, the capital city of Arrecife, the inland towns of Teguise and Haria, the seaside village of Arrieta and the following visitor attractions: the Cesar Manrique Foundation, the Monument and Museum of Campesino, Jameos del Agua, the Cueva de los Verdes and the Jardin de Cactus. The southern route links the beach resorts of Playa Blanca (and the Rubicon Marina), Puerto del Carmen and Playa de los Pocillos, the inland towns and villages of Tias, Yaiza and San Bartolome, two wineries in the El Geria wine region, the Monument and Museum of Campesino and the spectacular lava fields at the National Park of Timanfaya.

The Timanfaya National Park is one the islands most popular natural attractions and comprises miles of lava fields which you can travel through by coach or by camel. In the park, there is a restaurant which cooks meat using natural underground heat and there are entertaining demonstrations to display the power of the regions thermal activity.

At the north-west point of the island, the end of the road is marked by the Mirador del Rio where you can enjoy spectacular views over the salt pans, El Risco beach and across to the Chinijo Islands of Graciosa, Montana Clara and Alegranza. Excellent views of the Chinijo Islands can also be enjoyed from the cliffs of Famara, on the western coast, where the beach is particularly popular with windsurfers. For a closer look and the chance to laze on the deserted beaches, you can take the ferry from Lanzarote to Graciosa. The ferry runs regularly from Orzola, a laid back fishing village in the north of Lanzarote, where you can also swim in its tranquil blue lagoon and enjoy a fresh fish meal at a harbour-front restaurant.

Rancho Texas Park, just outside of Playa de los Pocillos, offers family fun during the day amid the landscaped gardens with a tropical wildlife and bird park, a small farm, daily shows including a sea lion show as well as a splash and chill-out zone. Or, leave your visit until the evening and have a great night out at one of the Country & Western or Spanish theme nights.

Leisure attractions in Lanzarote include the chic marinas at Playa Blanca and Puerto Calero, the two beautiful 18 hole golf courses at Costa Teguise and Puerto del Carmen, the Lanzarote Aquarium at Costa Teguise and the 2 water parks at Playa Blanca.

The Gran Karting Club near Matagorda offers an adrenaline-fuelled adventure with karts and circuits suitable for everyone from the under 5's to the experienced racer. There is also a cafe bar and viewing terrace if you just want to watch. For paintballing, off-roading, camel and horse-riding safaris, Lanzarote A Caballo enjoys a unique setting, surrounded by volcanoes and craters, approx 2km east of Uga.

For designer boutiques visit Arrecife, Marina Rubicon and Puerto Calero Marina or for large indoor shopping malls try Deiland Shopping Centre in Playa Honda and the Biosfera Plaza in Puerto del Carmen. The largest market is held at Teguise on Sundays but you can also find artisan pieces and local produce at Haria on Saturdays, Mancha Blancha on Sundays and Uga on Saturdays and Sundays. There is also a morning market around the El Charco lagoon area in Arrecife; the Marina Rubicon on Wednesdays and Saturdays and at Puerto Calero Marina on Tuesdays and Fridays.
Travel Tips for Visiting Lanzarote
The average flight time to Lanzarote from London is around 3 hours 25 minutes, from Manchester 4 hours 10 minutes and from Glasgow, 4 hours and 30 minutes.

The local currency is the Euro. Visitors may be better off shopping around for the best exchange rates before they travel, however, there are usually bureau de changes offering competitive rates around the island (as always, be sure to check reviews online before opting for one, however).

Lanzarote offers warm temperatures all year round, meaning you can visit any time of year.
Search the sunshine.co.uk website:
×