Kos Holidays
The beautiful island of Kos is part of a chain of Greek mountains known as the Dodecanese and offers spectacular views of the region. Glorious weather and stunning beaches make it a great destination for holidaymakers looking for sun, sea, and sand although the island also caters to the party crowd and history lovers. Whether you are planning a family holiday, a romantic escape or a week of partying with your best friends book your Kos holiday with Sunshine.co.uk for competitive prices on flights and hotels.
Why holiday in Kos
Kos is often considered as one of Greece's party destinations and although it does boast an exciting nightlife, there is also a lot more to the island. There are diverse resorts to suit your holiday whether you want to stay at the busy Kardamena and dance the night away or recharge at a quieter resort like Psaladi and relax on its charming little beach after a morning of shopping. Tourists can also visit idyllic villages for an authentic experience of Greek culture and some traditional food.

If you would like to explore the fascinating history of the island, Kos has a rich heritage and is home to an archaeological museum and excavation area where remains of the ancient city of Agora lie. There are many ruins and monuments to visit, like the statue of Hippocrates, around Kos Town as well as houses, temples, baths, and mosaics from different eras of Greek history.
Beach holidays in Kos
The shores of Kos attract holidaymakers year after year as the island boasts around 40km of stunning beaches that stretch along the coastline and meet the Carpathian sea. The aptly named Paradise beach is one of the islands more popular spots with sun beds and water sports on offer, a great spot for families with younger children. Kardamena beach is also well-known and ideal for swimming or sunbathing.

If you would prefer a quieter beach you should head to the west side of the island. Many beaches along the Kos coastline are secluded and accessed by foot so it may be worth exploring to find a private cove.
Food & Drink in Kos
Kos offers traditional Greek Mediterranean cuisine serving up plenty of fresh vegetables, meat, fish and generous amounts of olive oil. Why not try some authentic dishes like Xinomyzithra, a local sour cheese, or Loukoumades, a Greek honey donut, as a dessert?

There are many options when it comes to dining out in Kos. Choose from luxury hotel restaurants, beachside tavernas or travel further inland to discover traditional cuisine in the mountains. There are also international food places as well as snack bars when you fancy a quick bite to eat.
Nightlife
There are a number of bars in the area but not so many that they taint the originality of the island. Kardamena is a well-known party resort and extremely popular with the 18-30 crowd due to its exciting bars and nightclubs like the huge Status Club. Kos town and Tigaki are also top spots for a night of dancing with plenty of discos, nightclubs, and even beach parties for you to choose from.

However, if you prefer a more laid-back vibe then Kos is also home to traditional Greek tavernas and restaurants where you can spend your evening relaxing with a drink. Delon Pub in Kos town is a friendly bar with a chilled out vibe and a fantastic place to watch the sports.
Useful Information
The flight time to Kos from the UK is around 4 hours depending on what airport you depart from.

The local currency in Kos is the Euro. As always, we recommend you shop around for the best conversion deals.

The local language is Greek. However, English is spoken more commonly in the tourist areas meaning it is easy for English speaking tourists to navigate and communicate.
Mitsis Summer Palace Beach Hotel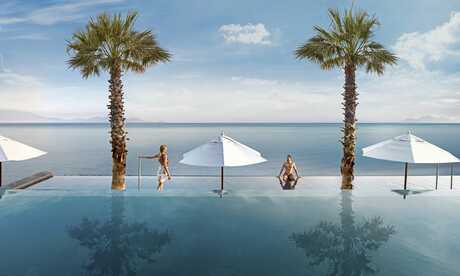 7 nights
All Inclusive
Return flights from London Gatwick
Mitsis Norida Beach Hotel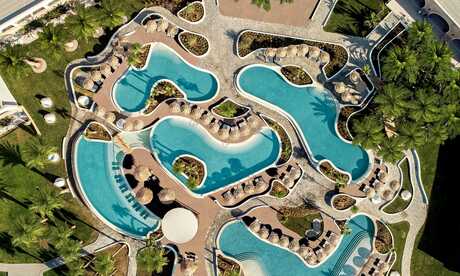 7 nights
All Inclusive
Return flights from London Gatwick
Mitsis Family Village Beach Hotel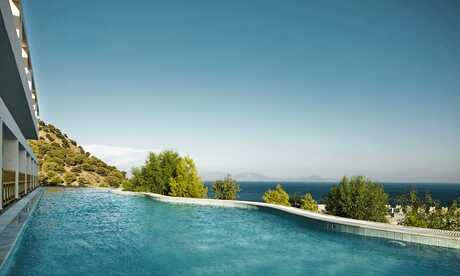 7 nights
All Inclusive
Return flights from London Gatwick
Search the sunshine.co.uk website:
×