Mauritius Holidays
Could there be anything more tranquil than the beautiful Indian Ocean island-nation of Mauritius? Boasting everything from crystal-clear waters to tranquil mountains and bustling cities to tropical rainforests – there's never a dull moment to be had on this picturesque island.

Feel the soft sands beneath your feet on some of the best beaches in the Indian Ocean (and world) and set your eyes upon jaw-dropping marine life. Treat your taste buds to an array of flavoursome meals at the homely restaurants and dance the night away to live music in the bustling bars. Mauritius is picture-perfect and is ideal for a romantic retreat or even a fun-filled sunny holiday away with the family.
Solana Beach Mauritius- Adults Only 18+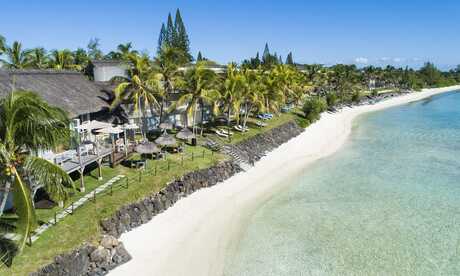 7 nights
Room Only
Return flights from London Stansted
20 Degres Sud - Relais & Châteaux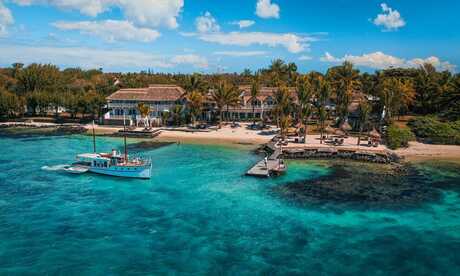 7 nights
Half Board
Return flights from London Stansted
Maritim Resort & Spa Mauritius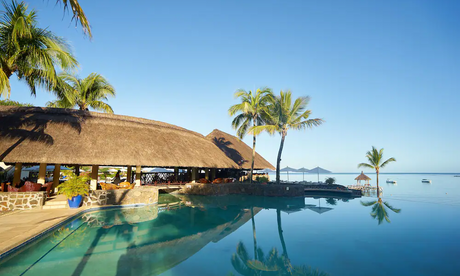 7 nights
All Inclusive
Return flights from London Stansted
LUX* Grand Baie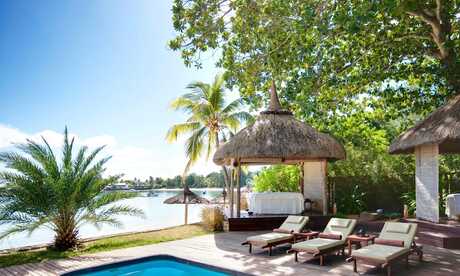 7 nights
Half Board
Return flights from London Stansted
Zilwa Attitude
7 nights
Half Board
Return flights from London Stansted
Sands Suite Resort & Spa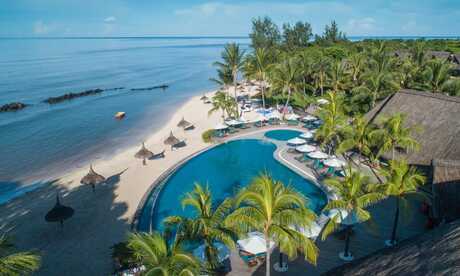 7 nights
Half Board
Return flights from London Stansted
The Westin Turtle Bay Resort & Spa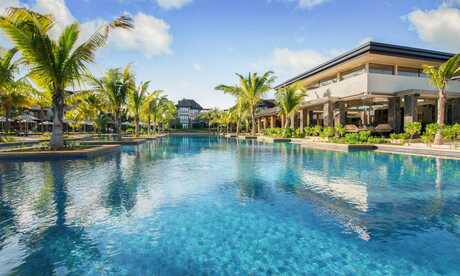 7 nights
Half Board
Return flights from London Stansted
Lux* Belle Mare Villas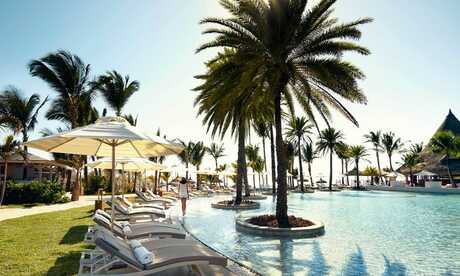 7 nights
Bed and Breakfast
Return flights from London Stansted
Friday Attitude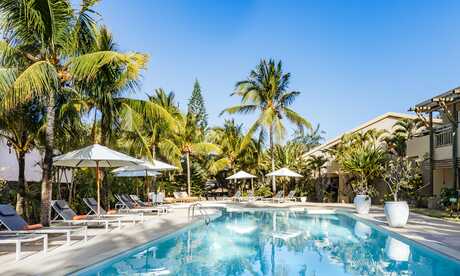 7 nights
Half Board
Return flights from Birmingham
Why Holiday in Mauritius?
Whether you're looking for a relaxing beach holiday or maybe fancy a break exploring hidden coves and indulging in the history and culture of the island – Mauritius is the ideal destination for a holiday. From the sandy shores to metropolitan Port Louis, there's more on offer here than you'd think.

If you like it hot then Mauritius is the place to be. There are two distinctive seasons – a warm summer from November until April and a cool dry winter between June and September. The island isn't far from the equator and with average temperatures of 24C all year round, this tropical island is ideal for sun-lovers looking for a holiday like no other.
Beach Holidays in Mauritius
The coastline of Mauritius is picture perfect and with over 330km of shoreline, heaven really is a place on earth. Imagine walking over the golden sands whilst looking out over the twinkling waters surrounding the island – there's no wonder it has one of the best coastlines in the world. Although a small island, Mauritius has a big personality and even bigger beaches. Grand Baie on the north of the island is a popular choice amongst locals and visitors for the warming sands and its central location.

If you're seeking somewhere a little more relaxing, we're sure Mont Choisy is the one for you! Close your eyes and imagine paradise - a tranquil location, crystal-clear waters and luscious greenery. We're not mind readers, but we're pretty sure you're dreaming of Mount Choisy.
Food and Drink in Mauritius
Ask any Mauritian and they'll tell you the same thing, the food here is amazing. The cuisine has a blend of Chinese, European and Indian influence. So, whether you enjoy most foods or you're a fussy eater, Mauritius has got your back.

You'll be spoilt for choice when it comes to seafood dishes. A favourite of ours has to be fish vindaye where the fish is usually fried and pickled with an onion, turmeric, garlic and ginger sauce. If seafood doesn't tantalise your tastebuds, another island delicacy is dhol-puri which is an Indian-inspired pancake-style flatbread served with curries – including vegetables, fish or chicken. This dish is a common street food favourite which is usually enjoyed on beaches or in local parks. To wash everything down, sip on a glass of fine Mauritian rum, Blue Marlin beer or freshly squeezed fruit juice.

Sweet treats are popular in Mauritius – sugar used to be the currency here, pretty sweet isn't it! But even now it's still one of the country's main exports as it produces some of the world's best sugar. You won't be disappointed with the vast array of food which will tend to your sugary cravings. Something as simple as caramelised pineapple – who knew this tasty yellow fruit could taste any sweeter? A popular dessert is mithai, an Indian sweet which is made up of a combination of sugar, nuts and milk. The sweet is then flavoured using either cardamom, rose water or saffron before being soaked in either milk or syrup – It's a very tasty treat which can be found in most shops.
Visiting Mauritius
Look beyond the pristine beaches and you'll find Mauritius is so much more than its renowned coastline. The locals are extremely welcoming and offer to lend a helping hand to friends and visitors alike. The landscape is rich with wildlife and tropical plants - a great place to visit is the Pamplemousse Botanical Garden which is the oldest of its kind in the Southern Hemisphere. Venture into the history of this island with a trip to L'Aventure du Sucre, a fascinating museum designated to sugar – you've heard of wine tasting, I'm sure not everyone has been sugar tasting!

A tradition on the island is Sundowner – a weekend and holiday ritual where the Mauritians meet on the beach to enjoy the last rays of the sun. You'll be in your element, feeling all Zen! The locals enjoy this moment with friends, family and a drink – often a rum-based cocktail.

This peaceful and relaxing island comes to life once the sun sets – there are lots of clubs and bars which host live music and theme nights. A firm favourite amongst Mauritians and visitors is Banana Beach Club – it's been the number one place to go for a night out on the island and it's easy to see why. Each night guests are treated to amazing live music accompanied by a selection of tasty local drinks and international cocktails. For those chill evenings there's plenty of places to spend a few hours watching the moonlight reflect on the calm waters. C Beach Club's chill lounge bar is a prime example with its comfy chairs and quiet location – it's a great place to catch up with friends and family.
Useful info for visiting Mauritius
In order to shop 'til you drop, you'll need to convert your pounds to Mauritian Rupee. You can exchange this before you jet off and buy in bulk which could save you money in the long run – although you can also find competitive exchange rates at bureau de changes around the island. Mauritius is an African island nation located in the Indian Ocean and the official language spoken here is English – meaning you'll be able to enjoy your trip without any language barriers, including ordering your food!

The average flight time is 14 hours direct from London which is ideal for catching up on the latest films or catching some Z's. Mauritius is four hours ahead of GMT so you'll still have plenty of time to catch up with friends and family back home. Hindu is the most popular religion on the island, no visas are needed to enter the country and it is recommended that you should have all routine vaccinations prior to your trip.
Search the sunshine.co.uk website:
×