Holidays to Albufeira
Albufeira was once a picturesque fishing village however today it is one of the most popular destinations on the Algarve and is home to fantastic beaches, stunning churches and charming cobbled streets. The resort also offers a diverse selection of restaurants and bars to suit any taste as well as a lively nightlife scene. Book your holiday to Albufeira today and take a look at the great deals on flights and hotels from Sunshine.co.uk.
Alfagar Cerro Malpique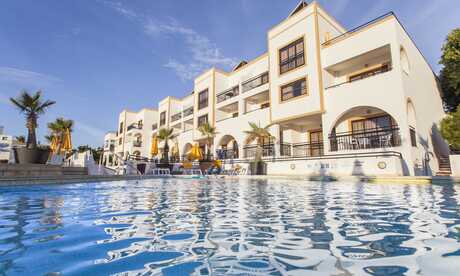 Self Catering
Birmingham to Faro
Muthu Clube Praia da Oura
Self Catering
Birmingham to Faro
Paraiso de Albufeira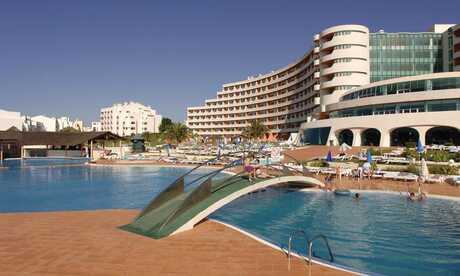 Room Only
Birmingham to Faro
Aqua Pedra dos Bicos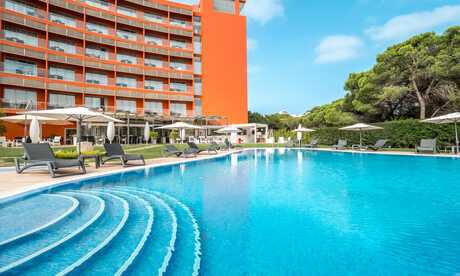 Bed and Breakfast
Birmingham to Faro
Monica Isabel Beach Club
Room Only
Birmingham to Faro
Paladim & Alagoamar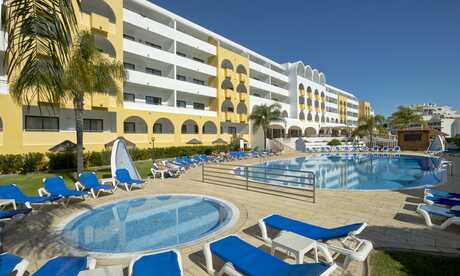 Self Catering
Birmingham to Faro
Oceano Atlantico Turisticos Apartments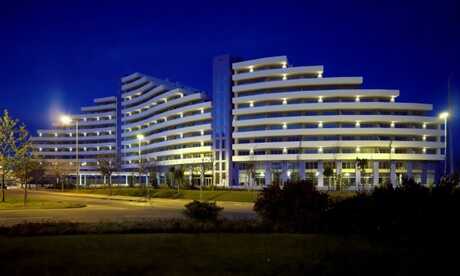 Self Catering
Birmingham to Faro
Algardia Marina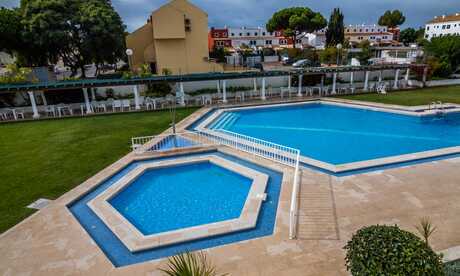 Self Catering
Birmingham to Faro
Auramar Beach Resort
Room Only
Birmingham to Faro
Why holiday in Albufeira?
The resort of Albufeira is split in to the two areas known as The Old Town and The New Town. A perfect destination for couples; holidaymakers can explore the romantic, cobbled streets of the old town and dine on fresh seafood. In contrast, The New Town is a place to party in to the early hours and is very popular with groups.

There's also plenty of family-friendly attractions such as The Aqualand Waterpark where the whole family can enjoy a range of water slides, wave pools, a lazy river and play pools. For a more relaxed atmosphere, visit the colourful marina and watch the boats go by, or take a trip out to sea on a diving or fishing excursion.

For golf lovers, there are 3 golf courses in the area including Salgados Golf and Balaia Golf Village, so holidaymakers can practice their swing on their Albufeira holiday.

Beach holidays in Albufeira
The Albufeira coastline boasts around 25 beaches, from secluded coves to long stretches of golden sand, so there are plenty of spots to relax, sunbathe or take part in water sports.

Situated in front of the old town are two of Albufeira's main beaches known as the Fisherman's Beach and Albufeira Beach which are backed by a selection of shops, bars and restaurants. These family-friendly beaches can be extremely popular during the height of season.

The Praia da Oura, also known as Oura Beach is the closest beach to the Monte Choro strip and is ideal for water sports including pedal boats, banana boats, parasailing and windsurfing. For those who prefer a more laid-back vibe, there's also sunbeds and umbrellas available to hire and a paved promenade lined with great shops, cafes and restaurants.

Food & Drink
Dining out is a large part of the Albufeira culture, especially eating at seafood restaurants as fishing is at the heart of the city's economy and history. The Algarvean Cataplana is highly recommended along with the tasty horse mackerel alimados, for those who wish to experience the traditional Portuguese cuisine.

As well as local or Portuguese cuisine, Albufeira offers wide selection of restaurants serving food from around the world including Mediterranean and Burger Bars. There's plenty of British cafes and pubs too, so you're sure to find an all-day English breakfast for some home comfort after a night on the strip.

Nightlife
When it comes to party destinations the Monte Choro strip in The New Town has a strong reputation as the place to be with the younger crowd. The area is lined with lively bars, themed pubs and nightclubs including the famous Kiss Nightclub, which hosts big-name DJs from around the world.

If you enjoy a quieter night out, the street of bars in The Old Town have a more relaxed vibe compared to the venues on The Strip. There are also plenty of romantic restaurants where you can book a meal for two. Nearby Vilamoura, is also a great spot for couples, why not take a late-night stroll round the town's marina after visiting the restaurants, bars and cafes?
Useful Information for Holidays to Albufeira
The average flight time from the UK is around 2 hours and 45 minutes.

The currency used in Albufeira is the Euro, we recommend you shop around for the best rates of conversion before flying.

The local language is Portuguese. However, English is more commonly spoken in the tourist areas meaning it is easy for English speaking tourists to navigate and communicate.

reviews recommend Sunshine.co.uk
Search the sunshine.co.uk website:
×