Holidays to Mykonos
The island of Mykonos is one of the most beautiful and well-known members of the Cyclades, a gorgeous cluster of islands located in the south Aegean Sea. The island has been a popular tourist destination since the 1950s, attracting visitors from all over Europe set on experiencing its beautiful beaches, outstanding restaurants and its exciting collection of bars and nightclubs. Whether you want to explore the ruins of ancient Greece, indulge in some of the best Greek food & drink available or simply lay back and relax on some of the most beautiful beaches Greece has to offer – Mykonos is the destination for you!
My Mykonos Boutique Hotel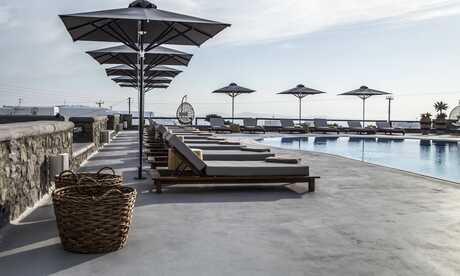 7 nights
Bed and Breakfast
Return flights from London Gatwick
De.light Boutique Hotel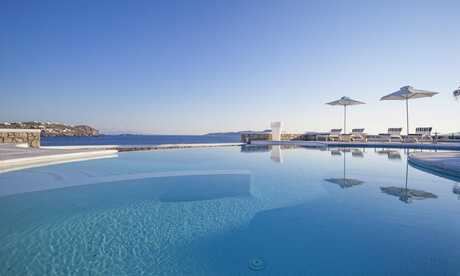 7 nights
Bed and Breakfast
Return flights from London Gatwick
Giannoulaki Aparthotel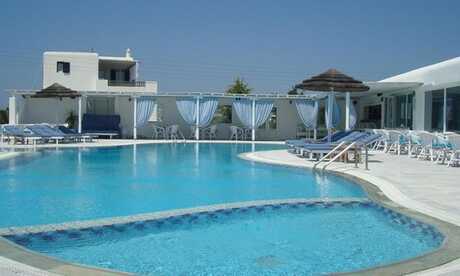 7 nights
Bed and Breakfast
Return flights from London Gatwick
Petasos Town Hotel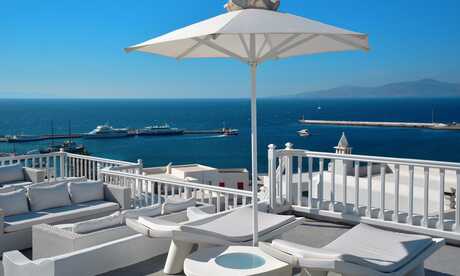 7 nights
Bed and Breakfast
Return flights from London Gatwick
Andronikos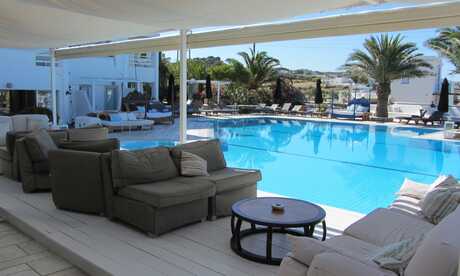 7 nights
Bed and Breakfast
Return flights from London Gatwick
Livin Mykonos Hotel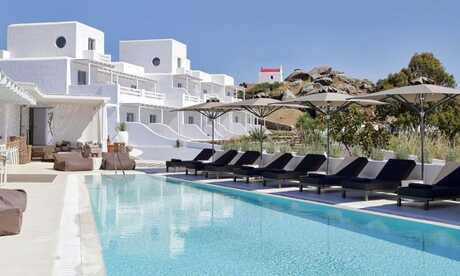 7 nights
Room Only
Return flights from London Gatwick
Paradision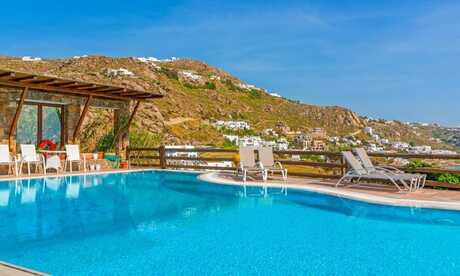 7 nights
Bed and Breakfast
Return flights from London Gatwick
Mykonos Beach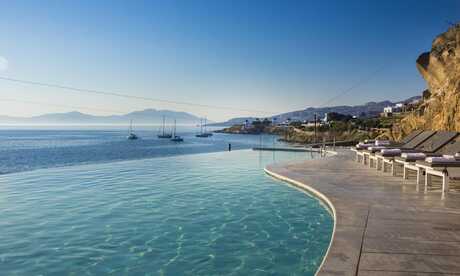 7 nights
Bed and Breakfast
Return flights from London Gatwick
San Marco Hotel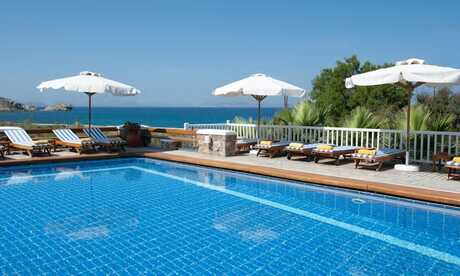 7 nights
Bed and Breakfast
Return flights from London Gatwick
Why Choose to Holiday in Mykonos
Boasting average summer temperatures of around 25 °C, with incredibly low rainfall to boot, the island of Mykonos is the ideal destination for a summer getaway. When you combine the islands outstanding summer weather with its fantastic selection of beaches, it really is no wonder why Mykonos is a sunbathers paradise.
But even if lounging on the beach all day isn't your idea of perfection, Mykonos offers visitors of all ages and interests something exciting to discover. Whether you have a passion for Ancient History, Greek Cuisine, Water Sports or just want to experience a fantastic island nightlife - Mykonos has you covered. That's what makes Mykonos such a brilliant destination for solo travellers, couples and families alike. Book your holiday to Mykonos with Sunshine.co.uk today!

Beach Holidays in Mykonos
As an island located in the Aegean Sea, holidaying in Mykonos will give you access to an enormous number of fantastically maintained, white sandy beaches. For those looking to take part in water-sports or coastal activities, the Ftelia beach, located on the island's northern coast is ideal. The beach's northern location supplies it with strong winds, making it ideal for windsurfers and parasailers.

However, if you're more interested in making use of the wonderful temperatures and warm sand, Agio Sostits Beach will suit you perfectly. Although also located on the island's northern coast, the beach is significantly sheltered by the bay, protecting it from the winds that buffet Ftelia further up the coast. Agio Sostits' clear water and soft sand makes it a popular location for tourists and locals looking for the best swimming and sunbathing Mykonos has to offer.

Food, Drink & Nightlife in Mykonos
The island of Mykonos' culinary focus is Mediterranean and offers food and drink experiences to please every palate. Whether you want to enjoy luxurious dining experiences in upscale establishments or eat where the locals eat - Mykonos has plenty of options.

Mykonos also has a number of specialties any visiting foodies would be foolish not to try. Kopanisti is one of these specialities, it's a spicy cheese that's produced locally on the island and is often served alongside wine and Pita Bread. Louza is another local favourite and is produced using thin slices of spiced pork, you might see it as a starter or even as a sandwich filling! For those with more of a sweet tooth, amygdalota, a sort of almond cookie is one of the most popular regional deserts.

If you're looking to experience the nightlife of Mykonos, you'll be wanting to head to one of the many famous super-clubs located on the island. Many of the islands best clubs regularly host numerous international DJ's over the summer party season. If you want exciting beach parties, look no further than the Cavo Paradiso and Tropicana Beach Bar – these two venues are considered two of the island's best locations.

Activities in Mykonos
Mykonos' past is steeped in fascinating mythology, according to legend the island was the location of an enormous battle between Zeus and the Titans. It's said that the large rocks that can be found all over the island, are the petrified remains of the Giants slain by Hercules during the conflict.

If the history of Mykonos is something that interests you, then you might want to grab a boat to the nearby island of Delos. Delos was a major port and religious centre for the Greeks, and the ancient ruins that can be found on the island include Doric Temples, Markets, Amphitheatres and even houses with well-preserved mosaics.

Furthermore, if the nearby island of Delos isn't quite enough to quench your thirst for Ancient Greek history, then you'll want to consider visiting the Archaeological Museum of Mykonos in Mykonos Town. Its collection includes pieces that date from prehistory, through to the Hellenistic period, and is guaranteed to impress anyone with a penchant for Ancient History.

Mykonos town, also known as Chora, is a must-see for anyone who loves traditional Greek architecture. The town is full of narrow lanes and alleys, which are punctuated with traditional white Greek houses that have beautifully coloured doors and shutters. When exploring the town, you'll find that Chora's primary retail scene is located on Mataoyianni Street – it's home to a number of splendid shops, art galleries, restaurants and cafes.

Running alongside the town's waterfront is the Little Venice district, it's crammed with wonderful bars and restaurants specializing in all manner of fresh seafood cuisines – if you do find yourself down there, you must try Kastro's Restaurant as the seafood is exceptional!

Useful Information for Holidays to Mykonos
In regards to the flight time, the majority of flights to Mykonos from the United Kingdom take roughly 3 and a half hours. This relatively short travel time makes Mykonos an ideal destination for all.

Greece is a member of the Eurozone and accordingly uses the Euro as their national currency. As exchange rates regularly shift throughout the year, Sunshine.co.uk would recommend beginning to look at exchanging Sterling to Euros up to a month before you are set to travel. This will ensure that you get the best value for your Sterling when buying Euros.

Finally, as Mykonos is part of Greece, and Greece's national language is Greek – the island's primary language is of course Greek. With that being said, as the island is heavily geared towards its tourism industry, many of its residents speak fantastic English. Nevertheless, it's polite to attempt the basics of the language when interacting with the island's residents.

Resorts in Mykonos
Plati Gialos
Search the sunshine.co.uk website:
×