Holidays to Agadir
The mesmerizing north-western coastline of Morocco is where you'll find the exciting city of Agadir, nestled neatly at the foot of the imposing Atlas mountain range. As Agadir offers tourists a fantastic blend of beach, mountain and even desert environments to explore, it's no wonder that Agadir proves year-on-year to be one of the most popular holiday destinations for Europeans. Book your holiday to Agadir with Sunshine.co.uk today!
Iberostar Founty Beach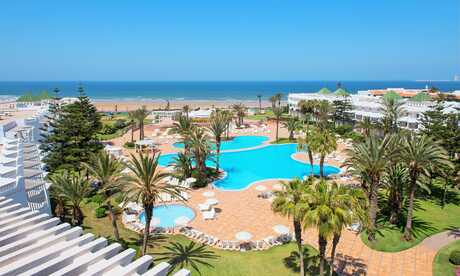 7 nights
All Inclusive
Return flights from London Stansted
Royal Decameron Tafoukt Beach Resort & Spa
7 nights
All Inclusive
Return flights from London Stansted
Caribbean Village Agador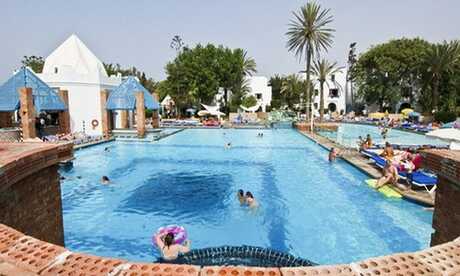 7 nights
All Inclusive
Return flights from London Stansted
Valeria Jardin D'Agadir Resort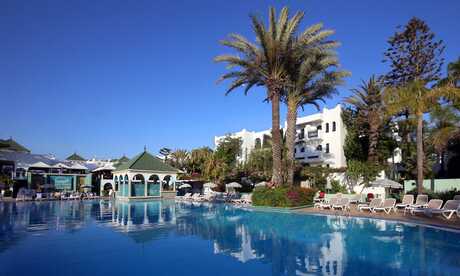 7 nights
All Inclusive
Return flights from London Stansted
Allegro Agadir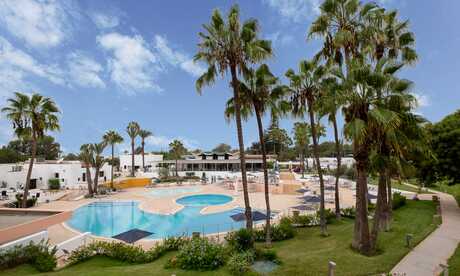 7 nights
Bed and Breakfast
Return flights from London Stansted
Sofitel Agadir Thalassa Sea and Spa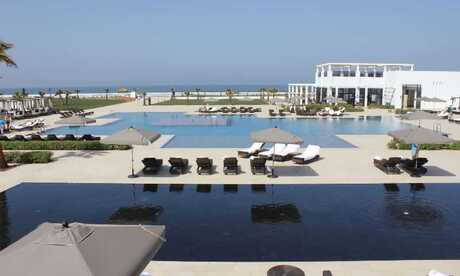 7 nights
Bed and Breakfast
Return flights from London Stansted
Argana Hotel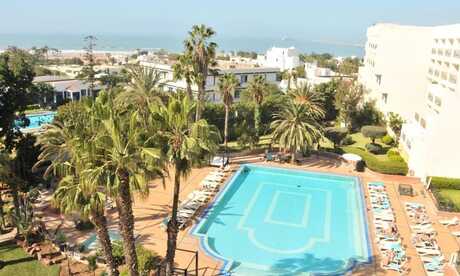 7 nights
Room Only
Return flights from London Stansted
Atlas Les Dunes D or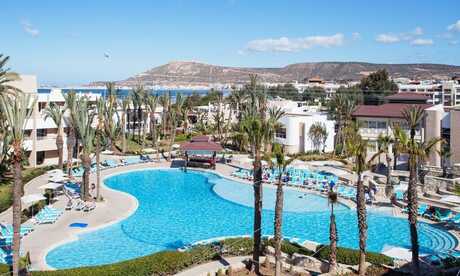 7 nights
All Inclusive
Return flights from London Stansted
ROBINSON AGADIR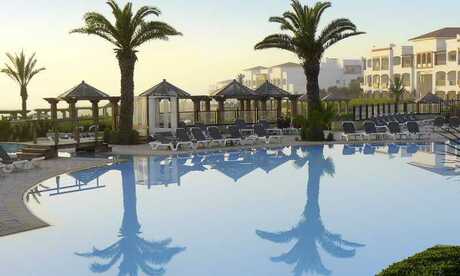 7 nights
All Inclusive
Return flights from London Stansted
Why Choose to Holiday in Agadir
With average summer temperatures of around 26°C, and winter temperatures of roughly 20°C, Agadir provides a break from the colder and damper weather of northern Europe throughout the year. Since the late 1960s, the Moroccan government has done much to promote Agadir as an exciting destination for European tourists – so you're guaranteed to find numerous fun and interesting activities when visiting the city.

Agadir boasts access to a wide variety of geographical environments due to its location on the north-western coast of Africa. The city is blessed with over 10km of golden sanded beaches and turquoise warm waters, making it an ideal location for those wishing to experience a beach holiday like no other. Furthermore, the city is nestled at the foot of the Atlas mountain range, providing tourists to Agadir with opportunities for hiking and climbing. If this wasn't enough, the proximity of the city to the Western Sahara affords tourists the chance of day trips (and longer) to the desert!

Beach Holidays
As Agadir is located along the north-African coastline, it's no wonder that life in the city often revolves around the beach – which stretches over 10km! The beach is surprisingly well sheltered from the harsh Atlantic winds, and thus provides sun revellers with gorgeous temperatures and access to beautiful turquoise waters to cool off in. Accordingly, as the beach is so integral to the city, the city's authorities are actively involved in keeping it safe and clean for all of its users. However, one thing to be aware of is the undertow, which can make ocean swimming dangerous if you aren't cautious.

The stretch of coastline is occupied by numerous cafes, restaurants and bars as well as all the other amenities you would expect on a well-kept and much-loved beach. There are also plenty of opportunities for extra fun on the coast, as activities such as jet-skiing, quad biking, camel rides and even a little tourist train are available to beach-goers.

Activities
If you want to get away from the hot temperatures and sand for a few hours, there's plenty for you to explore in Agadir. The Souk Al Ahad is an enormous bazaar, or market, which offers visitors an enormous selection of exciting goods ranging from exotic spices, to home-ware, and street-food vendors. Although the prices are often incredibly low and good-value for money anyway, there is the opportunity to haggle with vendors which is a brilliant cultural experience and great fun!

Nature lovers will also be enthralled by the possibility of visiting Agadir Birds Valley, a beautifully landscaped animal park with a focus on its large aviary. The park is populated with beautiful fountains, ponds, play areas and even a small petting zoo and offers free admission to visitors.
However, if you want to get out of Agadir and explore the surrounding region there are plenty of opportunities to do so. Many companies offer guided tours into the Atlas mountain range, and for the very adventurous, many even offer guided tours on camelback into the Sahara Desert.

Food, Drink & Nightlife
Regardless of whether you want to fully discover the local cuisine, or if you're just happy to play it safe - Agadir has a vast number of incredible restaurants catering to all palates and budgets.

If you are looking to experience the local cuisine fully, then Sunshine.co.uk would recommend first trying a dish like Bastilla. Bastilla is similar to a savoury pie and is usually made with chicken that's been stewed in saffron, ginger, cinnamon and pepper; it's then layered within warqa pastry, which is incredibly crisp, alongside a herb-infused omelette and fried almonds soaked in orange flower water. If that sounds exciting to you, then you can find it in restaurants specialising in local cuisine such as Restaurant Daffy or Babakoul.

Agadir's nightlife is also exciting and when the day-time temperature drops slightly in the evenings, the streets come to life. The nightclubs in Agadir are usually open all year round, and most offer free-entry. However, alcoholic drinks can be quite expensive, so be prepared when planning a night out! Clubs such as The Factory, Papa Guyos and Beach Club are some of the most popular venues in the city.

Useful Information
If you're travelling from the United Kingdom to reach Agadir, you'll likely spend around 3 and a half to 4 hours in the air. This is slightly longer than other popular Mediterranean destinations, but the consistency of weather and temperature in Agadir makes this worthwhile if your main concern is escaping the cold and damp of northern Europe.

The primary currency in Morocco, and therefore Agadir, is the Moroccan Dirham. As exchange rates are known to fluctuate, Sunshine.co.uk would recommend beginning to look at exchanging Sterling to Dirham around a month before you are set to travel. This will give you ample time to shop around and make sure you are getting the best exchange rate possible.

The main spoken languages are Tashelhit, Moroccan Arabic and French, however as Agadir relies on its touristic economy, many people in the city speak English.

Search the sunshine.co.uk website:
×