Holidays to Menorca
When compared to beach breaks in Majorca and Ibiza, holidays to Menorca often fly under the radar. Luckily, we're here to big up this little slice of heaven. And, if we're honest, listing what we love about Menorca is easy, because it's beautiful. Jet off to this Balearic Island for golden crescents of sand, impossibly blue sea and hot, hot summer weather. This is the place for cycling in the sunshine, eating tapas al fresco on a balcony and taking it easy on a sun lounger. Generally quieter than its two sister islands, Menorca feels somehow calmer and wilder at the same time. Calmer, due to its tranquil beaches and sleepy towns. Wilder, because of its stunning, rugged landscapes and potential for adventure. Whether you're looking for a family-friendly trip, a romantic escape or an unforgettable solo travelling experience, Menorca holidays have something to offer everyone.



Los Naranjos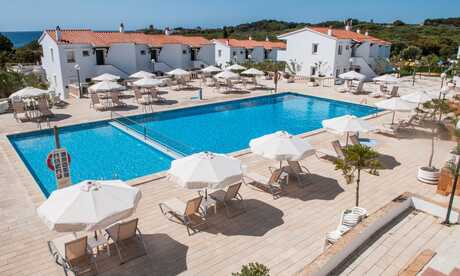 7 nights
Self Catering
Return flights from East Midlands
Hotel Gran Sagitario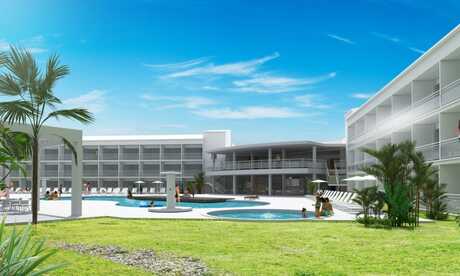 7 nights
Bed and Breakfast
Return flights from East Midlands
Loar Ferreries Apartments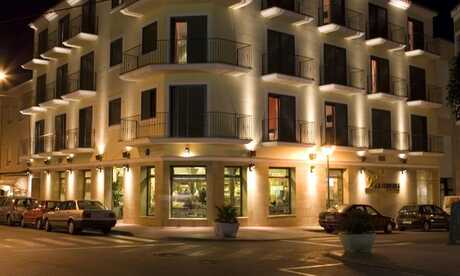 7 nights
Self Catering
Return flights from London Stansted
Catalonia Mirador des Port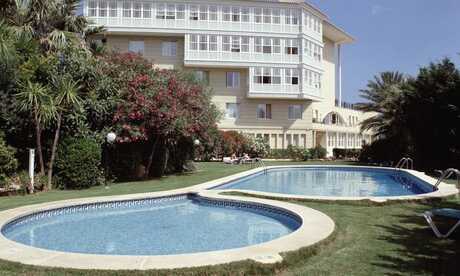 7 nights
Room Only
Return flights from East Midlands
Carema Beach Menorca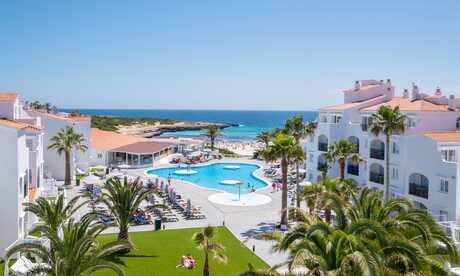 7 nights
Self Catering
Return flights from East Midlands
Primasud Suites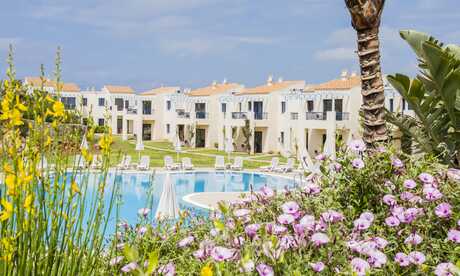 7 nights
Self Catering
Return flights from London Stansted
Set Hotel Port Mahon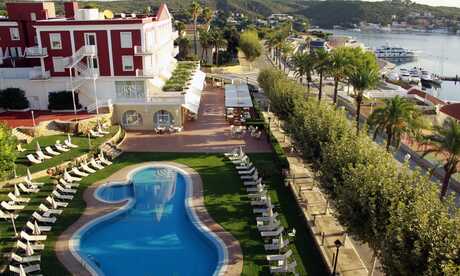 7 nights
Bed and Breakfast
Return flights from East Midlands
Alta Galdana Playa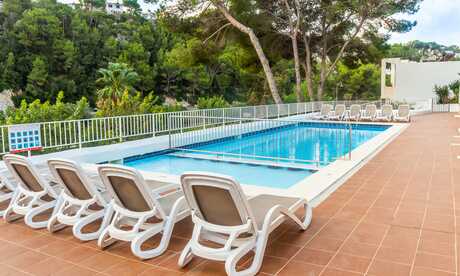 7 nights
Self Catering
Return flights from East Midlands
Meliá Cala Galdana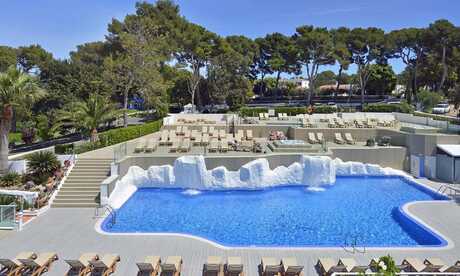 7 nights
Bed and Breakfast
Return flights from London Stansted
Why Holiday in Menorca?
Laid-back Mediterranean charm is the name of the game here, with traditional Spanish-style buildings and afternoon siestas galore. When it comes to places to stay, Menorca is dotted with family-run gems and stylish boutique hotels. Tourism is an important part of the local economy but the island has retained that priceless unspoilt feeling to it. In fact, the whole island has been protected as a UNESCO Biosphere Reserve since 1993. The beaches are amazing, yes, but head in-land and you'll find rolling green meadows dotted with colourful wildflowers and gentle hills that offer great vantage points. Sometimes the best way to get to know a place is to rent a bike, drive a car or simply lace up your walking boots and explore.
Beach Holidays to Menorca
Menorca may be small, but its beaches sure are plentiful. Did you know that there are more sandy spots in Menorca than in Ibiza and Majorca combined? With beaches ranging from tiny hidden coves to sands that stretch as far as your sunglasses can see, you're bound to find the perfect place to lay your towel. Beach holidays to Menorca aren't complete without a visit to Cala Galdana. This seaside resort offers everything you need for a day on the sand – nearby restaurants and bars, watersports and enough sun loungers to go around.

Playa Arenal d'en Castell also ranks highly on every list of best beaches in the Balearics. This golden crescent is perfect for a family day of splashing and sandcastle-building, as well as a romantic day in the sun with your partner. Within 100m of the beach you'll find everything from karaoke bars to authentic Spanish eateries. Prefer somewhere a bit quieter, with clear, shallow waters, soft sand and lifeguard protection during the day? Cala Macarella is the bay for you. The name of this beach really rolls off your tongue, and its vibe is just as fun – it's a great place for a relaxed family day out. You can even walk along the shore to discover another sandy spot called Macaralleta – you'll find some of the best views on the island here, so be sure to bring your camera.
Food and Drink in Menorca
We can't think of anywhere better to eat seafood than on holidays to Menorca. After all, the locals have been fishing for thousands of years, so they really know their stuff when it comes to the fruits of the sea. Look out for restaurants that serve dishes created around the catch of the day, these will be fresh, flavoursome and tailored to whatever the fishing boats bring back each day. We recommend sampling arroz caldos amb peix. This is a deliciously rich rice stew that complements the flavours of whatever fish is added to the pot. Pairing it with a glass of sangria is perfect. If you're after a local tipple, you can't go wrong with a cheeky Xoriguer gin either.

If your diet is plant-based or you're simply in the mood for something lighter, select oliaigu – a wholesome tomato broth with chunky veg - from the menu if you spot it. This is a gazpacho soup, so it's served chilled – perfect for cooling off in the hot Mediterranean sun. Travelling with a picky eater or two? No need to worry; near the larger resort towns of Ciutadella and Mahon you'll easily find pubs and restaurants serving British classics; holidays to Menorca can be filled with local dishes or home-from-home favourites.
Visiting Menorca
The story of Menorca starts with a tale of twin cities. Mahon is located to the east of the island, and Ciutadella sits on its western shore. These towns really showcase everything there is to love about Spanish culture and the Balearic Islands. Other popular places to stay include Cala'n Bosch – the waterpark here makes it great for families, Cala Blanca – a lovely stretch of shoreline with bars and restaurants, and Binibeca – a relatively unspoilt piece of Menorcan paradise. This destination is great for sun seekers of all kinds, from families with young children, to couples who want to relax.
Useful Info for Visiting Menorca
Brush up on your Spanish for your visit to Menorca. There's no need to be fluent; hotel staff and other locals often speak English. It's always fun to learn a few words though, especially your hellos, goodbyes and thank yous (hola, adios and gracias). As you might have guessed, the Balearics are a part of Spain, so they use the same currency as most of Europe too – swap your pounds for euros before you travel and you'll be ready to hit the beach bars and local shops in no time.

To help keep tourism sustainable, the Balearic Government charge a tourism tax. This is payable on all overnight stays when you arrive at your accommodation. Since 1st January 2018 this charge has been:

• 5-star & 4-star superior hotels: €4 per day
• 4-star & 3-star superior hotels: €3 per day
• 1-star, 2-star & 3-star hotels: €2 per day

Discounts are available for longer holidays - you may be eligible for a 50% discount starting from the ninth day of your stay. A 75% low-season discount also applies between 1st November and 30th April each year. If you've got little ones you're in luck too – children under 16 are exempt from the tax.
Resorts in Menorca
Son Parc
Search the sunshine.co.uk website:
×