Protaras Holidays
When it comes to Cyprus holidays, Protaras is a firm family favourite with its patchwork of turquoise waters and sweeping Blue Flag beaches, offering a more laidback alternative to its lively neighbour – Ayia Napa. From secret crescent coves to the famous Fig Tree Bay, Protaras' charming size is ideal for soaking up every ounce of sun and hopping from beach to beach. Spend your days admiring natural parks, gazing at vibrant seascapes or simply lazing by the pool – whatever you have in mind, this coastal resort might just be the perfect backdrop.
Tsokkos Constantinos The Great Beach Hotel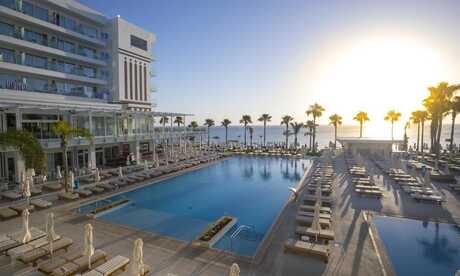 7 nights
Half Board
Return flights from London Gatwick
Kapetanios Bay Hotel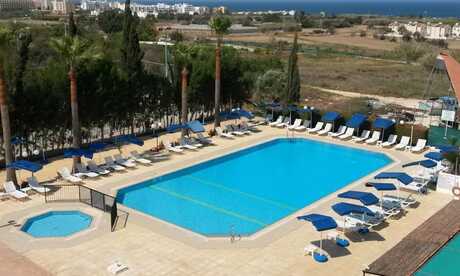 7 nights
Bed and Breakfast
Return flights from London Gatwick
Sunrise Pearl Hotel & Spa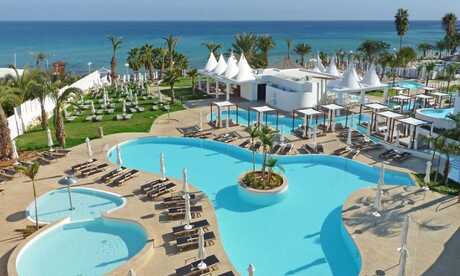 7 nights
Bed and Breakfast
Return flights from London Gatwick
Atlantica Aqua Blue Hotel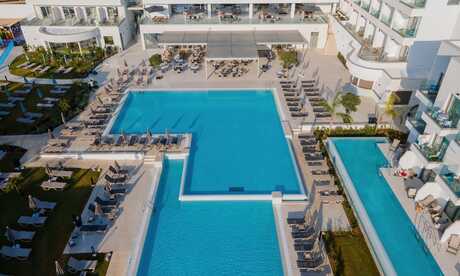 7 nights
Bed and Breakfast
Return flights from London Gatwick
Capo Bay Hotel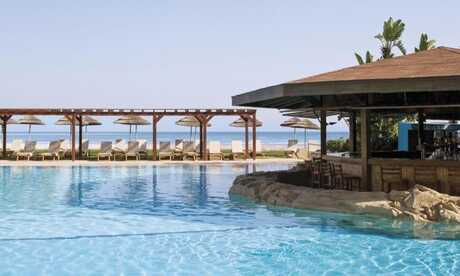 7 nights
Bed and Breakfast
Return flights from London Gatwick
Vrissaki Hotel Apartments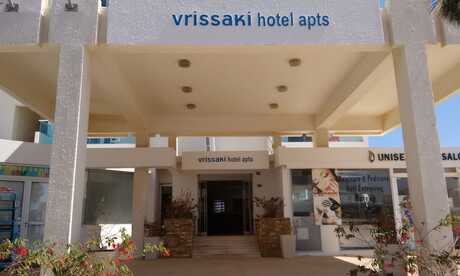 7 nights
Room Only
Return flights from London Gatwick
Vrissaki Beach Hotel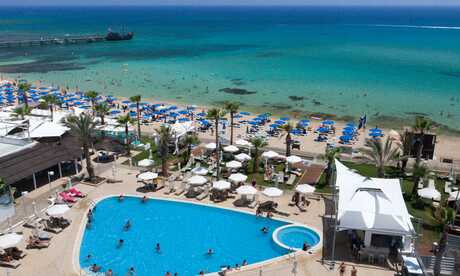 7 nights
Bed and Breakfast
Return flights from London Gatwick
Tsokkos Odessa Hotel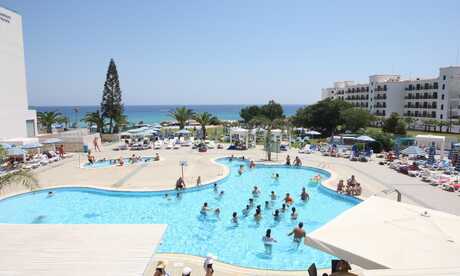 7 nights
Half Board
Return flights from London Gatwick
Golden Coast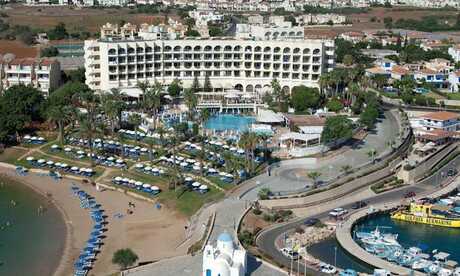 7 nights
Half Board
Return flights from Birmingham
Why holiday in Protaras?
Gorgeous sandy stretches, secluded sea caves, thrilling aqua parks and ample watersports – Protaras is a sun-soaked haven for families, so if you're travelling with the kids in tow then this destination is sure to keep you entertained from morning to evening. You'll find a host of facilities and attractions appealing to all kinds of holidaymakers – plus, with temperatures soaring up to 30 degrees – sometimes even in the autumn months – it's impossible to say no!

Explorers will love ducking into hidden caverns and rocky islands that speckle the ocean, whilst foodies can dine around the island for a true taste of Cyprus. Eager to let your hair down? Protaras might be a little quieter than its infamous neighbour, but there are still plenty of karaoke clubs and cocktail bars to discover once the sun goes down.
Beaches in Protaras
Cyprus has always been a holiday hotspot for beaches, but Protaras is home to some of the best on the island. Fig Tree Bay is among the most popular, with its brilliant blue waters and lone fig tree guarding the coast. The balmy waters that lap the shore are ideal for watersports such as surfing, waterskiing and paragliding, and if you fancy a swim then the rocky islet located just off the coast acts as a finish line for ambitious swimmers. Unsurprisingly, given its name, Protaras Beach is another top pick for sun-seekers. With a Blue Flag status, an array of watersports and sunbeds and parasols peppering the coast, you can't go wrong with this stretch of sand for a bucket-and-spade break.

Protaras might be largely tailored to families, but there are plenty of secluded spots where you can unwind beneath the sunshine, too. Sirena Bay oozes a tranquil simplicity, with few more facilities than a restaurant and bar nestled amongst the trees – just sun, sand and sea. Konnos Beach boasts a sheltered arc of golden sand and calm waters great for peaceful swimming, whilst Kapparis Beach is a hit with the locals, and Green Bay can't be missed if it's a simple stretch of coast that you seek.
Food and drink in Protaras
This cosmopolitan town serves up a whole rainbow of cuisine, with influences from Greece, Turkey and even France and Italy. This region is renowned for utilising fresh ingredients, including locally-sourced fruits and vegetables and home-grown herbs. From British-inspired pubs to sushi restaurants and cosy tavernas, your taste buds are in for a treat when it comes to dining in Protaras.

You can stick to some familiar dishes like tasty curries and lunchtime pizzas, or you can explore some more traditional cuisine. Charred souvlaki skewers are a Cypriot staple, often paired with rice, tzatziki and a warm pitta pocket. You're also likely to stumble across Afelia on the menu in a Cypriot taverna, which consists of braised pork in a rich, red wine sauce with mushrooms, potatoes, coriander seeds and cumin, often with a heap of Greek-style bulgar wheat on the side.

Thanks to its prime coastal location, you'll also find a vast array of seafood dishes in Protaras. Think succulent prawns, fresh sea bass and even calamari - no matter where you choose to dine, there will almost always be a catch of the day. Kalamies Restaurant is the perfect example of where you can tuck into a delicious seafood menu whilst overlooking the waterfront for a truly dreamy dinner.

Not a meat-eater? Not to worry! Cypriot cuisine is also known for its fresh salads, grilled goats' cheese, hummus, pasta and risotto - so there are still plenty of dishes to try during your stay. You can pair your meals with a drink of choice; Protaras, and Cyprus as a whole, is popular for its locally-produced wines, and you will find a selection of wine-tasting excursions available on the island. If that's not your style then most bars and pubs will serve the known-and-loved favourites, including cocktails, beer and cider, and of course soft drinks too.
Visiting Protaras
Besides the blissful beachfronts and thrilling watersports, there is also plenty to see and do in Protaras on dry land. Why not pull on your walking shoes and head on a nature trail to Profitis Elias - a quaint little chapel perched on the hilltop. Not only is the church itself a beauty with its intricate architecture and peaceful atmosphere, but the hill offers unbeatable sweeping views. You'll also find some swoon-worthy scenery if you venture a little further out into Ayia Napa to the famous Cape Greco National Forest Park - home to enchanting sea caves, nature trails and a rocky coastline overlooking the Mediterranean Sea. Come here at sunset for some seriously otherworldly views!

History buffs will also love the Hellenistic tombs, located at the headland of Fig Tree Bay. Here you'll find a Roman period cemetery with 19 tombs – this site is steeped in history and well worth a visit during your time in Protaras.

Alternatively, if you're looking for something a little less eery, then Anastasia Aquamania Waterpark is the perfect place to make a splash and spend some quality family time.
Useful info for visiting Protaras
Flight times to Protaras from the UK take approximately 4 hours and 45 minutes, and the local time is 2 hours ahead of the UK so make sure to alter any watches and electrical devices accordingly. You'll also want to change your pounds to euros before you travel so you can pick up gifts for friends and family and, of course, some treats for yourself too. The official languages of Cyprus are Greek and Turkish, with Greek being predominantly spoken in the south whilst Turkish is the main language up north, but thanks to the British tourism scene, English is also widely spoken across the region.
Search the sunshine.co.uk website:
×