Holidays to Bulgaria
Glorious weather, rich mountainous scenery, beautiful shores and charming towns make Bulgaria a must-visit for any holidaymaker. It's an ideal location for soaking up the sun on a sandy beach or soaking up the culture and incredible romantic architecture on a day trip, and in the winter months, many tourists take to the slopes to ski and snowboard.

A diverse country, Bulgaria is a fascinating place to visit and the Black Sea Coastal resorts are becoming increasingly popular with couples in need of a relaxing break, families seeking fun entertainment and groups of friends looking for an exciting party atmosphere.

The high season for these sunny resorts is from mid-July to late August. During the Christmas and New Year holiday, the Ski resorts are very popular and again from February to mid-March. Book your holiday to Bulgaria with Sunshine.co.uk, and check out our fantastic deals on flights and hotels.

Grand Hotel Sunny Beach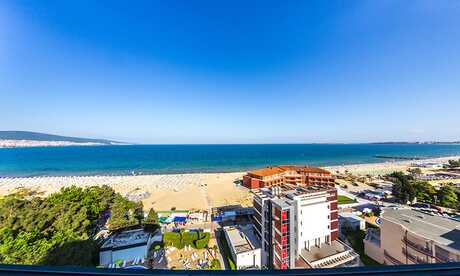 7 nights
All Inclusive
Return flights from London Stansted
Dreams Sunny Beach Resort & Spa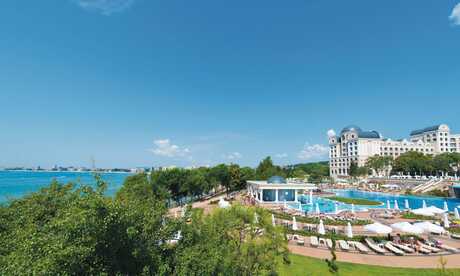 7 nights
All Inclusive
Return flights from London Stansted
Blue Pearl Hotel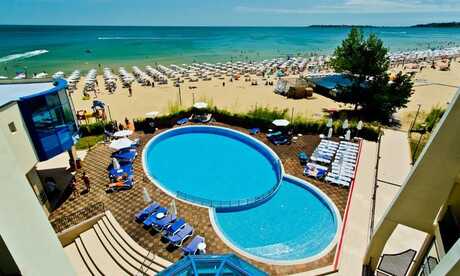 7 nights
All Inclusive
Return flights from London Stansted
Barcelo Royal Beach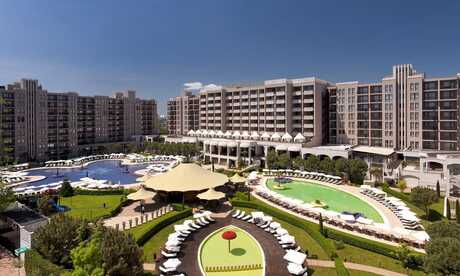 7 nights
All Inclusive
Return flights from London Stansted
Sentido Neptun Beach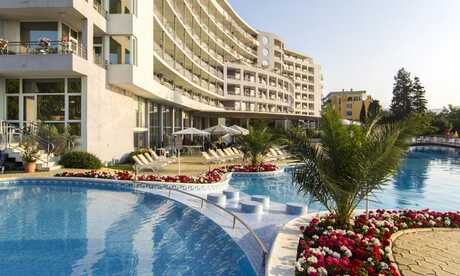 7 nights
All Inclusive
Return flights from London Stansted
Ivana Palace Hotel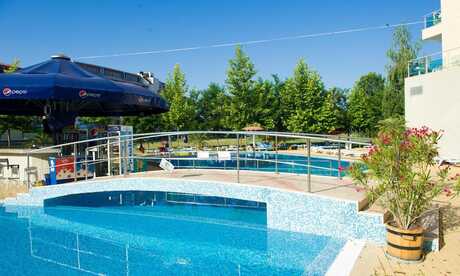 7 nights
Bed and Breakfast
Return flights from London Stansted
Festa Panorama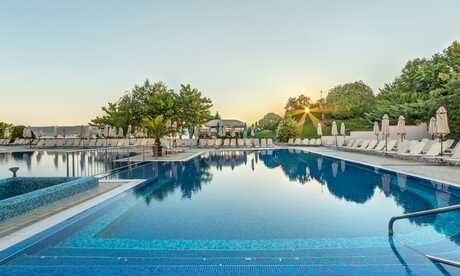 7 nights
All Inclusive
Return flights from London Stansted
Wave Resort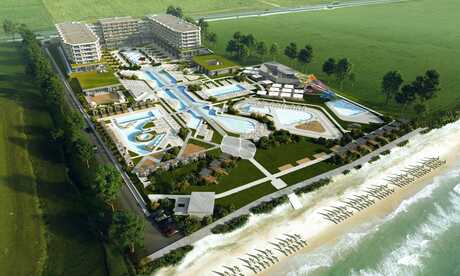 7 nights
All Inclusive
Return flights from London Stansted
Cascadas Family Resort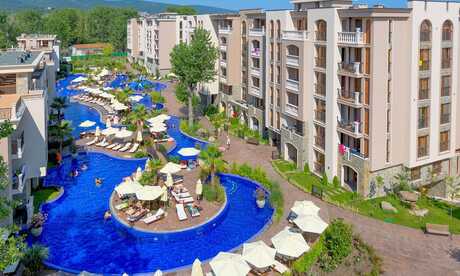 7 nights
Self Catering
Return flights from London Stansted
Food & Drink
Bulgarian cuisine is both delicious and exciting, packed with fresh vegetables, meats and various spices. Classic Eastern European dishes like Moussaka are served with a twist featuring extra ingredients of nutmeg and mushrooms. Kebabs and mixed grills are widely available along with traditional baked goods like banitza, a tasty cheesy pastry. Most dishes are served with a generous amount of salad too.

There are plenty of restaurants in the city areas but if you fancy trying more traditional dishes you may want to travel further inland for dinner in a quaint village. Street stalls, marketplaces and small food huts are commonplace and perfect for grabbing a cheap snack.

Rakia, a very strong spirit made from fermented fruit, is extremely popular and considered Bulgaria's alcoholic drink of choice. If you fancy something tamer, try a refreshing ayran drink, it's made from chilled yoghurt and is perfect for a hot day.
Nightlife
Whether you prefer a relaxed drink in a cool piano bar, or to dance all night in a disco, Bulgaria's nightlife scene will not disappoint. Check out the chic bars in Burgas, reveal your inner star at the karaoke bar or enjoy a cold pint at the Mezetto Pub.

Sunny beach is incredibly popular with the party crowd. The resort offers lively beach parties and many bars and clubs with DJs and fantastic drinks. There are also organised bar crawls that are ideal for groups. Golden Sands has a similar nightlife scene and is home to the well-known Arrogance Music Factory and Bonkers Disco. If you prefer a more relaxed scene, head to one of the many beach bar shacks along the coast for a fruity cocktail and great vibes.
Activities
Regardless of which holiday resort you choose to stay at there is always something to do in Bulgaria and with so many options you are sure to find a memorable activity to match your budget and taste.

The Black Sea coastline boasts a number of idyllic beaches and many have earnt the Blue Flag Certification. Bulgaria's top beach spots include the long, stretch of sandy shore at Sunny Beach, which is popular with both the young crowd and families due to the choice of restaurants, bars and range of watersports on offer. For a more relaxed atmosphere, head to peaceful and unspoilt Pomorie beach located between Nessebar and Burgas.

Bulgaria is home to many fun attractions including water parks like Action Aquapark in Sunny Beach where the whole family can enjoy various thrilling slides, rides and pools suitable for all ages. Boat trips are also popular. Holidaymakers sail out to the black sea on a catamaran and take in the outstanding views before jumping in for a sea and snorkelling session.

Culture lovers can explore Bulgaria's diverse historical background, that includes Slavic, Greek, Persian and Ottoman influences, and are able to visit famous structures and heritage sites such as Rila Monastery and the ancient city of Nessebar.
Popular Resorts
Albena

One of Bulgaria's northern beach resorts, Albena is a purpose-built destination in a great location with regular day trips and excursions to various other attractions like the Dolphinarium or places of cultural importance like the Palace of Queen Maria. Along with a picturesque beach and plenty of opportunity for water sports, Albena also offers excellent sports facilities from tennis courts to golf courses and a diving centre.

Bansko

Located in the Pirin Mountains, Bansko is an amazing ski destination but the unspoilt views of the rocky landscape, lakes and lush forests are equally as beautiful in the summer months. Bansko is an ideal destination for keen cyclists, hikers and rock-climbers who seek some adventure on their holiday. In August, Bansko hosts the annual International Jazz Festival, it's a great event for music lovers with performances taking place in a range of venues both night and day.

Bourgas

The old town of Bourgas is perfect for exploring, with its charming pedestrian streets, museums and galleries. Other attractions include the fantastic Sea Gardens, home to beautiful floral gardens, monuments, a casino, the Summer Theatre and Pantheon.

For a vibrant, party atmosphere visit in August when Bourgas hosts The Spirit of Burgas music festival.

Golden Sands

Located in the Varna region, the magnificent Golden Sands resort boasts a long Blue Flag beach with calm waters and access to lots of other attractions like the Zlatni Piasatsi Nature Park which is home to the impressive Aladzha Monastery, carved into the rocks. You can also treat yourself to some pampering and visit the natural thermal springs that are considered to have healing powers and Bulgaria's only desert. Golden Sands is a great destination for families of all ages and offers a range of activities such as horse-riding, watersports and a great nightlife.

Nessebar

An ideal destination for those who appreciate architecture and history, Nessebar promises charming cobbled streets, quirky buildings and ancient churches as well as a great beach and seaside front. An UNESCO World Heritage site, the town is ideal for exploring whether you chose to stay in Nessebar or make a day trip.

Sunny Beach

The most popular of Bulgaria's holiday resorts, Sunny Beach has so much to offer from the long stretch of beach to the excellent sports facilities, massage huts and market stalls. There is plenty of entertainment such as Luna Park where the whole family can make memories and enjoy roller coasters, rides and other fairground attractions. Sunny Beach is also a must visit for the party crowd as the vibrant nightlife is considered legendary.
Useful Information
The local language is Bulgarian, although in the tourist resorts and hotels many local people speak some English meaning communication and navigating is usually easy for English-speaking tourists.

The currency in Bulgaria is the Bulgarian Lev. As always, we advise you to shop around for the best conversion rate.

The average flight time is around 3 - 4 hours from the UK. This can vary depending on where you plan to depart from and on what area of Bulgaria you are visiting.
Search the sunshine.co.uk website:
×