Cheap Holidays to Spain
A Mediterranean climate, long stretches of sandy beach, cultured cities, quaint villages, lively resorts, and family-friendly fun make Spain a must-visit. Take a look at our cheap holidays to Spain with flight and hotel packages to the Costas of mainland Spain, the Balearic Islands, and the Canary Islands.
Gran Hotel Bali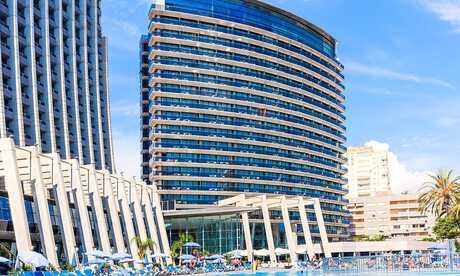 7 nights
Bed and Breakfast
Return flights from London Gatwick
Dynastic Hotel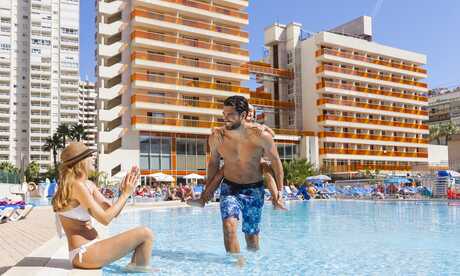 7 nights
Half Board
Return flights from London Gatwick
Hotel Gala Placidia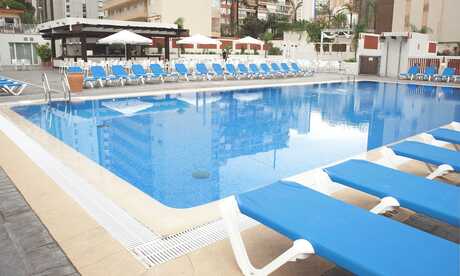 7 nights
Bed and Breakfast
Return flights from London Gatwick
Marina Benidorm Hotel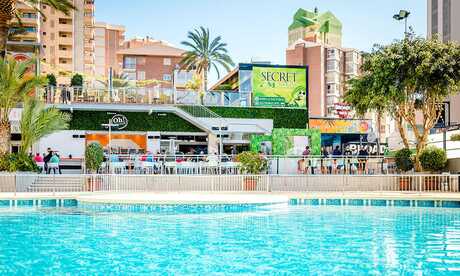 7 nights
Room Only
Return flights from London Gatwick
7 nights
All Inclusive
Return flights from London Gatwick
Sol Pelicanos Ocas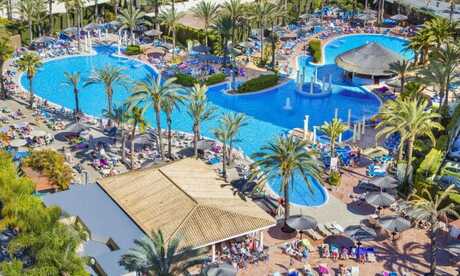 7 nights
Bed and Breakfast
Return flights from London Gatwick
Hotel Gran Cervantes by Blue Sea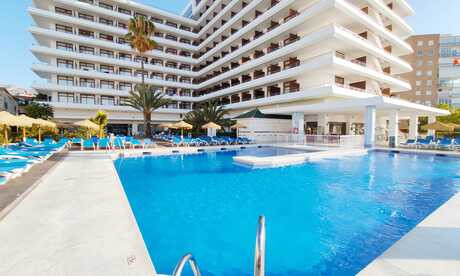 7 nights
Room Only
Return flights from London Stansted
7 nights
All Inclusive
Return flights from London Gatwick
Las Palmeras Affiliated by FERGUS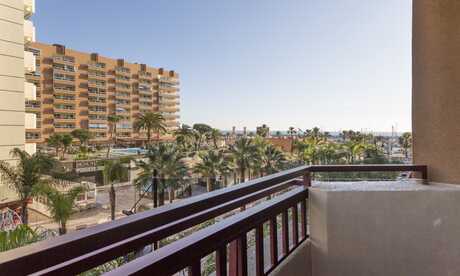 7 nights
Bed and Breakfast
Return flights from London Stansted
Why holiday in Spain?
A short flight from the UK, Spain makes the perfect holiday destination. Whether you seek sun, sand, and spectacular views, a wild week of partying, family fun, or a romantic getaway, your perfect break awaits in Spain!

Couples can explore historic Valencia, get a taste for traditional Spain in charming Andalucia, or look out over Barcelona's unique architecture from Park Güell. For families, check out the buzzing beach resorts on the island of Majorca or classic Costa Blanca destinations such as Alicante or the cheap and cheerful Benidorm.

There are plenty of activities to do and places to see across the mainland and islands. Visit some of Europe's top theme-parks like Benidorm's 'Terra Mitica', take part in various water sports at the beach resorts, go hiking in the mountains, eat tapas as the sun sets or soak up some culture at a gallery; Spain really does have something for everyone.

Beach Holidays
Spain is a perfect destination for a beach holiday offering sun, sea and a huge amount of sand. There are stunning stretches of beach lining the coasts for miles and miles on both the mainland and islands.

Tourist favourite Costa Blanca is known as the White Coast, boasting more than 200 kilometres of soft white-sandy beaches and also Benidorm's quality Blue Flag beaches. The coast of Costa Brava is more rugged with hidden coves and vast, sandy beaches ideal for those looking for dramatic scenery on their holiday to Spain. For a livelier beach holiday head to glamorous Marbella or family-friendly Torremolinos.

Majorca, the Balearics' biggest island, offers great beach holiday packages with huge stretches of sand like the 13-kilometre long Ca'n Picafort. Quieter beaches can be found in Menorca like Son Bou. The Canary Islands of Lanzarote, Tenerife, Fuerteventura, and Gran Canaria are also ideal destinations for relaxing on the beach and catching some rays with warm temperatures all year round.

The Costa del Sol has been, and continues to be a firm favorite with British Tourists. With 159 kilometers of coastline, there are so many sandy beaches to choose from.
Nightlife
When it comes to nightlife, Spain has it all. Whether you want to spend your evening eating traditional Tapas and drinking wine in a quaint village or have a wild week of partying.

Nightclubs in the Balearic Islands start the party season from May onwards, finishing with huge closing parties in October. San Antonio in Ibiza is home to world-famous superclubs such as Pacha and Space. It's the place to be if you want to party till the sun rises. Marbella and Torremolinos on the Costa Del Sol are also hotspots for clubs and bars. Tourist resorts like Benidorm offer classic entertainment for all the family like Karaoke and Irish pubs.
Food & Drink
Restaurants in Spain have an international influence and most tourist resorts offer a wide range of dining-out options. However, it is the traditional Tapas dishes that are the true taste of Spain and are served across the country, but places like Tapas in La Latina, Madrid are exceptional. Paella is also a Spanish favourite, commonly served freshest in seaside or fishing towns. If you are a fan of red wine, why not indulge in a few glasses of fruity Spanish Sangria in the evenings.
Useful Information
The local language is Spanish, although English is widely spoken across Spain, especially in the tourist areas meaning communication is easy for English-speaking tourists.

The currency is Euro. As always we advise you to shop around for the best conversion rate.

The average flight time is around 2.5 hours from the UK. This can vary depending on what part of Spain you are visiting.
7 nights
All Inclusive
Return flights from London Gatwick
Sandos Benidorm Suites
7 nights
All Inclusive
Return flights from London Gatwick
7 nights
All Inclusive
Return flights from London Gatwick
Search the sunshine.co.uk website:
×