Portugal Holidays
Portugal is a charming destination with perfect temperatures and an impressive 300 days of sun, making it a great place to visit all year-round. Holidaymakers can soak up the rays on the sandy stretches of beach in the Algarve, dine locally in picture-perfect villages or explore the bustling medieval city of Lisbon.

Take a look at our Portugal holidays with great flight and hotel packages to some much-loved resorts.

Muthu Clube Praia da Oura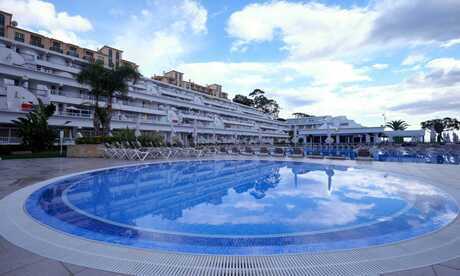 7 nights
Self Catering
Return flights from London Stansted
Albufeira Sol Hotel & Spa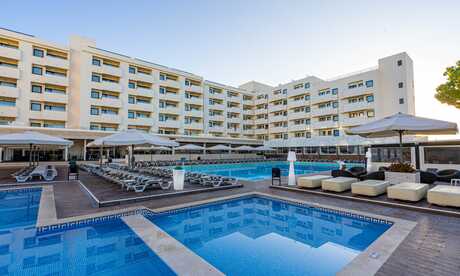 7 nights
All Inclusive
Return flights from London Stansted
7 nights
Self Catering
Return flights from London Stansted
7 nights
All Inclusive
Return flights from London Stansted
Janelas do Mar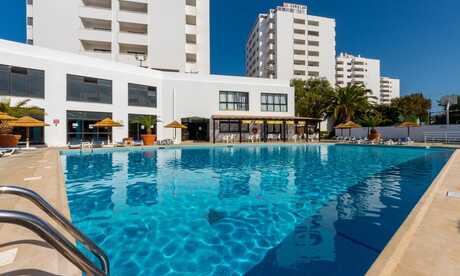 7 nights
Room Only
Return flights from London Stansted
Muthu Oura Praia Hotel
7 nights
Self Catering
Return flights from London Stansted
Auramar Beach Resort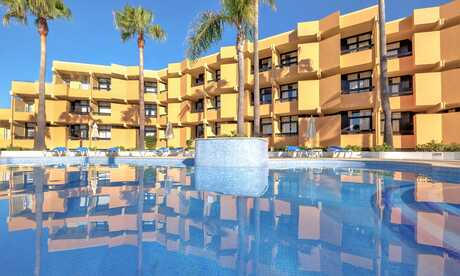 7 nights
Room Only
Return flights from London Stansted
Grand Muthu Forte do Vale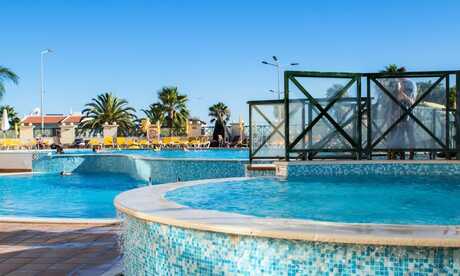 7 nights
Self Catering
Return flights from London Stansted
AP Adriana Beach Resort | Praia da Falésia - Albufeira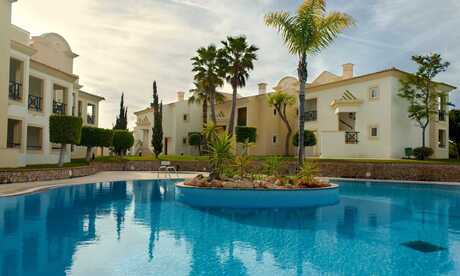 7 nights
All Inclusive
Return flights from London Stansted
Food and Drink
Traditional Portuguese cuisine is influenced by the flavours and colours of the Mediterranean using plenty of spices like Piri Piri and saffron. Portugal is among the top 4 countries with the highest fish consumption in Europe, so fish is widely served at restaurants. Serra da Estrela cheese is also popular with locals but the national specialty is the sweets and pastries baked in Portugal's convents.

There are plenty of eating-out options in Portugal from cafes and snack bars and small restaurants serving local delicacies as well as world-class restaurants serving international dishes. If you're staying in the Algarve, take your pick from a fantastic range of delightful restaurants at the marina in Vilamoura.
Activities
There is plenty to do and explore in Portugal. As a destination, it is hugely popular for Golfing Holidays due to its fantastic weather conditions and world-class golf courses. However, the picturesque Monte Rei course is thought to be the best, with its impeccable views of the mountains and sea.

As well as a wide range of watersports along the coastline, Portugal offers quad bike tours for all abilities so you can explore the hilly landscape. Off-road buggies are also widely available to rent. If you prefer a more relaxed activity, take the boat trip over to the remote island of Culatra or explore the grottos dotted along the rugged cliffs.

The striking mountain scenery in the national park Peneda-Geres, stretching over 70,000 hectares, is a must-see for those who enjoy hiking and other outdoor activities.

Whether you prefer a relaxed drink amongst idyllic scenery, some fun family entertainment, exciting live music or to dance the evening away, Portugal's nightlife has it all.

Nightlife

Most resorts have a selection of restaurants, bars, and nightclubs, but if you're looking for a late-night disco then The New Town in Albufeira is centred around the Monte Choro strip, lined with lively bars and nightclubs. It is also home to the famous Kiss Nightclub, where you can party until the sun rises.

Lisbon, the capital city, is considered to have one of the best nightlife scenes in Europe. It caters to everyone with its sophisticated bars to the Fado houses where you can enjoy expressive music and dancing. Portugal's second largest city Oporto is better known for its many port houses where you can indulge in tasting sessions. If you're feeling lucky then head to Estoril and visit the largest casino in Europe.

Popular resorts - The Algarve
The Algarve is a colourful destination where holidaymakers can soak up the sun, explore whitewashed towns, or get involved in some great activities. We offer holidays to many resorts on the Algarve.
It's no secret Portugal boasts a diverse range of beaches from volcanic shorelines to golden stretches of sand. However, few can deny the best spot for beaches in Portugal is on the beautiful Algarve coast and many families take advantage of the warm waters at Monte Gordo and its array of seaside restaurants.

Albufeira is considered the most popular resort in the Algarve and is split into two main areas called 'the old town', a cobbled maze of charming streets around a lively main square, and 'the new town' known for its buzzing party strip. As a resort, it proves popular with couples and families as well as younger and older holidaymakers.

Carvoeiro, once a fishing town, is recommended if you're hoping to do a bit of retail therapy before grabbing a bite to eat and relaxing with a drink whilst enjoying the street entertainment. There's even a beach if you fancy a dip in the afternoon.

As one of the oldest towns on the Algarve, Lagos invites you to immerse yourself in its traditional charm and discover the historical architecture. We also offer holidays to Vale Do Lobo, a purpose-built leisure resort with plenty of accommodation options and access to some stunning beaches. It also offers a great range of sports from tennis to sailing as well as restaurants and bars.
Popular resorts - Lisbon
The hilly city of Lisbon is known for its marvellous culture and is home to plenty of museums and art galleries to visit as well as its impressive architecture including the longest bridge in Europe called the Ponte Vasco de Gama.

Lisbon is also home to some fine beaches so there is always an opportunity to relax. A short distance from Lisbon is one of the country's UNESCO World Heritage sites. An idyllic town in the foothills of the mountains distinguished by its elaborate, pastel coloured buildings. Sintra was the former summer residence of the Portuguese Royal Family and home to the stunning Sintra National Palace.
Popular resorts - Estoril
Estoril is full of style, great food, and championship golf courses. It's a popular resort for many families looking for a relaxing holiday and beautiful weather. The Estoril Coast has ideal temperatures, never getting too hot, and autumn is a great time to visit as it is considered a second spring due to the pleasant climate.

Popular resorts - Oporto
Oporto, also known as Porto, is a busy resort all year round due to its unique blend of old and new. It is a city with impressive architecture, charming cobbled streets, and great waterfront amenities and with plenty of bars and cafes, around 50 port houses, museums, art galleries, and nearby beaches so you will never be stuck for things to do.

History lovers should visit the Ribeira area (a UNESCO World Heritage site) to discover it's colourful 18th-century townhouses and the neoclassical Stock Exchange Palace and more in the city's oldest neighborhood.

Useful Information
The local language is Portuguese, although English is commonly spoken the tourist areas meaning communication and navigating is easy for English-speaking tourists.

The currency is Euro. As always, we advise you to shop around for the best conversion rate.

The average flight time to Portugal is around 3 hours from the UK.

7 nights
All Inclusive
Return flights from London Gatwick
7 nights
Self Catering
Return flights from London Gatwick
Da Aldeia Hotel- Adults Only 18+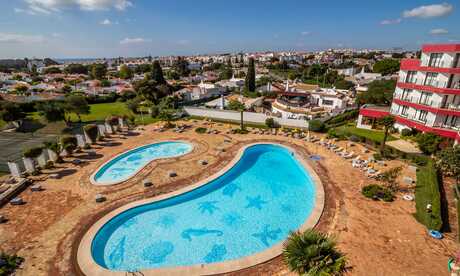 7 nights
Bed and Breakfast
Return flights from Birmingham
Search the sunshine.co.uk website:
×