Holidays to Alcúdia
As Alcúdia is located within the Balearic Islands, it receives mild and pleasant weather almost all year round. The average annual temperature of Majorca is roughly 16°, but over the summer months the average temperature is often in the mid 20's° or higher. With that being said, it's no wonder that Alcúdia is a haven for sun lovers and those looking to spend their holiday bathing in the gorgeous weather.

However, Alcúdia offers more to tourists than just its sun-soaked beaches; it's a cultural hub with a multitude of new experiences to be sought out. If you've got a passion for food, drink, history, architecture or sports - you will inevitably find something exciting in Alcúdia. Whether you want to eat the best Spanish cuisine the island has to offer, or explore the old town and its steeped history – our package holiday deals have you covered.
Sol Palmanova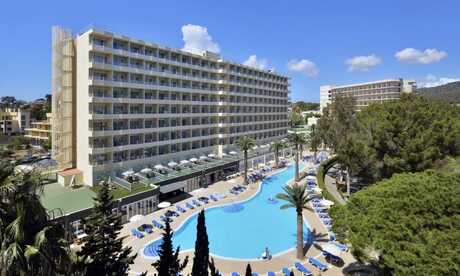 7 nights
Half Board
Return flights from London Stansted
Globales Mimosa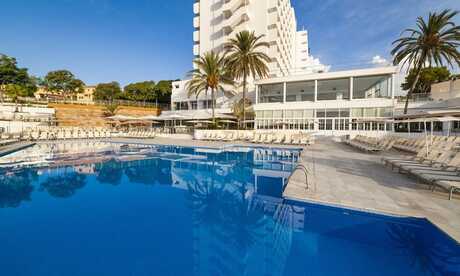 7 nights
Half Board
Return flights from London Stansted
Hotel Samos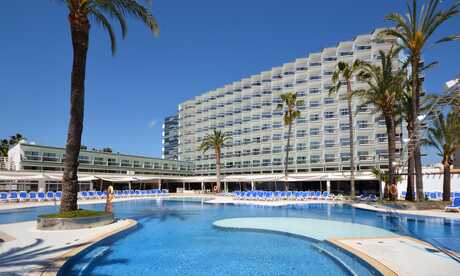 7 nights
Bed and Breakfast
Return flights from London Stansted
Blue Sea Club Marthas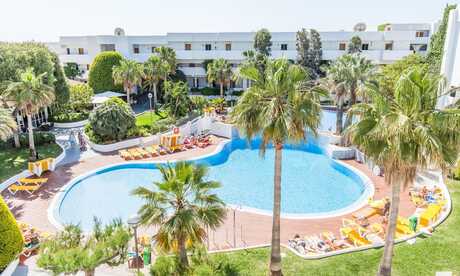 7 nights
Self Catering
Return flights from London Stansted
Palmanova Beach Apartments by TRH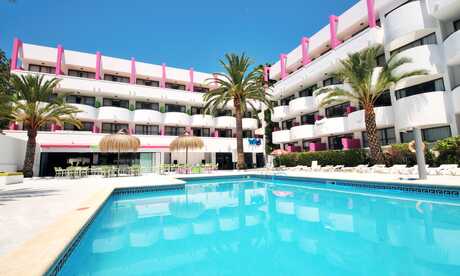 7 nights
Self Catering
Return flights from London Stansted
BLUESEA Cala Millor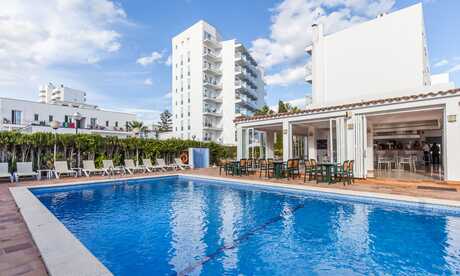 7 nights
Bed and Breakfast
Return flights from London Stansted
Hotel Ilusion Calma & Spa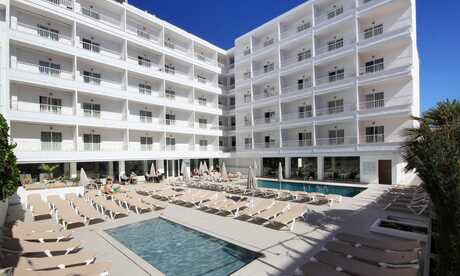 7 nights
All Inclusive
Return flights from London Stansted
BLUESEA Gran Playa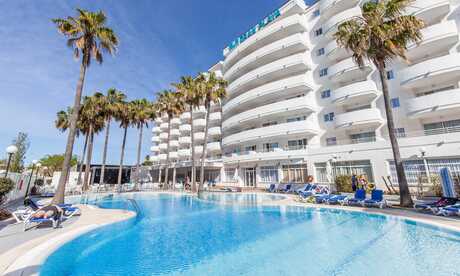 7 nights
Bed and Breakfast
Return flights from London Stansted
Sun Beach Apartments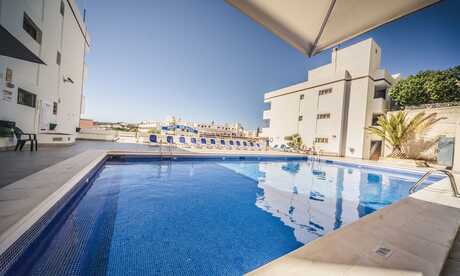 7 nights
Self Catering
Return flights from London Stansted
Beach Holidays in Alcúdia
As Majorca plays host to over 550km of beaches and coves, there is plenty of coastline for travellers to explore and uncover on the island. For many visiting Alcúdia, the Alcúdia Beach will likely be the easiest beach to access, as the majority of the resort's fantastic hotels are within walking distance. Stretching for over 14km and boasting warm golden sanded beaches with turquoise waters, the Alcúdia Beach is the perfect coastline for families with young children. The waterfront is also populated with numerous bars, restaurants, cafes and shops - making it easy to spend a whole day by the sea!

Those looking for a slightly more tranquil beach location may want to head on a day trip to Playa Coll Baix, located only a short drive north of Port d'Alcúdia. If you've decided not to rent a car whilst holidaying in Majorca, there are plenty of affordable bus services you can take advantage of that will take you there and back again.
Activities
Although many parts of Alcúdia are specifically geared towards catering to tourists, there are a number of areas that remain more traditional - such as the Old Town which is encircled by an imposing medieval wall that protected it from invasion. To this day, the wall remains a great way to explore much of the perimeter of the Old Town with some fantastic views.

Lovers of history will recognize that both Alcúdia's Old Town and its wall are incredibly well preserved, with many of its structures dating back to the 13th century. The Old Town itself is populated with café's, restaurants, boutiques, independent shops and bars, making it the perfect place to pick up a meaningful souvenir. Every Tuesday and Sunday the Old Town plays host to a much-loved market, an excellent place to pick up local food produce and hand-crafted goods. Although the Old Town is a little more inland, a short taxi or bus ride will get you there in no time at all!

For those of you less interested in culture and history, a trip to Alcúdia's Hidropark will do more than wet your appetite for fun. The waterpark is walking distance from the main town centre and provides over 40,000 sq km of excitement for adults and children of all ages.

Food, Drink & Nightlife
Regardless of whether you want to eat local cuisine or something a bit more adventurous, there is a multitude of fantastic restaurants located around the Port d'Alcúdia catering to all tastes and budgets. As Alcúdia is a seasonal Spanish town, it caters for international European audiences and a lot of restaurants menus reflect this – ideal if you have children who can be a bit fussy with international cuisine.

However, more traditional Balearic food has recently begun to see a resurgence in popularity on the island. The Balearic cuisine has been compared to the cuisine of Catalonia, with more of a focus on seafood dishes. Langosta a la parrilla is one Balearic dish that receives high praise – it's a dish that's centred around grilled lobster tails, and yes, it's as good as it sounds! However, if you have a sweet tooth then you mustn't miss out on an Ensaimada, a spiral-shaped bun, perfect alongside an afternoon coffee. The Los Patos Restaurant and the Blue Sapphire Restaurant & lounge are both brilliant places to discover the flavours of Balearic cuisine.
Useful Information for Holidays to Alcúdia
If you're travelling to Alcúdia from the United Kingdom you'll spend roughly 2 and a half hours in the air. Accordingly, the short flight time to the island of Majorca makes Alcúdia a fantastic holiday for families with young children.

The Balearic Islands are part of Spain and therefore part of the Eurozone, this means that the currency is Euro. Sunshine.co.uk would recommend beginning to look at exchange rates around a month before you are due to travel. This way you can make sure that you receive the best exchange rate and are able to buy more Euros for your Sterling.

Again, unsurprisingly as the Balearic Islands are part of Spain, the locals often speak Spanish as their primary language. Nevertheless, as the island's economy is extremely dependent on tourism, many of the locals will speak a multitude of languages including English. With that being said, you should make the effort to learn the Spanish basics in order to remain polite whilst travelling.

If you're planning on making use of the public transport on the island of Majorca, be aware that you can purchase bus tickets at around 50% of the cost you'd pay on the bus at a tobacco shop or news stall.

Search the sunshine.co.uk website:
×