Holidays to Marmaris
Located on the Turkish Riveria, Marmaris is a popular destination for holidaymakers seeking hot weather, a stunning coastline, and fun for all the family. The bustling port town offers a pretty harbour, impressive views of the mountainous landscape and plenty of attractions including cultural museums, exciting water parks and a fantastic beach. Book your holiday to Marmaris including flights, and hotels with Sunshine.co.uk.

Grand Villa Sol Apart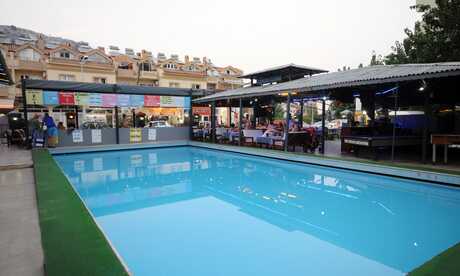 Self Catering
London Stansted to Dalaman
Nature Apart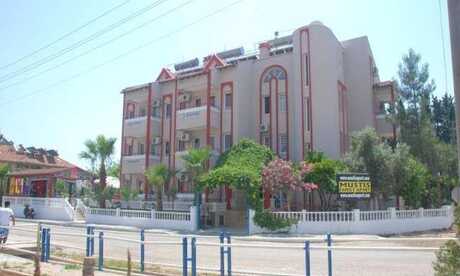 Self Catering
London Stansted to Dalaman
Ozlem 1 Apartments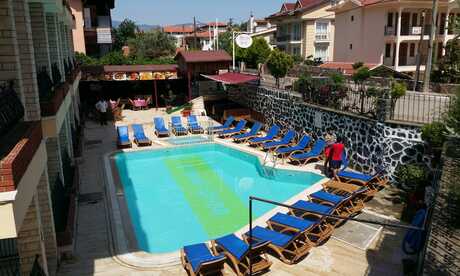 Self Catering
London Stansted to Dalaman
Kaan Apartments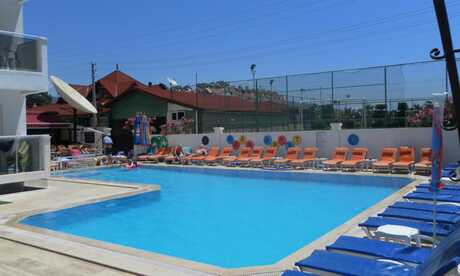 Self Catering
London Stansted to Dalaman
Ince Apartments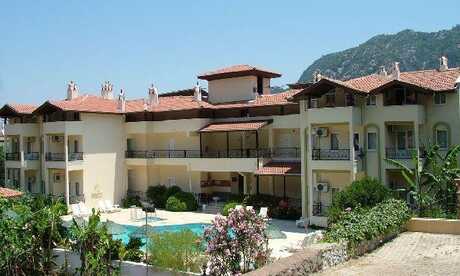 Self Catering
London Stansted to Dalaman
Club Sunset Apartments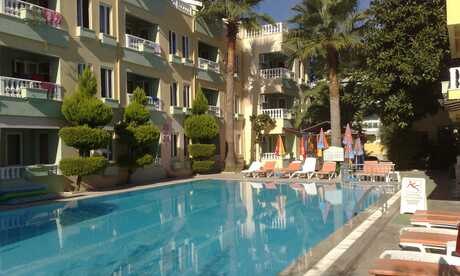 Self Catering
London Stansted to Dalaman
Club Aquarium Apart
Self Catering
London Stansted to Dalaman
Golden Orange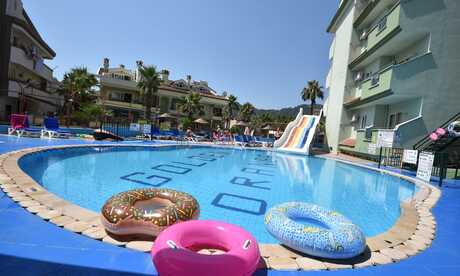 Self Catering
London Stansted to Dalaman
Atlantis Apart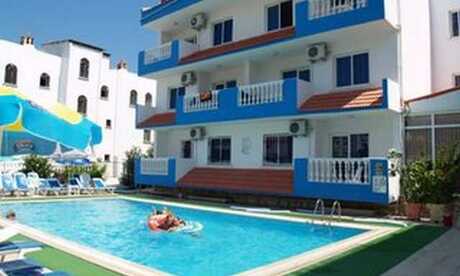 Self Catering
London Stansted to Dalaman
Why holiday in Marmaris?
Marmaris is a great resort for families making fun memories, couples spending some quality time as well as groups on an upbeat holiday with a great nightlife. There really is something for everybody regardless of taste, age or budget.

The Turkish resort is ideal for shopping and offers everything from designer boutiques, duty-free stores and charming, specialist shops selling products from carpets to hand-made jewellery. Bartering in the busy Grand Bazaar is a unique experience too!
If you're looking for family fun on your Marmaris holiday then head to one of the exciting waterparks. Atlantis Waterpark boasts water rides, bumper boats, and even its own beach.

For a relaxing day out, journey to the Dalyan mud baths and spend some time being pampered. Visitors cover themselves in the cleansing and healing mud before washing it off in a 40°C sulphur pool. There's also organised boat tours from Marmaris, or you could even hire a yacht and set sail around the beautiful Turkish Islands. If you prefer dry land adventures you should visit the magnificent Marmaris Castle and Museum.
Beach holidays in Marmaris
The volcanic sand and pebbled beach at Marmaris stretches right along the coastline and boasts a palm tree lined promenade that runs alongside with an excellent selection of cafes, bars and restaurants, so you can take a break from sunbathing on the loungers and enjoy some food or a cold beer. You could also head to the golden sand beach at Icmeler, a five-minute dolmus (Turkish share taxi) ride from Marmaris, and the stunning Marina is also a must visit.

Watersports like jet-skiing and parasailing are on offer and diving is also an extremely popular experience for holidaymakers in Marmaris. The Professional Diving Centre and other companies are able to take you out to the translucent sea and dive down to witness the amazing marine life and colourful, coral reefs. The trips are suitable for both beginners and experienced divers.
Food and Drink in Marmaris
Marmaris has a great variety of restaurants and the Mezes dishes, a sort of Turkish tapas, are often eaten as starters and are a great introduction to Turkish cuisine. Main dishes in Marmaris often consist of lamb or pork and freshly sourced seafood. Aubergines and chickpeas are also widely used so there are a lot of great choices for vegetarians too.

Aquarium Kitchen/Café has a diverse and delicious menu serving steaks, seafood and Mediterranean dishes and has a relaxed atmosphere. Karen Brasserie serves great coffee and food and is located on the beachfront, boasting excellent sea views and a private beach!
Nightlife
Marmaris is well known for its party atmosphere and has a great range of bars and clubs available on the famous Bar Street and Beach street. Many are open until 4am so you can dance the night away.

It's a diverse resort, offering late night food spots, chic bars and buzzing night clubs. If you're looking for a more relaxed vibe head to Long Beach for a few drinks and live music.
Useful Information for holidays to Marmaris
The currency in Marmaris is the Turkish Lira. As always, we recommend that you shop around for the best conversion rates.

Locals in Marmaris speak Turkish. However, in tourist resorts, many people speak English. This means it is easy for English-speaking tourists to communicate and navigate on holiday.

Since 29/10/2018 all UK passport holders require a £20 e-Visa from the official Republic of Turkey e-Visa website prior to their arrival. Dual national or non-British national tourists should contact the Turkish Embassy for advice on entry requirements before travelling to Marmaris.
reviews recommend Sunshine.co.uk
Search the sunshine.co.uk website:
×