Waterpark Holidays
Slide, splash and soak up the sun on one of our incredible waterpark holidays! With Sunshine.co.uk, you can enjoy a fun-packed holiday with plenty of water-themed excitement for all the family with a waterpark holiday package.
Our selection of water and aquapark holidays are just as vast and varied as the rest of our incredible holiday packages, but they all have one thing in common: there's a fun-packed experience within the walls of every resort and hotel listed here! Whether you're looking for a white-knuckle waterslide experience of your own or a resort that's well-equipped to entertain the kids for hours as you relax poolside, our range of unbelievable holiday deals are perfect for both.
With Sunshine.co.uk, you can make some huge savings on our range of fantastic resorts and destinations, all of which have their very own built-in waterpark, perfect for family trips or a fun vacation for those who love to slip n' slide!
Waterpark holidays closer to home
For those who prefer shorter flight times and holidays nearer to home, we have a great selection of holidays that offer all of the sun and fun you could hope for!
We feature a range of fantastic deals on fun hotels and resorts in and around some of the best holiday hotspots in Europe, meaning if you're looking for fun in the sun without having to endure a long-haul flight, you've come to the right place! From speedy slides to wild wetlands, our range of European hotels and resorts is sure to contain the perfect fun-packed getaway for you and your family.
Club Esse Cala Gonone Beach Village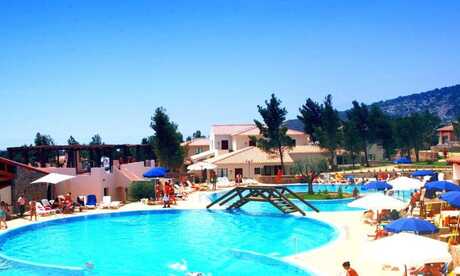 7 nights
Half Board
Return flights from London Gatwick
Waterpark holidays further afield
Looking to combine an exciting waterpark holiday experience with a little exploring and adventure? Our 'further afield' hotels and resorts offer just that, a thrilling experience for you and the kids to enjoy from the comfort of your own hotel, and all of the adventure you could wish for when visiting a 'far out' destination!
From the United States of America to Dubai, you can combine your ideal 'long-haul' holiday with a fun waterpark hotel, meaning whether you're travelling alone or with young ones, there's no shortage of fun to be had back at the hotel, before you head out to explore your surroundings.
Dosinia Luxury Resort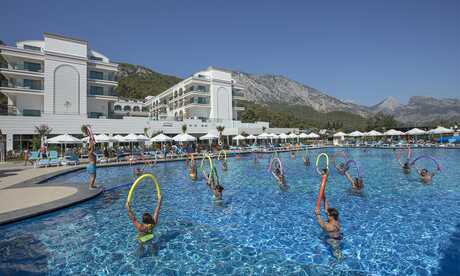 7 nights
All Inclusive
Return flights from Manchester
Mukarnas Spa & Resort Hotel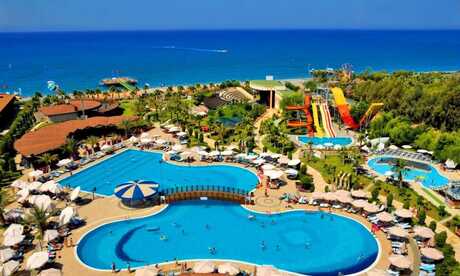 7 nights
All Inclusive
Return flights from Manchester
Selectum Colours Bodrum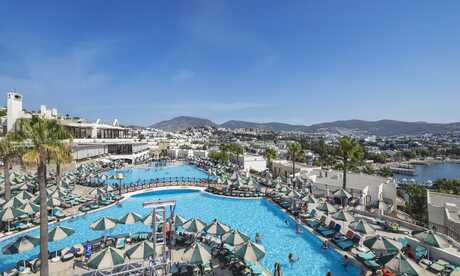 7 nights
All Inclusive
Return flights from London Gatwick
Search the sunshine.co.uk website:
×