Cheap All Inclusive Offers
All Inclusive holidays offer very good value for money and an easy way to manage the overall cost of your holiday. All Inclusive, at its most basic, means buffet meals and selected drinks are included in the holiday price. However, some hotels include much much more such as WiFi, non-motorised water sports, a private beach with sunbeds, evening entertainment, premium brand drinks, a choice of buffet or à la carte dining, pre-stocked in-room mini bars and kids clubs.
Read more about: What's Included? | AI Types | Price
Guitart Gold Central Park Aqua Resort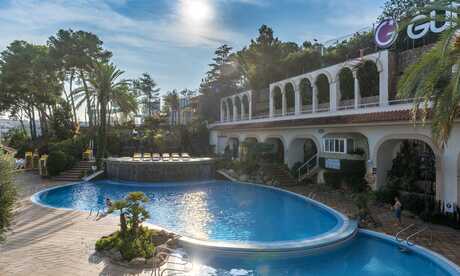 All Inclusive
London Stansted to Barcelona
Hotel Cuco
All Inclusive
London Gatwick to Alicante
Muthu Clube Praia da Oura
All Inclusive
London Gatwick to Faro
Sol Pelicanos Ocas
All Inclusive
London Gatwick to Alicante
Checkin Bungalows Atlantida
All Inclusive
Manchester to Tenerife South
Hotel Aguamarina Golf
All Inclusive
London Gatwick to Tenerife South
THB Tropical Island
All Inclusive
Birmingham to Lanzarote
H.TOP Royal Star
All Inclusive
London Stansted to Barcelona
Costa Caleta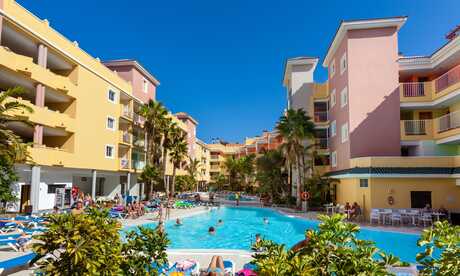 All Inclusive
London Stansted to Fuerteventura
Las Piramides Resort
All Inclusive
London Gatwick to Tenerife South
Habtoor Grand Resort and Spa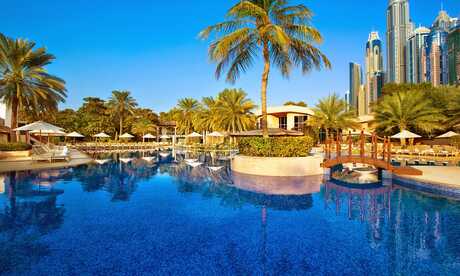 All Inclusive
Manchester to Dubai
Muthu Royal Park Albatros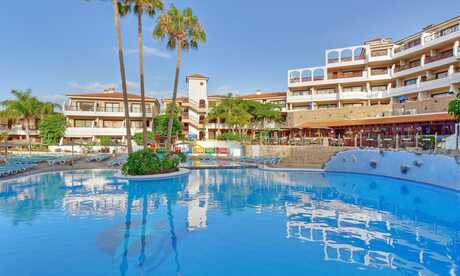 All Inclusive
London Gatwick to Tenerife South
What's Included?
A popular misconception is that All Inclusive holidays are all about free alcohol, but that is far from the case. For families, costly kids clubs, ice creams and snacks can mean having to say 'no' more than you want to. Maybe you like to have a sun lounger on the beach most days or, 5 cups of coffee just to get going in the morning. All the little things you don't think of when pricing your holiday can really add up. For maximum savings, you just need to check what is going to be included in the price and whether these are the things that are important to you.
At a minimum you will have the peace of mind that, if you run out of spending money, you won't go hungry. For the most part, you will have a very good value holiday with no hidden extras or unexpected costs that blow the budget.
AI Types
All inclusive deals can have all sorts of fancy titles, but in essence, they range from All Inclusive Light (this might be limited to breakfast, lunch and dinner taken at one buffet restaurant with selected drinks included at meal times only) to All Inclusive Ultra. Ultra might include as much as 24 hour snacks, 3 buffet meals a day with options to book on-site or dine-around à la carte evening meals, local and premium brand drinks at more than one bar, packed lunches, sports activities, entertainment and services like WiFi, premium TV channels, safe deposit boxes, pool towels and kids clubs which otherwise might have local charges. Some services are almost never included such as massage treatments or laundering your clothes.
Price
Finally, be realistic - a hotel has running costs (staff, laundry, marketing, loan repayments etc) and the price you are paying has to cover a lot more than food. So, if you are paying £10 per night for your food and accommodation, you are quite simply not going to get the best of the best, but you might get the best in class.
Prices shown are per person, based on minimum occupancy requirements and return adult fares, based on the results from recent searches.
Due to the nature of accommodation and flight availability we cannot guarantee these prices will still be available. Transfers are not included.
Customer satisfaction
99% of our customers recommend us
Book with confidence
Your holiday is ATOL protected
£1 hotel deposits
Pay the balance up to 2 weeks before you fly.
£30pp holiday deposits
Spread the cost on package holidays.
Search the sunshine.co.uk website:
×