America Holidays
Make your American dream come true with an unforgettable USA holiday. From the theme parks of Orlando to the neon lights of Las Vegas, America has it all. The US is about 40 times the size of the UK – yes, you read that right! With such a vast landscape it's not surprising that holidaymakers from all over the world return again and again to this incredible country – there's always something new to see.
There are fifty American states, each with its own culture, heritage and food scene. Popular holidays to America include New York city breaks, Orlando family adventures, Miami beach escapes and Las Vegas group holidays. The best part? Booking your break to the land of the free doesn't have to break the bank; we have plenty of affordable hotels and package holidays available for you to browse right now.
Seralago Hotel and Suites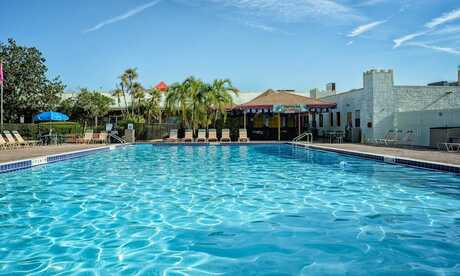 7 nights
Room Only
Return flights from Birmingham
Monumental Movieland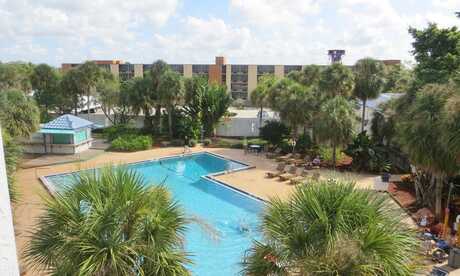 7 nights
Room Only
Return flights from Birmingham
Ramada Kissimmee Gateway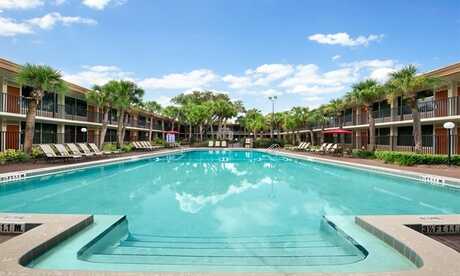 7 nights
Room Only
Return flights from Birmingham
Clarion Suites Maingate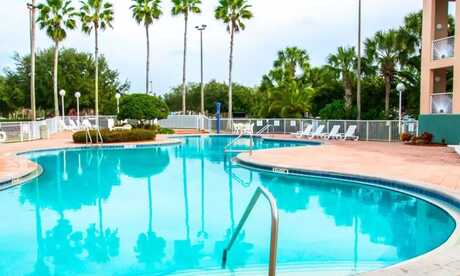 7 nights
Room Only
Return flights from Birmingham
Days Inn Orlando Convention Center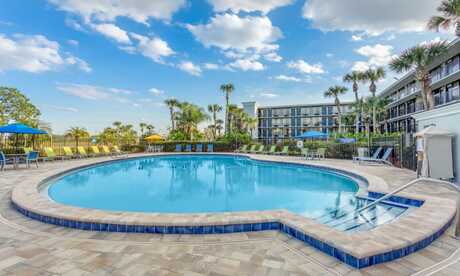 7 nights
Room Only
Return flights from Birmingham
Red Roof Inn Orlando International Drive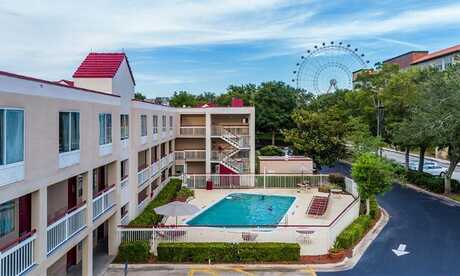 7 nights
Room Only
Return flights from Birmingham
The Grand Orlando Resort at Celebration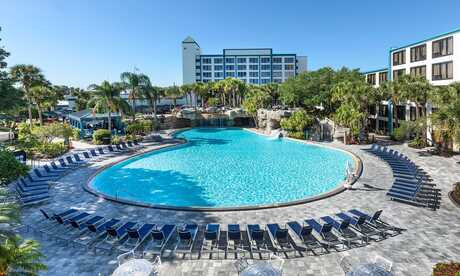 7 nights
Room Only
Return flights from Birmingham
Champions World Resort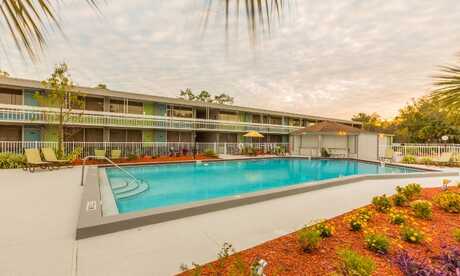 7 nights
Room Only
Return flights from Birmingham
Holiday Inn & Suites Universal Orlando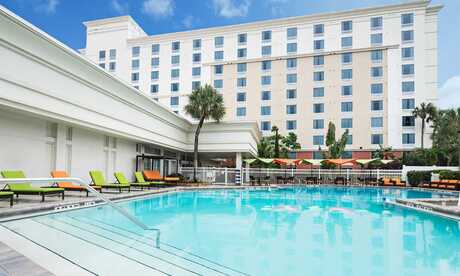 7 nights
Room Only
Return flights from Birmingham
Why holiday in America?
From famous TV shows like Friends and Brooklyn 99, to blockbuster films like Black Panther and Star Wars, the US is often front and centre when it comes to pop culture. Whether it's the stars and stripes on the flag or the celebrity superstars, this nation is star-studded. Miami holidays are great for living the lifestyle of the rich and famous, but there are plenty of budget options too. Elsewhere in this vast, breathtaking country, you'll find beautiful natural parks, hypermodern cityscapes and plenty of theme parks and iconic landmarks to tick off your travel wish list.
Beach holidays in America
There are plenty of states with stretches of beautiful shoreline to explore, but one of the best for beaches is Florida. The aptly named Sunshine State is great for soaking up the heat, with weather that's close to being Caribbean – you can even see The Bahamas and Cuba from certain spots in Miami on clear days. For family beach days, we recommend South Pointe Park Beach. Here you'll find ice cream parlours, paddling pools and a playground, not to mention that stunning stretch of sand that reaches into the Atlantic Ocean.
If you want to live that Miami lifestyle, there's no better place than Miami Beach. This is a great place to see and be seen, not to mention all the opportunities for selfies and holiday snaps to make everyone back home jealous. Strut your stuff on Ocean Drive with your mates or your partner in crime – although there's plenty to see for all ages here too. One more bay to enjoy the Floridian sunshine is Hollywood Beach. Although very different to the Hollywood in California, this beach is no less iconic in its ticking of every beachy box imaginable. Great views? Places to eat and drink? Sun, sand and sea as far as the eye can see? Check, check and check - beach holidays in America are unmatched.
Food and drink in America
America is an incredible melting pot of a country, meaning its food scene is world-class with international influences from all over the globe. Barbeque, Mexican, seafood, Chinese, Indian, Japanese, tapas… when it comes to what to eat, you'll be spoilt for choice wherever you choose to stay. You can't visit the US without tempting your taste buds with a deep-dish pizza pie – toppings and cooking styles vary across the country but this is always a delicious staple wherever you go.
When it comes to afters, All-American apple pie, cheesecake and pancakes are just some of the desserts that will satisfy your sweet tooth. American fizzy drinks like Coca-Cola and alcoholic tipples like Jack Daniel's whisky are famous no matter where you travel. Prefer a hot drink? Starbucks might be the most iconic American coffeehouse (after Central Perk), but there are plenty of artisan cafés selling incredible blends to discover – why not ask at your hotel for tips on where to find the perfect cup?
Visiting America
Tips for visiting America depend on where you decide to spend your holiday. If Las Vegas is on the cards, it's worth checking out the event and gig schedule a few months before you fly. This means you can buy tickets to the hottest shows and neatly sidestep any disappointment. From sell-out stadium performances to Elvis tribute acts, experiencing the glitz and glamour of the Entertainment Capital of the World is a must. Popular venues include the Velveteen Rabbit and the Bunkhouse Saloon.
Orlando theme parks. Need we say more? The Walt Disney World Resort and Universal Orlando are essential things to do – in fact, there's enough to see at each of them to fill a few weeks' worth of family holidays or fun couples' escapes! From meeting your favourite Disney characters – now including Star Wars and the Marvel universe to sipping Butterbeer as you wander down Diagon Alley, these parks offer much more than rollercoaster rides. Although the rollercoasters are amazing, too.
Useful information for visiting America
Flight times to America vary. A direct flight to Orlando from London is usually around 15 hours but can be quicker. Non-stop flights to Miami are around the 10-hour mark and 15 hours is the average flight time from London to Las Vegas. It's also possible to break your long-haul adventure into two legs – whichever you prefer. Whether you choose to doze on the plane or stock your suitcase with things to keep you busy, it's always exciting knowing your holiday to America has started.
The USA uses American dollars as its currency, and the local time varies across different time zones – it's a big place! Make sure to check the time difference in your chosen destination. The official language in America is English.
Search the sunshine.co.uk website:
×