Holidays to Kusadasi
Golden-sand beaches, historic temple ruins and 300 days of sunshine a year – what is there not to love about beautiful Kusadasi? Whether you feel like spending your holidays soaking up the Turkish sun, exploring the rich culture or simply eating your way through the region, Kusadasi is a Turkish holiday destination offering something for everyone.
Rosy Suites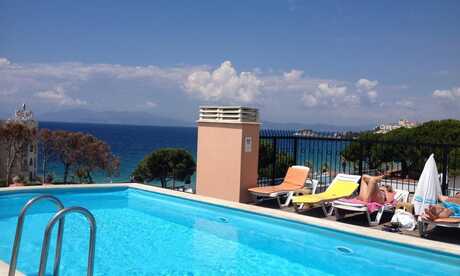 7 nights
Self Catering
Return flights from London Stansted
Anahtar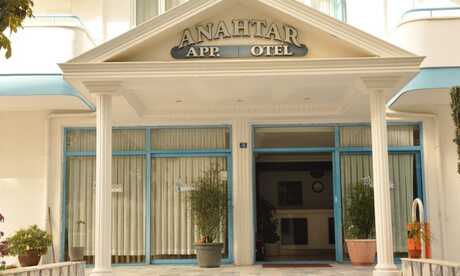 7 nights
Self Catering
Return flights from London Gatwick
Orient Suite Hotel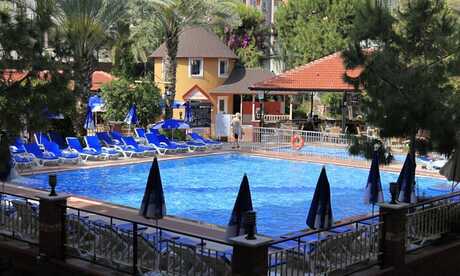 7 nights
Room Only
Return flights from London Gatwick
Kleopatra Bebek Hotel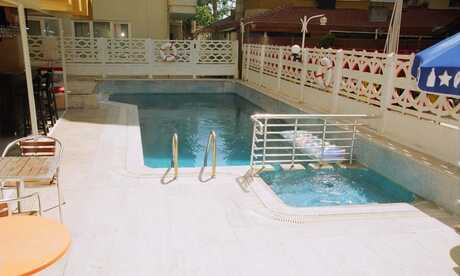 7 nights
Bed and Breakfast
Return flights from London Gatwick
Kleopatra Develi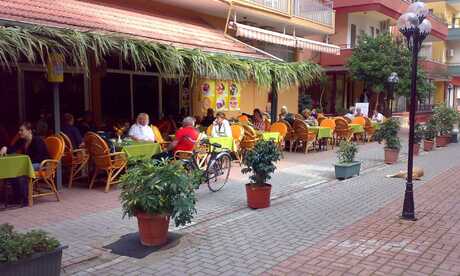 7 nights
Bed and Breakfast
Return flights from London Gatwick
Gazipasa Star
7 nights
Bed and Breakfast
Return flights from London Gatwick
Mitos Apartments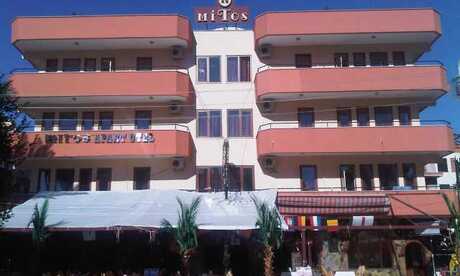 7 nights
Room Only
Return flights from London Gatwick
Sun City Apartments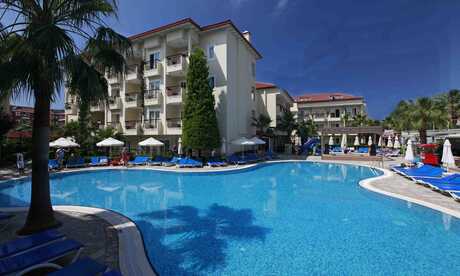 7 nights
Self Catering
Return flights from London Gatwick
Cats Garden Family Hotel
7 nights
Self Catering
Return flights from London Gatwick
Why Kusadasi?
Warm summers and mild winters make this part of the Aegean a gorgeous year-round destination. A child friendly flight time of just four hours makes Kusadasi a popular family resort, while the buzzing nightlife and romantic sights ensure it's also a firm favourite among couples and groups of friends too.
Beach holidays to Kusadasi
A former fishing village, Kusadasi is now a buzzing holiday hotspot with a picture-perfect marina, ancient-ruin backdrop and kilometres of perfect golden beaches. 20 of Kusadasi's beaches have been awarded Blue Flag status meaning the waters are clear, the sands are clean, they're accessible and there's plenty of facilities nearby such as toilets and showers. Plus – if you're visiting in the summer months – the waters are a toasty 23-25°C, making those beach days even sweeter.

Closest to the resort centre you'll find Downtown Beach. With stunning views over both the marina and Pigeon Island, this busy beach is perfect for lazing the days with a lively atmosphere. Loungers are laid out ready for use here and there's plenty of cafes, restaurants and bars along the promenade – perfect for grabbing a spot of lunch when you need a break from the sun. The most popular beach in Kusadasi is Ladies Beach. Ladies Beach takes its name from a time when the sunbathing population were segregated into separate male and female beaches – of course, that is not the case today. This beach has everything needed for a fantastic beach day, from beach bars to watersports. Looking for something a little quieter? Then take a trip to Long Beach, aptly named because of its huge 18km stretch of sand. Due to its size, it tends to be a little less crowded here, so you can sit back, put your feet up and enjoy the wonderful Turkish sun.

Food and drink in Kusadasi
Turkish cuisine is loved the world over, from famous late-night staples to grilled meats with the unmistakable Turkish flavour. The cuisine in Kusadasi is no different, if anything it's even better than you could imagine. More than just kebabs and köfte, the food eaten here is diverse, packed with flavour and deliciously tasty. As an old fishing village and an active port, Kusadasi can reap the benefits that come from being next to the Aegean waters – fresh seafood and plenty of it.

No visit to Turkey would be complete without trying a traditional kebap. Whilst a good old döner kebab is great, the Turkish kebap takes this grilled meat speciality to a whole new level. Kebap, meaning skewered meat, can be a choice of different meat cooked in a huge range of spices and flavours. We recommend giving the iskender kebap a go, which is served on a pita and garnished with tomatoes and yoghurt.

When thinking of Turkish cuisine, we often think mainly of the meat dishes available, however, Kusadasi is home to a number of fantastic vegetarian dishes and seafood specials. Dolma (literally meaning 'stuffed' can take on many forms. Look out for vegetables such as courgette and aubergine stuffed with a mixture of rice, peppers and onions and cooked in water and butter. Or – if you're a seafood lover – the midya dolma or stuffed muscles is a fantastic seaside alternative.

Last but not least, don't forget to try the gooey, sticky and fantastically sweet baklava and the famous Turkish delight before jetting off home!

Visiting Kusadasi
Kusadasi is a picturesque seaside town, frequented by large cruise liners and visited by thousands of holidaymakers every year. With architecture dating back to the Byzantine era and a modern, chic marina, Kusadasi showcases the seamless blend between old and new. History buffs will love the deep-seated history that flows through this magical town. Make sure to take a trip to Guvercin Island or Pigeon Island and wander through the Fortress Mosque that looks over the coast. Built in 1618, this beautifully built mosque is believed to have once brought refuge to the famous pirate, Barbarossa, even though it was designed to protect Kusadasi from pirate attacks.

From stylish marina-front bars to traditional cosy taverns and loud lively nightclubs, Kusadasi is a holiday destination that offers a great nightlife for any traveller. The famous 'Bar Street' is the place to go for an unforgettable night out here. Think neon signs, loud music and dancing until dawn. If foam parties and glow sticks aren't your thing, then head to the marina where cocktails can be enjoyed with good conversation and perfect sunsets.

Useful information for your Kusadasi holiday
So, you've settled on Kusadasi for your next holiday? Great choice! Here's a few little handy tips, tricks and nuggets of information that we're sure you'll find helpful before touching down in Turkey. The flight is just four hours long – how good is that? We'll tell you how good – time your flight right and you'll never miss a meal, perfect! What makes this short hop across the pond even better is that the time difference is only +2 hours, so no nasty jetlag to worry about. The official currency is the Turkish lira and the language spoken is Turkish. Here are a couple of handy phrases to make you sound like a local; hello – merhaba, thank you – teşekkürler, cheers – şerefe, goodbye - güle güle.
Resorts in Kusadasi Region
Soke Aydin
Check out our top deals on Kusadasi Region holiday destinations
reviews recommend Sunshine.co.uk
Search the sunshine.co.uk website:
×