Holidays to Paphos
Paphos is the historic core of Cyprus, nestled along the south-west coast with mountain-framed villages and sprawling vineyards. Recognised as the mythical birthplace of the Greek goddess Aphrodite, this city is brimming with romance and acres of history.

Paphos is divided into two parts; Ktima - the old town or 'upper Paphos' - is all rolling hills, colonial buildings and culture-rich museums, whilst Kato Paphos is a tourist hotspot - buzzing streets dotted with souvenir shops and bars, reams of hotels and palm-fringed beaches. It's believed that Cyprus was a gift from Mark Antony to Cleopatra, and now you can share the gift with your loved ones - or simply enjoy it all to yourself!
Paphiessa Hotel and Apartments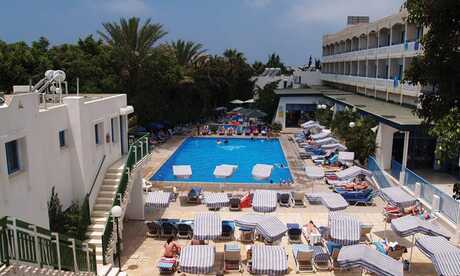 7 nights
Self Catering
Return flights from London Stansted
Coral View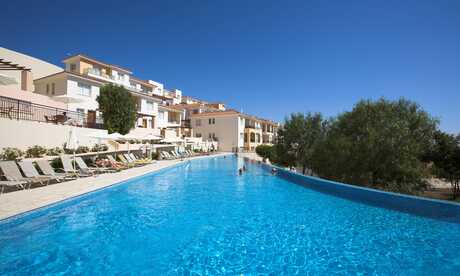 7 nights
Self Catering
Return flights from London Stansted
Club St George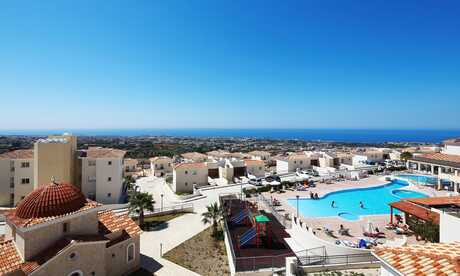 7 nights
Self Catering
Return flights from London Stansted
Panareti Coral Bay Hotel
7 nights
Self Catering
Return flights from London Stansted
Hilltop Gardens Apartments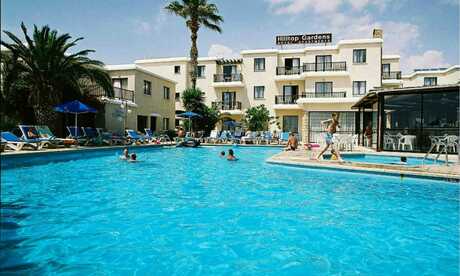 7 nights
Self Catering
Return flights from London Stansted
Marica's Boutique Hotel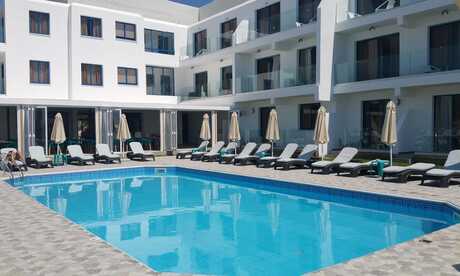 7 nights
Bed and Breakfast
Return flights from London Stansted
Hylatio Tourist Village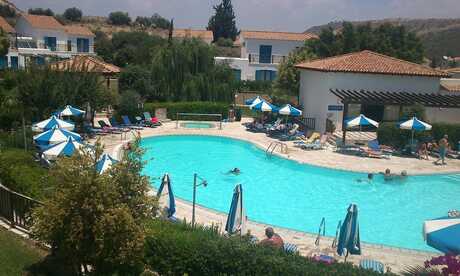 7 nights
Self Catering
Return flights from London Stansted
Stephanos Hotel
7 nights
Self Catering
Return flights from London Stansted
Nereus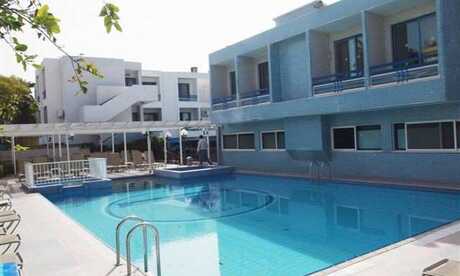 7 nights
Room Only
Return flights from London Stansted
Why Holiday in Paphos?
From ancient ruins and charming churches to crumbling castles and picturesque coastlines, Paphos has it all. But what seems to be the biggest draw, bringing tourists back year after year, are the copious amounts of sun, sand and sea. On average, Cyprus gets 326 days of sun per year, making it a great destination not just for summer getaways, but autumn breaks and winter escapes - because who doesn't want a break from grey skies every once in a while?

Paphos might be a hub for tourists, but its traditional Greek culture is still the beating heart of the city. It's impossible to wander the edges of the island without bumping into ancient ruins and historical landmarks, turning your sun-soaked beach break into something a little more memorable. The old town, in particular, is a perfect picture of the everyday traditions, where you'll find yourself weaving between the locals as they go about their day to day.
Beach Holidays in Paphos
Paphos has a whole string of beaches framing the coast, whether you're looking for a secluded swim or a lazy day on the sand. Many of the beaches in this region also hold a Blue Flag status, which means that they are recognised as clean, eco-friendly, safe and well-equipped with facilities.

The most popular beach in Paphos is Coral Bay; it's located 6km north of the city, but the pillowy sands, shallow shoreline, waterfront restaurants and wealth of watersports are what make it an ideal choice for families. You can admire the scenery from dry land, or try your hand at parasailing for an unbeatable bird's-eye view. There are even inflatables for the little ones, so the whole family can enjoy a refreshing dip in the balmy waters.

If serene swim spots are more your style, then the Blue Lagoon is the perfect place for you. It's only accessible via car or boat, reducing the tourist crowds by a fraction and providing a peaceful setting where you can bathe in the vibrant teal waters.

Alternatively, if you're eager to explore the nature around you, then Lara Bay is a must-visit stretch of coast in Paphos. Its untouched scenery is the nesting place of loggerhead turtles and green turtles, and you'll find the Lara Bay Turtle Conservation Station here, which provides more detailed information about these rescued hatchlings.
Food and Drink in Paphos
Paphos is home to a wide selection of restaurants, so whether you're looking for a quaint waterfront eatery, a traditional taverna or an international dining spot, there are plenty of venues to give your taste buds a treat.

Cypriot cuisine encompasses a medley of flavours with influences from the Middle East, Turkey, and Greece. You'll find some classic favourites such as mezze, halloumi, stuffed vine leaves and kleftiko (slow-cooked lamb), as well as some traditional dishes with a twist.

Souvlaki - charcoal-grilled meat - is popular here as you might expect, but instead of being wrapped in flatbread in the traditional Greek way, in Cyprus, the meat is served in a neat pitta pocket with heaps of salad.

Got a sweet tooth? Cyprus has some of the best sweet treats around. Be sure to give muhallebi a try - a Cypriot version of rice pudding made from rice flour, giving a creamy texture with all of the traditional flavours you'd expect. Loukoumades - often referred to as 'honey doughnuts' - are another firm favourite. These light and spongy dough balls are deep-fried, soaked in syrup and then coated generously in crushed nuts, sesame seeds and cinnamon for a truly indulgent after-dinner treat.
Visiting Paphos
Despite its popularity with sun-seekers, this Mediterranean city offers more than just beachfronts and hotels. There are plenty of historical sites to explore, so you can dive headfirst into the culture of this region.

Kato Paphos Archaeological Park dates back to the 2nd and 3rd century, home to rustic ruins, ancient landmarks and intricate mosaics. Lose yourself in the rich history of this park for an unforgettable trip. For a similarly fascinating experience, the Tombs of the Kings offers a ghostly atmosphere with its string of caves and sandstone tombs.

As far as scenery goes, make sure to make a detour to Paphos Harbour during your travels. Here you'll find a bustling square with plenty of surrounding cafes, bars and restaurants so you can make a full day of it, and the waterfront views are truly magical.

Travelling with the kids in tow? Or maybe that beaming sunshine simply has you craving some aqua-themed fun. In that case, Paphos Aphrodite Waterpark should be at the top of your list. Brimming with winding, high-speed waterslides, games and thrilling water rides, the whole family will be in for a treat at this attraction.

If you're wondering what to do once the sun goes down, don't worry - thanks to the city's great location you won't be short of evening entertainment, whether you're looking to enjoy an after-dinner drink or a night of dancing. Players Pub is a popular spot, equipped with pool tables and sports screens, whilst Boogie's Karaoke Club is ideal for some late-night fun. For a wide range of drinks and a lively atmosphere, Kleo's Cocktail Bar is the place to be - and it's open well into the early hours.
Useful info for visiting Paphos
Direct flights to Paphos take approximately four and a half hours, so be sure to dig out a beach read or that summer playlist to get you in the holiday mood before you land.

The currency used in Paphos is euros, and the local time is two hours ahead of the UK, so don't forget to change your pounds in advance and alter the time on your watches and devices.

The official local language in Paphos is modern Greek, but you'll find that the locals often speak in a Cypriot dialect, which is a combination of ancient Greek and modern Greek, including words from Latin and Turkish dialects. However, English is very widely spoken in Cyprus, particularly in the tourist areas, so don't worry if you haven't quite brushed up on your Greek.
Search the sunshine.co.uk website:
×